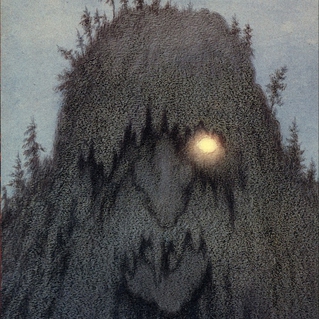 In a recent interview with the Village Voice, Endless Boogie's Paul Major credits the band's former bassist with inventing the credo "When you get there, you gotta stay there." Given their fifteen-year run of making good on their moniker, this slogan should be emblazoned on the Endless Boogie family crest. With the brand new double album Long Island, the New York band has perfected their fine, pertinacious brand of bottomless psych, splitting the difference between the heavy-lidded choogle of the Groundhogs, the burnt-blues bonhomie of Canned Heat, and the libidinous hyper-masculinity of pre-MTV ZZ Top.
Long Island is the first Endless Boogie album to prominently feature new member Matt Sweeney, who joins Major on lead guitar. Sweeney is a gifted guitarist who has appeared with acts as varied as Zwan, Bonnie "Prince" Billy and, err, Neil Diamond, but Endless Boogie may prove his most natural fit. For most of the album's 80 minute duration, he and Major pitch tangles of fuggy and foggy lead lines as if they'd been hatched fully formed from Hawkwind album cover art, while rhythm guitarist Jesper Eklow's caffeinated whomp chugs and hectors the competent, if strictly utilitarian, rhythm section.
Major, a legendary record collector and walking encyclopedia of underground rock, is a rare guitarist who distills disparate strains of six string legerdemain into a singular style, so that the Who-isms of "Occult Banker," the Hendrix-ian squall of "On Cryology," and the lock-grooviness of the Can-like "The Montgomery Manuscript" coalesce to maintain the consistent tone of a carefully compiled mixtape.
Opener "The Savagist" sets the tone: it takes exactly thirty-four seconds for the first burbling guitar solo to announce itself within the song's motorik lurch. Despite their John Lee Hooker-referencing band name, Endless Boogie's idea of the blues is an alien mongrel as indebted to Parson Sound as it is Junior Kimbrough, full of percolating wah-wah and surging, sinewy solos. Major's comically profane vocals recall a wheezing, choking George Brigman; his voice is the sort that, if discovered on your voice mail, would almost certainly prompt you to file a police report immediately. "Taking Out The Trash" begins like thirty different James Gang songs, and it isn't difficult to imagine a conspicuously rock and roll voice–say, that of Paul Rodgers–offering, by way of an opening, some rock cliché like "Well, I saw her across the room…" But no, the song begins "Last night, my face was really rockin! No lie!" before Major announces "My vibe is severe / and my intentions…are unclear!" Fans of previous album Full House Head's highlight "Slow Creep" should focus their attention on "The Artemus Ward," which begins as a sort of updated "Riders On The Storm" for people who read Record Collector Dreams before gradually increasing in tempo, like the sonic equivalent of a big-screen orgasm, or a real-life drug rush. Elsewhere, "General Admission" is, at a relatively paltry six minutes, the closest Endless Boogie has come to writing a pop song, albeit one with a speed limit-defying Radio Birdman-derived riff and a vocal that makes Flag-era Henry Rollins sound like Paul Simon.
Performed mostly by guys old enough to have actually penned death threats to President Nixon, Long Island pisses from a great height onto 90% of the lava lamp-gazing indie rock bores currently masquerading as practitioners of "stoner psych" (or any variation thereof). Respect your elders, chumps. words/ j jackson toth
MP3: Endless Boogie :: Taking Out The Trash
For heads, by heads. Aquarium Drunkard is powered by our patrons. Help us continue doing it by pledging your support via our Patreon page.