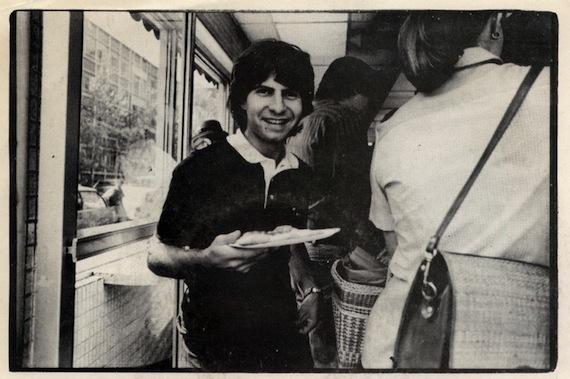 It's hard to talk about North Carolina's musical legacy – or even indie rock in general – without mentioning Chris Stamey. As a founding member of the dB's, Stamey often played the chaotic, challenging flip-side to Peter Holsapple's shining pop and their music was all the better for it. After leaving the band following their second album, Stamey released a number of solo records in addition to working as a producer as well as eventually reuniting with the band to release last year's Falling Off the Sky. Last month, Stamey released his latest solo album, Lovesick Blues, on Yep Roc Records. Stamey guested on AD contributor J. Neas' weekly radio show on WQFS in Greensboro, NC this week ahead of a performance this Saturday in Winston-Salem. Below you can check out a partial transcript of the interview as Stamey discusses playing the new album live with a 20 piece orchestra, what it takes to get music out of your head and on to tape, his work with other North Carolina musicians and the origins of Yep Roc Records' name.
__________________________________________________________________________________
Aquarium Drunkard: You've got a new album out called Lovesick Blues, but you're also playing this Saturday at the Southeastern Center for Contemporary Art as the seventh installment of their Crossroads series. I want to talk a little about that – it's kind of special. For people who have seen you live, this is a unique treat in that it's Chris Stamey and the Fellow Travelers which is a 20 piece chamber orchestra and rock band.
Chris Stamey: Well, I think about this like I shot a movie, and now we're putting on a play. We recorded this record with a bunch of the great players around Chapel Hill right now. They'd come in one by one and I'd already have a lot of the stuff notated, written out for them. Sometimes they'd just come in and let a guitar feedback for an hour and we'd pick our favorite parts. This is a pretty normal way to make a record; you invite your friends over, you write the music. But now that that's all done, we've written it out again for live performance. We're actually doing it with a lot of the textures that are actually on the record. The record has a lot of woodwinds, string, orchestral percussion, brass. It's not just the band, though there are a lot of guitars, too. We have a lot of string players – Lost in the Trees, if you're familiar with them. The Old Ceremony. There's a really great scene in Chapel Hill right now, and in all of North Carolina, really, of people who can improvise wildly and who can also read music. This will be the first time we've played the whole record live together, trying to come as close to the spirit of the orchestral textures on the recorded version.

AD: Are a lot of the people who played on the record participating in the live performance or is there much overlap?
CS: Not everyone who played on the record is performing. But a lot of the principals – Jeff Crawford, he produced it, he's playing bass. Mitch Easter played guitar all over the record and consulted with me on the making of it. He's a great guitar player who doesn't get out to play enough. The majority of it are the actual people who played.
AD: Lovesick Blues is your first solo record since 2005 with A Question of Temperature that you did with Yo La Tengo..
CS: Well, and even that was a collaboration. It didn't sound like a jazz record, but we kind of just showed up and played. The record before that, Travels in the South, was maybe a little bit closer in nature to this new record in that the pieces were put together more carefully. With Yo La Tengo they're kind of go-anywhere, do-anything kind of guys and we'd get together in the morning and talk about what we'd like to do, do it and not look back.
AD: Travels in the South was the beginning of your relationship with Yep Roc also.
CS: Correct. I'd made a few for A&M and I also made a record I personally love – and no one else does, I think – called The Robust Beauty of Improper Linear Models in Decision Making which was done in collaboration with Kirk Ross who plays guitar on a table with pieces of railroad equipment and Japanese cooking devices.
AD: Oh, wow. Well, now I feel like I need to hear that.
CS: You might be the other person who likes it. I can kind of see a gleam in your eyes.
AD: This is your third solo record for Yep Roc…
CS: I've had an association with them from the beginning – they're kind of the home team.
AD: Sure, they're just up the road in Haw River.
CS: Well, they've actually moved into deluxe offices in Hillsboro, North Carolina. Redeye, the distribution arm, is located in Haw River.
AD: I went and saw Jim White play up at the Yep Roc offices right before his most recent album came out and I guess they were still in Haw River then.
CS: I met Jim for the first time when he was part of this crazy recording that is coming out for Record Store Day. I never knew where the name of the label came from – I thought someone had lost a bet. But it's actually really cool. There's a record called "Yep-Roc-Heresy" by Slim Galliard where he claims to have invented his own language called Voutie. [ed. note – The spelling of the song title appears on some vinyl copies as "Yip Roc Heresy" instead of "Yep-Roc-Heresy."] But actually he was reading an Albanian menu as the lyric for a jazz record. Yep Roc, I think, is some kind of hot sauce. He had no idea what the words were. He pretends it was a new language. It was a legendary cult record that kicked off the label. So we had almost every artist on the label record part of a version of "Yep-Roc-Heresy" and also they took a Nick Lowe song called "They Called It Rock" and spelled it r-o-c. And so there's that version. It's a really fun record and it has about 35 Yep Roc artists on it and it's coming out on Record Store Day.
AD: Y'all also, I imagine, had a lot of fun with the Yep Roc 15th anniversary shows that weren't too long ago, last October.
CS: A lot of people had a lot of fun with that. I stayed in a little room grabbing artists one by one to make the record I was telling you about. [laughs] I was working on this mega-"We are the Yep Roc world" record.
AD: One of the quotes from the promo material for Lovesick Blues has you saying that this is the closest you've come to recording what the songs sound like in your head. And surely that's every record you do, you're trying to get what's in your head out onto the tape, so to speak. But was there a different process for this album?
CS: Well, yes, there was. I was working with Jeff Crawford who's a great producer in Chapel Hill – and we've both made a lot of records, but we started this one kind of the opposite way around than how most of them are made. I played and sang by myself and once we had takes we liked, we started with that. If there was a particular nuance in the vocal, then maybe we figure out that an oboe and a fluttery flute would fit that particular recorded intent. So we were able to be more specific. Normally making records, particularly these days where people are so spread out, you record a bunch of stuff, and then you figure out the stuff you like, you put it all together and then the singer comes in and tries to shoehorn the song onto this dense track. It can work great. You know – like in movies, they don't normally record the dialogue on that street in New York, live, really, you add it later. But we were recording our 'dialogue' to begin with and I think the record did turn out the better for it.
AD: For a record with so much instrumentation on it, it's actually a pretty quiet record. The song we played earlier, "You n Me n XTC," is, like you said, a little bit of an outlier. It's one of the rockier songs on the record, a bit more uptempo..
CS: Well, I started out to make a record that would sound right if it was 2 AM. I didn't want it to sound like the Frank Sinatra record In the Wee Small Hours of the Morning, but I wanted it to feel like that title. If you were lying there in the dark listening to it, it would seem like what you wanted to hear at that time. With any record, once you're done, you evaluate what do you really have and what would work best. And we juggled the songs a little bit. And that "..XTC" song, just every time the horns kick in on the chorus, we kind of smiled, so it ended up on the record. I knew I wasn't making a record that was going to leap up into your face with a baby rattle. I wanted it to be a record you'd come to. A lot of the records I love, it took a couple of plays.
AD: With the record being put together in so many pieces, in transitioning it to this live performance, are you having to let go of the control a little bit of what the record is going to sound like live?
CS: Well, because it's scored, there's a conductor who stands there, everything is measured. Doesn't mean it's going to sound the same every night. There are definitely wild cards – Mitch Easter is often a wild card. So we're trying to combine precision and exhilaration and maybe that's true of everyone who walks on stage, but this is a little different in that it's a combination of specific notation and just going for it.
AD: On Saturday are we going to hear the album track for track in order?
CS: Well, I changed the order, but not much. There are new sections – the title track, what's on the record is the second and third movement, if you want to call it that. The first movement we're going to play for the first time – it's never been recorded. And a few other surprises. We've been playing what Django [Haskins; The Old Ceremony] calls our version of "Louie, Louie." We do these covers. We're doing "Surf's Up" by the Beach Boys and probably doing "Expecting to Fly" by Buffalo Springfield and "A Child's Claim to Fame." Just a few things we've been doing together as touch points for a record we might make together.
AD: One of the bonus tracks if you download the record digitally from Yep Roc is a cover of "I Am the Cosmos."
CS: That's a great song. I had a record label in New York and I put that song out, actually. I was playing some with Alex Chilton and he said 'Well, my old friend Chris has this great tune and you've got to put it out.' It was amazing. I called the studio and I couldn't wait to hear it, so Chris Bell went over and played it back in the studio and held up the phone – this is 1978, I think – and I signed him basically hearing it over the phone. I hope you've heard the original – it's amazing. I was trying to take an opposite direction and do more of a pastoral rendition of it.
AD: That was the year he died, wasn't it – 1978?
CS: Yeah, he died right after the record came out. But by all accounts it meant a lot to him and he was very glad that it [came out].
AD: I want to talk to you about the Big Star's Third tribute shows that were done.
CS: Yeah, we did a few in America and last year we played in London at the Barbicon and also in Barcelona. This year we're doing the concert in Central Park on June 30th and that'll be a great time, I'm really looking forward to that. You know, I lived in New York for 13 years, but it never lost its romance. I can't wait to have the sun down and the stars up and we're playing that record with an orchestra.
AD: I got to interview Jody Stephens back when the Big Star box set came out and that was right around when the first show was about to happen, and I think I recall him saying you were one of the masterminds behind the concerts, is that right?
CS: Well, to be precise about it, Frank Heath in Chapel Hill – he has the Cat's Cradle and books a lot of other shows around a very hip guy – he loved Elliot Smith and I was involved a bit in an Elliot Smith concert after he died, trying to play his music as carefully and accurately and beautifully as we could. After that was done, we were saying what do we do now – and I think it was my idea to do Big Star's Third record, as part of a discussion. And then nothing happened. And a couple of years went by and then Frank called me up and said let's do that, it's the thing to do. And I got the original string arrangements from the guy who wrote them to begin with. He actually re-wrote them for me – all the originals were gone. And the record label said they would let me have the original master tapes and go through them and really figure out what was going on – because it's pretty hard to figure out.
I was flying down to Austin to talk to Alex and the rest of the band about it – not really thinking Alex would want to sing it, but wanting to put it on their map. But then right before I left, we found out that he'd died. It wasn't actually conceived as a memorial concert – it was conceived as we've got a great group of folks in North Carolina, this is great music, let's try to perform it live because music should be heard live not just living in little earbuds.
AD: How long was it from when he died to when the concerts were pulled off?
CS: I think it was the next year. It took a lot of work. It was kind of putting on a musicologist hat to figure out what really went into those tracks. And in a way, it's a little like what we're doing with this performance. That record was so full of uncontrolled angst and violence and unusual tunings, plus this very, very controlled orchestral sound. And it's an exciting dichotomy. That's a little of what's going on this weekend. The string sounds and wind sounds are just gorgeous. And the rhythm section's just great, the singers are great, you never know what Mitch is going to do. It's a really cool sound and not one I've heard a whole lot, so I hope everyone will come.
AD: Are you going to take this orchestral arrangement on the road at all?
CS: Well, it's all on paper now, so to some degree it can be played by people elsewhere. Just like with the Big Star Third thing we used all local people except for the core players. And then we had people come up and sing with us like Ray Davies, Robin Hitchcock, Sharon Van Etten, Tift Merrit, Tommy Stinson – a lot of people. I don't know whether this will be the only time they'll ever be played, but I'd like it to continue on. I actually have arrangements as well – next week in Austin I'm playing it with the Tosca String Quartet..
AD: So a smaller version of that.
CS: Yeah, which I actually love the sound of.
AD: Oh, right, because South by Southwest is next week.
CS: It is. I'm playing like eight times.
AD: Eight times in about two days or something like that? [laughs]
CS: Yeah, but I've been working on the SECCA concert, so I'll wake up on Sunday morning and worry about South by Southwest.
AD: Speaking of people you've worked with over the years, the guys in Megafaun – I remember the first time I got to interview them, it was right when Gather, Form and Fly was about to come out and they were just gushing about getting to work with you on the mixing of the album.
CS: Well, we did really hit it off. They brought me this track – and I'd worked with the Rosebuds, and they were friends with the Rosebuds – Brad [Cook] was on tour with them at the time – and this track, it just completely killed me. It's called "Kaufman's Ballad," about Phil Kaufman who was famous for stealing Gram Parson's body from the morgue – because he promised him he would – and he drove it out into the desert and burned it. And their track is about that, but what's amazing is that it actually evokes how that might have looked. It sounded like embers going up into heaven in the desert, just an amazing track. It just worked. I was able to get a mix that sounded like what they heard in their head, and we didn't look back. We're all victims of university music schools, so we have that in common, and we love to just go for it. So I love Megafaun.
I'm actually trying to get Phil [Cook] to play piano for me. I want to do the Charles Ives songs next year. I don't know if any of your listeners know those songs, but it's like 129 songs that this American composer wrote in addition to his orchestral works and usually their performed by sopranos in music schools, but they're actually really cool tunes and very complicated.
Further: Listen to the audio of the complete interview including a couple of live performances by Stamey and some additional songs from the album: HERE