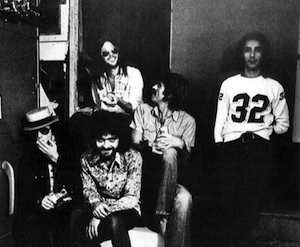 If we've learned anything from the music of Joy Division and The Smiths, it's that the good people of Manchester, England, can handle bleak, uncompromising music. They were certainly given a bracing shot of it on this autumn night in 1973, as Neil Young opened a seven-date tour of the UK. With the Eagles opening up, the crowd undoubtedly anticipated an evening of laid-back country rock a la Young's platinum Harvest, which had been released a year and a half earlier, catapulting him to levels of stardom beyond even his CSN compadres. Instead, they were treated to a harrowing run-through of the just-recorded, wholly unfamiliar Tonight's The Night. Not sure if anyone of Neil's stature at the time would have dared pull such a trick. With 20/20 hindsight, we can all agree it's some of the most inspired, impassioned music of Neil's career, with his backing band — Billy Talbot (bass), Ralph Molina (drums), Ben Keith (pedal steel) and Nils Lofgren (guitar, piano) — following Young gleefully into the ditch. But who knows what you would've thought had you been there? You probably would've been at least a little creeped out by the sleazy, bearded dudes making that strange noise onstage.
"Welcome to Miami Beach, ladies and gentlemen," Neil repeatedly tells his captive Mancunian audience, lounge lizard-style, until the words start to feel menacing. Not that this audience tape isn't a hell of a lot of fun. There are plenty of humorous moments, but it's the blackest humor imaginable, the kind that makes you squirm in your seat uncomfortably. Even though the Tonight's The Night tour has been described as tequila soaked, Neil sounds in full control — lucid, even. Maybe this was just the early show. words/ t wilcox
Download: Neil Young & The Santa Monica Flyers :: Manchester, England, 1973
1. Tonight's the Night   2. Mellow My Mind   3. World On a String   4. Speakin' Out   5. Albuquerque   6. New Mama   7. Roll Another Number (For the Road) 8. Tired Eyes    9. Tonight's the Night    10. Flying On the Ground Is Wrong    11. Human Highway   12. Helpless    13. Don't Be Denied
Only the good shit. Aquarium Drunkard is powered by our patrons. Keep the servers humming and help us continue doing it by pledging your support via our Patreon page.