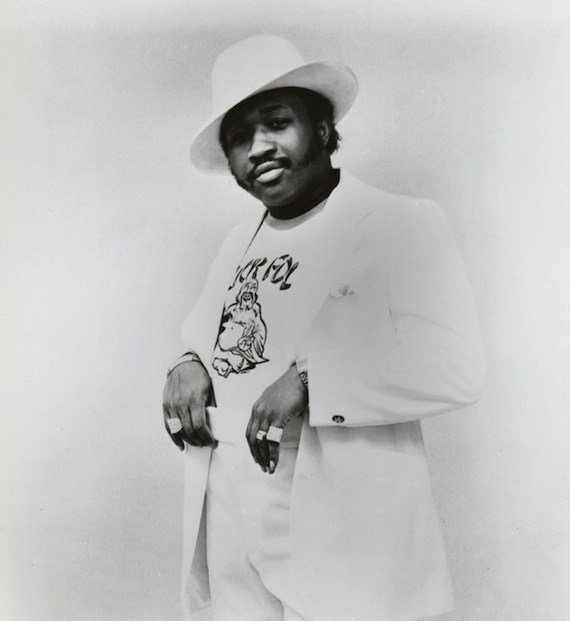 Jerry Williams Jr. didn't adopt the handle "Swamp Dogg" in the early '70s in order to confuse, obfuscate, or mislead anyone. To hear the man tell it, he took on the name because it was imperative to do so. "It was born out of a necessity, to find myself, my identity," the 70-year-old singer says via phone from his home in Southern California. His voice is pitched high, laced with a strong Southern accent that betrays his Georgia roots.
"I didn't know who Jerry Williams was for a while. That's when I started having a lot of acute anxiety. Here I had agoraphobia and claustrophobia, at the same motherfucking time. Swamp Dogg wasn't afraid of anything, where at that time Jerry Williams was afraid of his shadow. I knew Jerry Williams was still the motive for Swamp Dogg; it was like putting a Chevy motor in a Rolls-Royce. That's what made it run. It's not really a Rolls, you know? It's a Chevy that looks like one."
This month sees the re-release Swamp Dogg's gonzo soul classics Total Destruction to Your Mind and Rat On!, via California-based label Alive Records. Originally released in 1970 and '71 by Canyon Records and Elektra, respectively, the records exhibit the organic change from "Little" Jerry Williams — who'd recorded R&B platters and worked for a short stint as a staff producer at Atlantic — into the wild and feral Swamp Dogg.
MP3: Swamp Dogg :: Creeping Away
Total Destruction's title track roars with amplified funk boogie, with guitarist Jesse Carr and drummer Johnny Sandlin providing fuzz and a gutbucket beat. The song establishes Swamp Dogg as a character on the same wavelength as rock's avant garde, with gritty, hard-edged melodies, and a clear admiration for blue-collar country. But it's not all bombast: Rat On! delivers a couple exquisite weepers, like the tender Bee Gees cover, "Got to Get a Massage to You" and "Predicament #2," where Swamp mourns a bad situation: he's got a great wife, but he's also got a great mistress. Why can't one woman be both?   "Back then, people were like, 'Why would someone call themselves a dog?'" he laughs. "People would come down on me because I named myself Dogg. People would say, 'Why would you name yourself that? What's your real name? I'm not going to call you that! I'm going to call you by your real name,' and I said, 'You can call me by Kiss-My-Ass, you know? I am Swamp Dogg, you motherfucker, and that's it."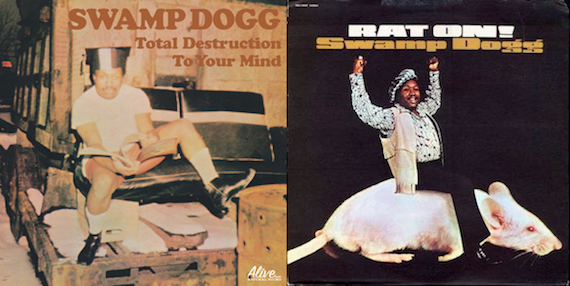 Swamp's boldness couldn't be better exhibited than the cover of Rat On!. Jerry Williams — whose "concept" was to "make the ladies want to buy some records, that's all," probably wouldn't have gone for a record sleeve as bizarre. Featuring a proud Swamp, arms raised atop a white rat, the cover has earned a slot on more than a few "Worst Album Covers Ever" lists, a fact that he's very proud of. When asked who came up with the outlandish cover idea, he scoffs.
"Me! You wouldn't hire anybody to do that, would you? If they did, you wouldn't pay 'em. You'd be like, 'What am I supposed to do with this?' I didn't know what a 'Swamp Dogg cover' was really supposed to look like, because I really hadn't totally figured out who Swamp Dogg was, or what he was supposed to be."
Nearly everyone else had a hard time figuring Swamp Dogg out, too. Rat On!, with its mix of politically minded lyricism (the "for what" in "God Bless American For What" was initially censored) and ribald numbers, was more conventional than Total Destruction to Your Mind, but it was still too freaky for some.
"I would use a curse word every now and then in my songs," he says. "I said things that were ahead of their time. There's a line in Total Destruction which is, 'They found out how to tax the grass, watch 'em get the law passed.' In 1970, people were still going to jail for grass. Now, they found out how to get the taxes, so all of the sudden they legalize it. So, that's it."
His occasional radical talk endeared him to Jane Fonda, and along with the actress, he allegedly found himself on Nixon's "enemy list." Not that he's ever seen it. "I don't know if Nixon had anything to do with it. That may have been some J. Edgar Hoover shit. But it's like Elvis said. Well, I'm quite sure that somebody said it before Elvis Presley, but it gets attributed to Elvis: 'I don't give a fuck what you say about me; just spell my name right.'"
Rat On! tanked, and records for Island and Takoma followed. Swamp was nearly close to signing with Mercury for a country record, but the deal fell through. "Cause I was black," he says. "I'm not playing the race card. I was black and they were scared."
MP3: Swamp Dogg :: If I Die Tomorrow
But unlike so many cult figures, he didn't fade away. He launched his own imprint, the Swamp Dogg Entertainment Group, to issue his records and production work. Plus, he's had money coming in from licensing his songs. Kid Rock, Talib Kweli and Hi-Tek, and others have sampled him. He considers himself more of a soul purist, with an all-analog studio save for an electronic drum kit, but he's a fan of hip-hop.
"I've had hit records with it! Let me tell you something — I am so thankful for rappers and hip-hop artists, I don't know what to do," he says. "I won't sit with sons of bitches talking about, 'Man, that ain't real music. They get the songs and they fuck 'em up,' and this that and the other. Here I'll be sitting on a 17-million seller from Kid Rock. Ah, shit! Y'all kiss my ass. I'm getting out y'all's way before lightening strikes you motherfuckers."
Samples aside, he was proud when Alive Records approached him about reissuing his first forays as Swamp Dogg. He says they're the first of many Swamp Dogg releases the label is planning, and he's happy to be working with people who "exude integrity," unlike the bootleggers worldwide he's certain have been making millions of Swamp Dogg recordings.
"You can tell that these motherfuckers are right," he says. "It's just like when you meet a woman and you say, in one night, 'This is the bitch. I'm going to cultivate this motherfucking relationship.' Usually, she turns out to be the right one."
He chuckles. "Unless you meet her under the wrong circumstances. You meet her at an orgy or some shit. You don't take that bitch home to mama. But no, they've been great. I mean shit; they treat me like I'm Rihanna or Britney Spears or something. Rihanna! They treat me like a fucking star. I don't know about a super star, but they treat me like a star."
In the liner notes of Total Destruction, Swamp goes out of way to thank himself: "I owe all my present success to a very dear person..a person whom I love, worship and admire beyond any shadow of a doubt — ME!!" But in a more reflective mood today, he chocks up his unique triumphs to good karma, too.
"When people do things to me that's not cool, I keep on going, based on what people say is in the Bible," he says. "I've never read it, because I don't understand it. But you know, you've got all these people that understand it, and they say vengeance is mine, saith the Lord. I'm like, 'Okay, I don't need to stop for revenge.'"
He pauses, and thinks for a moment, before adding: "There is such a thing as sweet revenge — I'll employ that — it depends on what the situation is."     words/ j woodbury