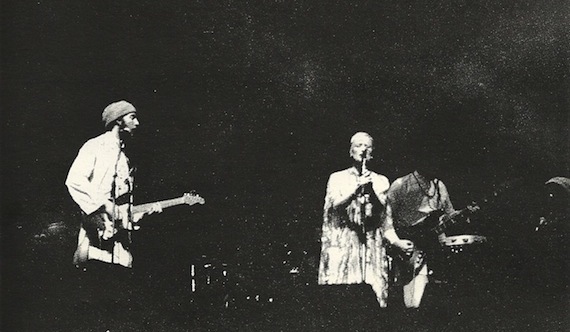 "Some songs deserve to fall off the radar," wrote Richard Thompson curtly in response to a question on his website about a handful of "lost" tunes he and his then-wife Linda Thompson debuted back in 1977. The songs in question: "The Madness of Love," "King of Love," "Bird In God's Garden," "Rescue Me," and "The Fire In The Garden." Fortunately, we've got this bootleg tape of Richard and Linda playing in London with a short-lived ensemble. Richard and Linda had been off the radar for at least a year, having retreated to a Sufi commune in 1975. This UK tour was meant to be their grand return, but Richard must've had second thoughts, ditching the aforementioned lost tunes and not returning to the stage until more than a year later. But whatever his dissatisfaction with this period stems from, this is a great gig. Maybe they were a little out of step with the burgeoning punk scene — no one else was playing Islamic Folk-Jazz Rock in 1977 as far as I know. But the playing here is marvelous, with keyboardist Ian Whiteman dueling with Thompson on some extended, trance-like jams. As opposed to, say, Bob Dylan's fire 'n' brimstone Born Again years, Richard's turn towards religion resulted in mostly good vibrations – these songs are joyful expressions of faith and devotion.
Richard and Linda are, of course, no longer a musical or personal team. But Richard continues to create stunning work. His recent Electric LP is, well, electrifying, with mindsplitting guitar solos galore and a lean, mean power trio sound. He's the only one who can do what he does, and what he does is incredibly powerful, year after year. words/ t wilcox
Download: Richard & Linda Thompson :: Theatre Royal, London, UK, May 1, 1977
1. Madness of Love 2. Night Comes In 3. Rescue Me 4. Strange Affair 5. The Fire In The Garden 6. When I Get To The Border 7. Bird In God's Garden 8. First Light 9. King of Love
Only the good shit. Aquarium Drunkard is powered by our patrons. Keep the servers humming and help us continue doing it by pledging your support via our Patreon page.