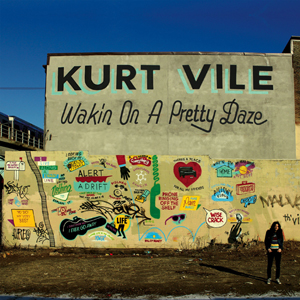 Wakin on a Pretty Daze  is Philly rocker Kurt Vile's 5th solo LP and new best. It is marked by maturity, craft, and confidence, evidence that Vile successfully cannibalized all the parts of his sturdy back catalog — the howling guitars, bedroom pop, his quizzical, drawling voice, and even the more fully-figured stuff on the excellent Smoke Ring For My Halo. This new album isn't so much a rebirth but a refinement, a peak, an aesthetic streamlining that results in the songwriter's most clear and modern vision.
Visually, proof that Vile has truly come into his own is delivered via the album's cover. On past records, Vile is pictured against an urban backdrop, but here, his words are painted into the architecture itself (thanks to Philly graffiti lifer ESPO), infiltrating the very fabric of his beloved hometown. When he  closes a song called "Was All Talk" with the lyric "makin' music is easy: watch me," he's not being arrogant or running defense against shit-talkers. Rather, Vile is shifting the focus from the actual ins and outs of his music to this album's chief preoccupation: the responsibility and yearning for family, friends, and home. This approach works well–Wakin On A Pretty Daze never sounds fleeting, propped up high by strong, determined songwriting.
Vile's unmistakable lattice of guitars, picked and strummed, is still very much present, as are the echoes and whirring bouts of noise. But that aspect of his music has grown up too. His 2008 debut,  Constant Hitmaker,  was like looking through a backyard telescope at a fuzzy, tilted planet, all blue and beautiful, a perfect, contained image of something quite far off.  Wakin seems more first-hand and hi-def,  like an up-close flyby of some overwhelmingly majestic nebula, one in which the listener is occasionally turned around in a long stretch of space fog.
This cloudiness–Vile's psychedelia–is quite different than the classical "tune in and drop out" variety. It may just be the musical vehicle he's most comfortable with… he's got a working man's issues ("when I'm away out there/ I wanna go home/ when I am home/ my head stays out there") that he responds to with everyman mantras: "I will promise not to smoke too much and/ I will promise not to party too hard… too hard… too hard… it's too hard."  Many of these new songs are repetitive and long form, but
Wakin  
proves that the longer KV songs are the best and that the repetition is at once immersive, sobering and contemplative. Subtle, unpredictable shifts in Vile's strum and hum feel like serendipitous "eureka" moments after thinking too long about the same thing–listen to about half way through the nine and a half minute opener where the tempo picks up after Vile sings  "I gotta think about what wisecracks/ I'm gonna drop along the way today." See, Vile's got a funny bone, but  
Pretty Daze
 is mostly pretty serious, an earnest and intense outpouring. words/
a spoto