(Volume 19 of Clifton's Corner. Every other week on the blog Clifton Weaver, aka DJ Soft Touch, shares some of his favorite spins, old and new, in the worlds of soul, r&b, funk, psych and beyond.)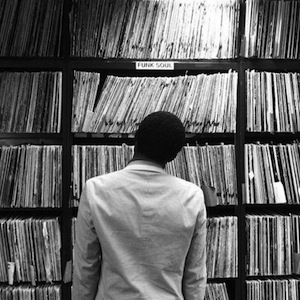 Usually, when writing an installment of Clifton's Corner, I have an overall theme or artist that I want to highlight. This time, there is no theme. Like all DJs/record collectors, I'm always on the hunt for some new (to me) sounds for my sets. The following group of tracks is comprised of some new acquisitions that are finding their way into my Funky Sole sets, Saturday nights in LA.
An in-demand and versatile drummer, Grady Tate made his name as a sideman with jazz luminaries such as Quincy Jones, Astrud Gilberto, and Wes Montgomery. Some of Grady Tate's most famous vocal work can be heard in the popular Schoolhouse Rock series ("Naughty Number Nine", "Fireworks" and others). Released on Gary McFarland's Skye label, "Be Black Baby" is propulsive jazz/funk featuring Tate singing the praises of Black pride. The song is also featured in the early Brian De Palma/Robert DeNiro film "Hi Mom!" a.k.a.  "Blue Manhattan"
MP3: Grady Tate :: Be Black Baby
Famous for his own bawdy compositions, musical cult hero Andre Williams has worn many hats in the music business (including managing and "roadie-ing" for Edwin Starr). As dynamic and memorable as he is as a performer, Williams is also a songwriter and producer par excellence. To his credit, he co-wrote Stevie Wonder's first single, wrote "Shake A Tail Feather" (made famous by the Five Du-Tones), wrote Alvin Cash & The Crawlers' "Twine Time" and supervised the recording of two Contours records. Not every artist achieved the recognition of the aforementioned. Andre Williams' composition, "The Thang", for obscure Chicago group The Surveyors is a brilliant raw funk instrumental that has made it's way into almost every set I play, lately.
MP3: The Surveyors:: The Thang
In what is an all too familiar story, Melvin Davis is only beginning to receive the accolades that he deserved from the beginning of his career. With an impressive resume that includes playing with diverse artists such as the Miracles, Wayne Kramer, and northern soul legend Steve Mancha, Melvin Davis started out at Fortune Records (like Andre Williams) playing raw R&B. "I Won't Come Crawling Back To You" comes from Davis' earliest days at Fortune and was unreleased until Norton Records issued it in 2010. Thankfully, labels such as Norton and Vampi-Soul are helping to bring attention to these gems that would have been lost in time.
MP3: Melvin Davis :: I Won't Come Crawling Back To You
A group that needs no introduction to readers of Clifton's Corner is the amazing Wess & The Airedales (see Clifton's Corner Vol.11). A recent purchase and new favorite is "I'll Never Turn My Back On You". I've previously mentioned that I've noticed a new interest in vintage 50s/60s R&B (as opposed to soul or funk) in crowds. This song blurs those lines and fits well in R&B, soul, and funk sets. I always keep it on hand for Saturdays.
MP3:  Wess & The Airedales :: I'll Never Turn My Back On You
Big Mama Thornton is another name that really shouldn't need an introduction. Famous for writing "Ball & Chain" for Janis Joplin and of course for her version of Leiber & Stoller's "Hound Dog", Big Mama Thornton was a musical force of nature. Nowhere is this more evident than on this take of the standard "Wade In The Water". Released in 1968 on the Ball & Chain compilation LP, "Wade In The Water" is a tour de force that sounds as though it could have been recorded 10 years previously. Raucous and high energy, this song is pure, volcanic, dance floor heat!
MP3:  Big Mama Thornton :: Wade In The Water
As in any field, when an artist or song "hits", there are imitators lined up and ready to try to capitalize on the original's success. Usually, the imitations are pretty poor but sometimes, something great is created. While an obvious Jackson 5 rip off, Family Plann's "Come On Let's Do The Breakdown" is a great bit of "kiddie funk" released on M-S Records in 1971. I must say a big "thank you" to Jesse Chairez of The Analog Eye photo blog for turning me on to this song.
MP3: Family Plann :: Come On Let's Do The Breakdown
From Jackson 5 imitators to a cover of the legendary J5, Harold Mabern's take on their "I Want You Back" epitomizes (in my mind) the best of soul-jazz/jazz-funk. While earlier jazz musicians tended to look down on R&B and the burgeoning soul music, by the mid-60s, they were beginning to take notice and notes. There's an indefinable magic that happens when accomplished musicians tackle seemingly simple material. Here, Mabern adds a faint Caribbean feel that accentuates the dance groove of the original.
MP3: Harold Mabern :: I Want You Back
To end this installment is Jo Ann Garrett's "It's No Secret". A dramatic and soulful masterpiece, the song was written and produced by the aforementioned Andre Williams. Singer Jo Ann Garrett is probably best known for her song "A Whole New Plan", a lilting sweet soul tune. "It's No Secret" is the polar opposite. A song of desperation over a slow funk beat, it's a great way to end sets.
MP3: Jo Ann Garret :: It's No Secret
Previously: Find the Clifton's Corner archives, HERE…