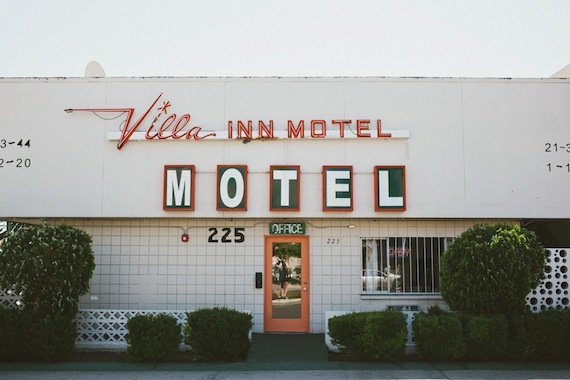 Our east coast compatriots, NYC's Chances With Wolves return with their second serving for Aquarium Drunkard: Hotel Motel – A Mixtape. As always, it's a heady/essential brew. The CWW squad is in L.A. this week launching the inaugural issue of their new zine at Family Books (tonight) on Fairfax — with a DJ set immediately afterwards. You can still download the first AD/CWW joint from 2012, here.
MP3: AD Presents: Chances With Wolves 2: Hotel Motel / A Mixtape (1 hour, 7 minutes)
Tracklisting after the jump. . .

Intro
Wear Your Love Like Heaven – Eartha Kitt
Lonesome Blues – Ernie Maresca
Collage – The Three Degrees
Blues Skies – Nina Simone
Happy Day From Me To You – Victor Uwaifo
Eclipse Of The Moon – Tony, Caro And John
I'll Take Care Of You – Bobby Bland
At The Hotel – Eunice Collins
Set Me Free – Black Merda
You Keep Me Hanging On – Steve Jordan And The Jordan Brothers
Walking In The Park – Gene Allison
Bla Bla Bla Bla Cha Cha Cha – Titus Turner
Big Bad Wolf – The Sham-ettes
Little Red Riding Hood – 9th Ward Marching Band
Mrs. Robinson – Louis Prima
Me And My Rhythm Guitar – Johnny Powers
Old Fashioned Way – Tiny Tim
We Can Change The World – Graham Nash
Sixteen Tons – Louis Neefs
Straighten Up And Fly Right – Bob Marlo
Besame Mucho – The Persuasions
Chills And Fever – Jet Harris
Never Leave Me – The Stratfords
Hit The Road Jack (demo) – Percy Mayfield
Come On Back Jack – Nina Simone
Watch It! Watch It! Watch It! – Timmy Thomas
Leftover Wine – Della Reese
Let It Be – Holy Spirit School
The Creator Has A Master Plan – Leon Thomas And Louis Armstrong