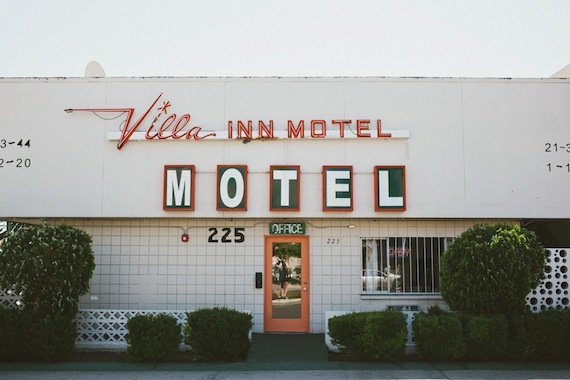 Our east coast compatriots, NYC's Chances With Wolves return with their second serving for Aquarium Drunkard: Hotel Motel – A Mixtape. As always, it's a heady/essential brew. The CWW squad is in L.A. this week launching the inaugural issue of their new zine at Family Books (tonight) on Fairfax — with a DJ set immediately afterwards. You can still download the first AD/CWW joint from 2012, here.
MP3: AD Presents: Chances With Wolves 2: Hotel Motel / A Mixtape
Intro
Wear Your Love Like Heaven – Eartha Kitt
Lonesome Blues – Ernie Maresca
Collage – The Three Degrees
Blues Skies – Nina Simone
Happy Day From Me To You – Victor Uwaifo
Eclipse Of The Moon – Tony, Caro And John
I'll Take Care Of You – Bobby Bland
At The Hotel – Eunice Collins
Set Me Free – Black Merda
You Keep Me Hanging On – Steve Jordan And The Jordan Brothers
Walking In The Park – Gene Allison
Bla Bla Bla Bla Cha Cha Cha – Titus Turner
Big Bad Wolf – The Sham-ettes
Little Red Riding Hood – 9th Ward Marching Band
Mrs. Robinson – Louis Prima
Me And My Rhythm Guitar – Johnny Powers
Old Fashioned Way – Tiny Tim
We Can Change The World – Graham Nash
Sixteen Tons – Louis Neefs
Straighten Up And Fly Right – Bob Marlo
Besame Mucho – The Persuasions
Chills And Fever – Jet Harris
Never Leave Me – The Stratfords
Hit The Road Jack (demo) – Percy Mayfield
Come On Back Jack – Nina Simone
Watch It! Watch It! Watch It! – Timmy Thomas
Leftover Wine – Della Reese
Let It Be – Holy Spirit School
The Creator Has A Master Plan – Leon Thomas And Louis Armstrong
Only the good shit. Aquarium Drunkard is powered by our patrons. Keep the servers humming and help us continue doing it by pledging your support via our Patreon page.