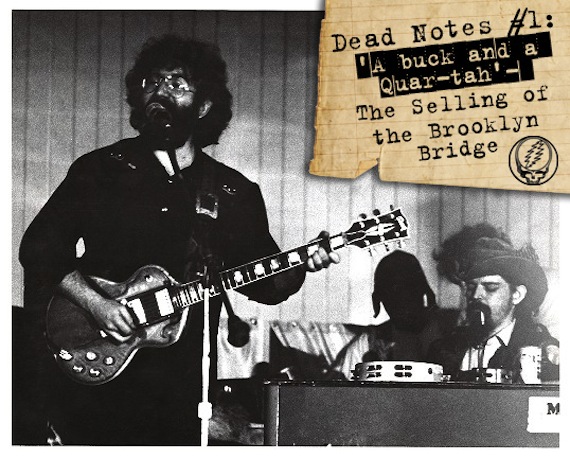 Welcome to the first installment of Dead Notes. There is a raw stigma that runs parallel with the mention of the Grateful Dead. Far too often the circus surrounding the band trumps the actual music, instead placing more emphasis on skeletons, dancing bears, hacky sacks and other vestiges of the 'parking lot' scene. Not to mention Bobby's shorts. But all these images, these tye-dyed pre-conceptions, are the unfortunate characterization of the last 20 years of the Dead's history. Countless tomes have been written about the birth of the Dead, so no need to rehash at length here, save a few words. The band began as an awkward knock-off Rolling Stones inspired garage band, playing electrified blues, traditional folk and r&b rave-ups. Slowly, they morphed into the so-called Acid Kings of Ken Kesey's La Honda with long drawn out jams that heightened the visual roller coaster their soundman (and in-house chemist) Owsley Stanley dropped upon the crowd. Emerging from that technicolor daydream they transformed themselves into psychedelic cowboys, hashing out a new set of songs over several releases that nodded heavily to America's mythic past. Lassoes in hand and hearts on their sleeves they rambled into Europe in the spring of 1972, fusing seven years of identity crisises into a powerful set of music later christened Europe '72. Arguably, amongst many, this was the peak of the band before they once again transformed themselves. Dead Notes are an opportunity to share some of our favorite moments of the Dead (off-the-beaten-path and otherwise), from their inception in 1965 to that epic spring tour.
After the jump: Dead Notes #1: 'A buck and a Quar-tah' – The Selling of the Brooklyn Bridge

We're kicking off the series with a favorite – the infamous 'Brooklyn Bridge' "Good Lovin" from 4/17/71 at Princeton University's Dillon Gym. By April of 1971 the Dead were in a comfortable spot performing amongst a dedicated and growing East Coast audience. And that Saturday night at Dillon Gym found them halfway through a month long tour firing on all cylinders. Especially Ron 'Pig Pen' McKernan who begins the second set with what appears to be a standard rendition of the ol' fav "Good Lovin" — one that quickly morphs its way into a run of the mill 'Drums'. However, what happens in the next 19 minutes will forever be sewn into the fabric of Grateful Dead history.
Pigpen's rapping during "Good Lovin" was no old news. It wasn't uncommon for him to pick out a guy in the audience, talk shit, and tell him to 'stop playing pocket pool and introduce himself ' to the lady next to him. A dirty old man at heart, Pig immediately starts rapping about needing some lovin' in the morning and jumpin' on a pony to ride. Our MC soon finds himself in a chance encounter with a pimp down on the corner, after an argument with his 'pony,' and the negotiations get into the thick of it. Why wouldn't the 'commercial merchandise' look like the Brooklyn Bridge and purchased for the small fee of 'A buck and a quar-tah' ? This is Pig in his prime carrying the audience into a dark place, yet with a wink and nod. All the while Jerry and Phil, with the rest of the group, lay down a thick groove that spirals into a sparse blues jam that fires back up for one last go around. Closing out 28 minutes of heaviness. words /d norsen
MP3: Grateful Dead :: Good Lovin' (04/17/71 Dillon Gym – Princeton University)