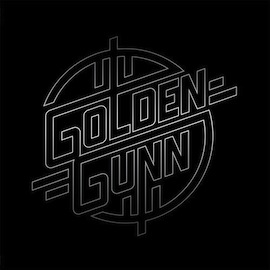 A clutch of North Carolina albums have been on my mind of late. Hiss Golden Messenger's Haw is the third corner of a triangle that started with the solitary winter blues of 2010's Bad Debt and more full-flowered folk-rock of Poor Moon in 2011. The three albums cover a similar surface area, a haunted little patch of earth that I'm often wary to get too close to. It's funny: a friend of mine recently called Hiss Golden Messenger "accessible," though it's more like the old trope of something pleasant-sounding telling you terrible things.   Haw starts out with the busted soul of "Red Rose Nantahala," before detouring to the circuital ground plan of "Hat Of Rain," a revisionist soundtrack of sorts to an imagined Druid ceremony. This is some of HGM tunesmith Mike Taylor's deepest, darkest stuff. Be warned.
It may be a stretch to call Golden Gunn a "North Carolina record," though it too seems to find a genesis in the Piedmont, when Three Lobed label head Cory Rayborn suggested a collaboration between Mike Taylor and the Brooklyn guitarist Steve Gunn. "We had a lot of the same influences and were into the same shit," Taylor told AD back in February. "Basically, JJ Cale."
Though Cale surely looms large, the real patron saint of Golden Gunn is a hard-up trucker named Dickie, a character cooked up on a long car ride by Taylor, Gunn, and liner notes scribe, Brendan Greaves (of NC label Paradise of Bachelors, which released Haw and will put out Gunn's forthcoming Time Off in June).
Taylor and Gunn traded the tapes back and forth from North Carolina to Brooklyn (where HGM partner Scott Hirsch also assisted heavily), and the album sways from Taylor's cosmic country soul to Gunn's Takoma School guitar style. Then there's the places where they deftly meet in the middle: the instrumental "Lal's Song," which wouldn't have been out of place on a Cowboy record, or "From A Lincoln Continental," a soul-jazz Curtis Mayfield-ian slice of slow funk, or the chilled-out desert boogie woogie of "The Sun Comes Up A Purple Diamond."
Golden Gunn came out quietly in a limited edition of 995 LPs on Record Store Day, but don't sleep on this one. words/ d inman