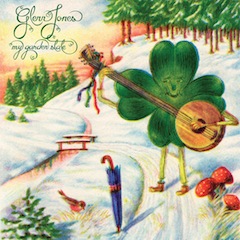 It's been more than half a century since John Fahey made his first recordings, kicking off what he called the "American Primitive" or Takoma School of acoustic guitar playing — a movement that today appears to be as vibrant and vital as ever. Fahey still casts a long shadow, of course, but the music is a constantly growing and changing thing, with creative young guitarists like Daniel Bachman and William Tyler injecting new life and veterans like Don Bikoff and Harry Taussig emerging from the mists of obscurity. Somewhere in between, you'll find solo guitar practitioners like Glenn Jones and Chuck Johnson who have been quietly honing their craft over decades and who have both released masterpieces this spring.
Although Jones got his start in the unclassifiable Cul de Sac, he's become known over the years as one of the foremost Takoma School scholars, having overseen the release of unheard Fahey material (as well as some recordings by Robbie Basho). But Jones is no mere imitator when it comes to his own music. Opening and closing with the soft tinkling of wind chimes, My Garden State is a masterful LP — meditative, delicate and subtle. Those adjectives might translate to some as "boring" but believe me, this is a positively riveting record, as Jones spins beautiful webs with guitar and banjo. "Bergen County Farewell" offers three-and-a-half-minutes of perfectly bittersweet fingerpicked melancholy, and "Alcoeur Gardens," wherein Jones duets with a distant thunderstorm, might just be the most quietly devastating thing you'll hear in 2013.
MP3: Glenn Jones :: Bergen County Farewell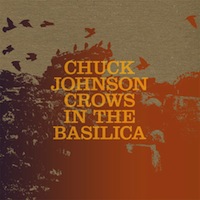 Chuck Johnson's first recordings (released under the name Ivanovich in the late 90s) were improv guitar pieces. But his new Three Lobed release, Crows In The Basilica, doesn't sound remotely made up on the spot — these solo guitar compositions have an almost architectural feel to them, transfixing the listener with their intricate structures. Johnson draws on everything from ancient Appalachian melodies to Chinese folk songs, in the process creating a hauntingly powerful dreamscape. The crystalline 12-string arpeggios of "Wild Geese Descend On Level Sand" will stop you in your tracks. Crows is also just a plain fantastic sounding LP — put this one on the turntable and it's like you've got Johnson playing a private concert in your living room.
MP3: Chuck Johnson :: Wild Geese Descend On Level Sand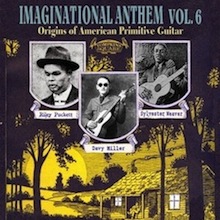 Since 2005, the best way to keep up with what's new with the Takoma School has been to scoop up the Tompkins Square label's indispensable Imaginational Anthem compilations, which seem to get better and better with each volume. Vol. 6 shakes things up a bit — it's a prequel of sorts, gathering some choice proto-American Primitive instrumental solo guitar recordings by Sam McGee, Bayless Rose, Sylvester Weaver and others from the 1920s and 30s. If you're even remotely interested in Fahey and his acolytes, this is a fascinating document, an essential glimpse of the style's roots. But beyond that, it's just a great listen, as wonderful a collection of "old time" folk/blues music as I've heard in several years. The transfers of these vintage 78s are marvelous — there's the ubiquitous hiss and crackle, sure, but otherwise the sounds are bright and crisp, broadcasted to the 21st century from a long gone era. It's nothing short of a miracle. words/ t wilcox
MP3: Sylvester Weaver :: Guitar Rag
Previously: Imaginational Anthem: Volume 5