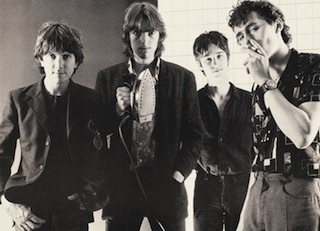 When it comes to the greatest twin-guitar teams from the late 70s/early 80s, you've got three options: the buzzsaw glory of Verlaine and Lloyd in Television; the mathematical jangle of Glenn Mercer and Bill Million in the Feelies; or the Beefheart-meets-Byrds-meets-Barrett majesty of Robyn Hitchcock and Kimberley Rew in The Soft Boys. The latter duo's intoxicating interplay is on full display during this 1980 gig, as Hitchcock and co. blaze through tracks from their then-brand new masterpiece, Underwater Moonlight, along with other stellar selections.
During the band's original lifespan, The Soft Boys were derided by the post-punk-drunk British media as 1960s throwbacks, but time has proven them timeless. Their records remain an absolute pleasure, combining Hitchcock's strangely bewitching lyrics with a sparklingly psychedelic, acid-drenched guitar sound. The band may have drawn on the music of the 1960s, but they were far from mellow hippies – dig the ferocious "I Wanna Destroy You" here, or the jacked up "I Watch The Cars," played at such a velocity to give any Ramones-worshiping punk pause, or "Black Snake Diamond Rock," which out-Beefhearts the Captain himself. Even the Byrdsian beauty, "Queen of Eyes," is given an extremely caffeinated reading. Word of warning: there's a persistent buzz on this recording, mainly apparent in between songs. You'll get over it, though – that flaw aside, it's a fantastic listen, a trip to the Kingdom of Love you definitely want to take. words/ t wilcox
Download: The Soft Boys :: Dingwall's, London, UK, December 7, 1980 (zipped folder)
1. City of Shame 2. Only The Stones Remain 3. Strange 4. I Wanna Destroy you 5. Queen of Eyes 6. I Watch The Cars 7. Kingdom of Love 8. Leppo and the Jooves 9. The Lizard 10. Black Snake Diamond Rock 11. Insanely Jealous 12. Astronomy Domine (Pink Floyd) 13. Underwater Moonlight
Related: Live Upload Series Archives (Television / The Feelies / Velvets)
Only the good shit. Aquarium Drunkard is powered by its patrons. Keep the servers humming and help us continue doing it by pledging your support via our Patreon page.