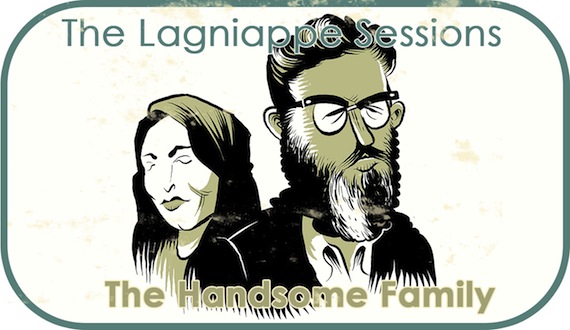 Lagniappe (la ·gniappe) noun 'lan-ˌyap,' — 1. An extra or unexpected gift or benefit. 2. Something given or obtained as a gratuity or bonus.
Welcome to installment 21 of The Lagniappe Sessions, a recurring series in which we invite artists to cut exclusive covers paying tribute to  their favorite songs. The Handsome Family's Brett and Rennie Sparks last checked in with AD in 2009, discussing ten of   their favorite murder ballads, on the cusp of the release of their album Honey Moon. Last month duo returned with its follow-up, and tenth LP release, Wilderness.
Here, the Handsome Family cover 1920's old-time American string band, The Carolina Tar Heels, and one of my favorite Louvin Brothers tracks, "When I Stop Dreaming. Brett and Rennie Sparks, in their own words, below.
__________________________________________________________________________________
MP3: The Handsome Family :: When I Stop Dreaming (The Louvin Brothers)
Of all the Brother duos and High Lonesome bluegrass bands, the Louvins are the most refined and baroque of all Southern harmony. The Everly Brothers were raised on the Louvins, and in turn The Beatles learned everything about harmony from the Everlies. In 2010, we were preparing to sing in London with Charlie Louvin, so I recorded this demo to learn the harmonies. Pretty wicked guitar work, eh?
MP3: The Handsome Family :: Peg And Awl (The Carolina Tar Heels)
This is a folk song from the 20s about shoes. But it's also about mechanization of industry and consequent loss of employment. In Pete Seeger's hands it became a pro-Union anthem. This song is from the legendary Anthology of American Folk Music (Smithsonian), which was compiled by Harry Smith in the 50s. If you want to learn about American folk music, start here. This version was recorded live at the Hideout (one of our favorite watering holes) in Chicago in 2009 for a Harry Smith tribute show.
Lagniappe Sessions Archives / original illustration  for aquarium drunkard by Ben Towle.