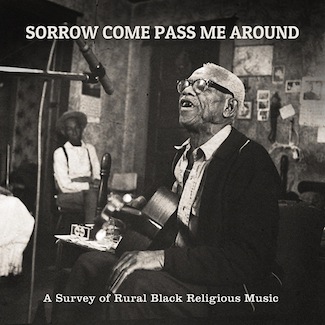 Sometimes it's not about the belief so much as the believing. That's the primary takeaway regarding Sorrow Come Pass Me Around: A Survey of Rural Black Religious Music. Originally issued in 1975 on Advent Records, this fine collection is bona fide classic. Long out of print, the assembled recordings are once again widely available via Dust-to-Digital who re-issued the album on vinyl in April.
Inside the gorgeous tip-on sleeve are detailed notes from producer David Evans, who traveled the American South (with a stop in California), with Marina Bokelman, John Fahey, George and Catchy Mitchell, Marc Ryan, Cheryl Thurber, and Alan Wilson (archivist Bill Koon also contributes a recording) between 1965-1973 with the goal of documenting sacred music removed from Sunday mornings services where it's often recorded. "Most records of black religious music contain some form of gospel singing or congregational singing recorded at a church service," Evans writes in the album's notes. "This album, though, tries to present a broader range of performance styles and contexts with the hope of showing the important role that religious music plays in the Southern black communities and in the daily lives of individuals."
So here you'll find blues singers like Furry Lewis, Robert "Nighthawk"  Johnson, and Babe Strovall singing sacred music, though they are primarily known for their secular songs, on "the principal that the devil shouldn't have all the best music," right alongside Reverend Rubin Lacy, the mixed denominational trio of Annie Lee Crawford, Annie Mae Jones, and Oscar Crawford, and church soloist Katie Mae Young. The recordings are relaxed and often celebratory. "Blind Pete" Burrell's rendition of "Do You Remember Me" floats on easygoing charm. Johnson's "Can't No Grave Hold My Body Down" is strident, a confidant boast in the power of the resurrection. Even the songs most concerned with matters of repentance — like "You Got to Give an Account" ("Of your sins," the lyric continues) — sound like a party.
Evans draws little distinction between the blues — a music that was every bit as rebellious and hell raising as its eventual child, rock 'n' roll — and the plaintive spirit of rural gospel. "The average person who attends church irregularly usually sees little harm in the blues," Evans writes, going on to state that preachers "rarely condemn the blues singers as much as they do the liars, gamblers, drinkers, adulterers, hypocrites, and backsliders," even if those blues singers might very well fall into the categories mentioned. Instead, he argues that the preachers enjoyed a special kinship with blues singers, not only in the matters of speaking to the broken nature of humankind, but also in the celebration of its spirit, of lifting up as much as warning or ministering to. It's a link that still exists in popular music, though rarely is it displayed as nakedly or as raw as it is here. words/ j woodbury