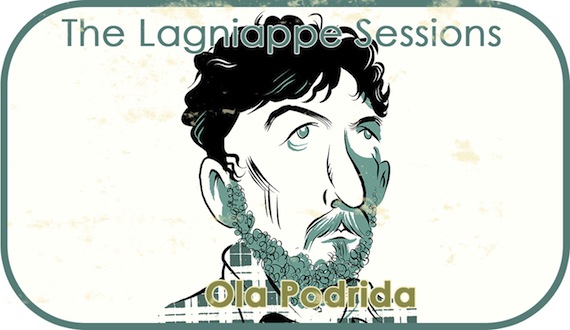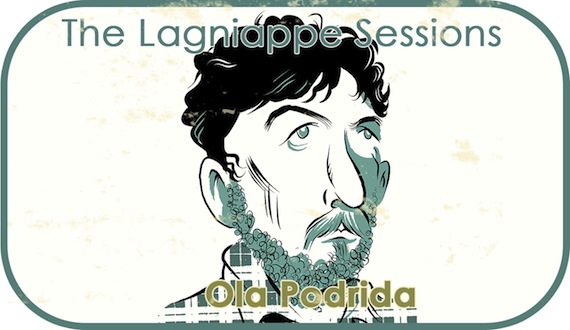 Lagniappe (la ·gniappe) noun 'lan-ˌyap,' — 1. An extra or unexpected gift or benefit. 2. Something given or obtained as a gratuity or bonus.
I first heard Ola Podrida (née David Wingo) via David Gordon Green's All The Real Girls. In addition to contributing to the score, it was a lyric of Wingo's that inspired the film's title. Several years later Wingo's Ola Podrida entered my life, specifically "Jordanna", and I've been keeping up with his work, whether scoring under his own name, or under the guise of Podrida, since.
Last month saw the release of Ola Podrida's third album, Ghosts Go Blind, yet another atmospheric, meditative, triumph in the Wingo canon. For this installment of The Lagniappe Sessions Wingo, a child of the 80s, takes on none other than pop-radio god, and zeitgeist avatar, Huey Lewis, and deconstructs shoegaze vets Ride's "In A Different Place".   David Wingo, in his own words, below.
Ola Podrida perform at the Satellite, here in Los Angeles, Wednesday night.
__________________________________________________________________________________
MP3: Ola Podrida :: In A Different Place (Ride)
This was inspired by an interview I read with either Andy Bell or Mark Gardener years ago where they said they thought the thing that set Ride apart from the rest of the shoegaze bands was that their songs could be played on just an acoustic guitar and still sound good. It was something I often thought about when listening to them after that but over 15 years later I tried it out and saw that it was true. Some friends of mine were getting married and wanted me to do a song for a 7″ that was going to be the present/keepsake for all the attendees and since he and I both came up being major shoegaze fans it only made sense to do a song from one of those bands. I immediately thought of the Ride quote and decided to keep it acoustic and it became a pretty fun challenge to see what songs still worked with only acoustic guitar and light percussion. I tried several but sure enough, nothing from any of the other bands I tried felt as much like a complete, whole song as Ride's did. Several of their songs that I tried worked in my opinion, but I ended up going with "In A Different Place" as it's a love song of sorts and felt like a pretty perfect song for the occasion. It makes we wish that they had done an EP of all acoustic versions of their songs.
MP3: Ola Podrida :: Perfect World (Huey Lewis & The News)
A friend of mine is a massive Huey Lewis & The News fan with 100% sincerity. Hopefully that doesn't say something about me that I have to qualify that, but I say it because I usually am a little curious when anybody is a huge fan of any major pop culture touchstone from the 80s that could maybe be considered by some to be kitschy. But I quickly realized that there was not any irony in his love for them, and since I met him he's been talking about trying to organize and put out a Huey Lewis covers compilation. Since talking to him about them I went through and listened to their songs more thoughtfully, and after the idea of covering one was planted in my head it ended up becoming something I really wanted to try. There are other songs that I like more than "Perfect World"…I don't know how many people remember it at all now, unlike so many of their previous hits that everybody who grew up in the 80s could still sing to this day. But in listening to the song I started thinking about how so many pop songs from every era shroud somewhat bittersweet and resigned lyrics in peppy, upbeat music, this being a really good example of it. So I took it as an opportunity to take a song like that and try to reflect the emotion of the lyrics more in the music and to do so with zero irony, obviously. If it felt at all like "ha ha, I took a fun 80's pop song and made it all moody and reflective" then I obviously would have failed at what I was trying to do, but it's a well-written and well-crafted song that I think would hold up on its own under most any interpretation. I had a lot of fun doing it and it made me really hope my friend can see through his covers comp one day soon, I think it'd be a pretty good listen.
Lagniappe Sessions Archives / original illustration  for aquarium drunkard by Ben Towle.