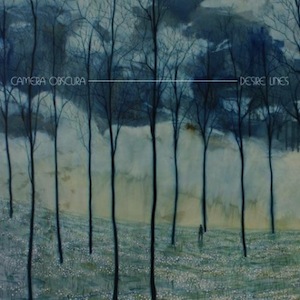 Following a brief orchestral swell, Glasgow-based pop band Camera Obscura wastes no time getting assertive with Desire Lines, the band's fifth album since debuting more than a decade ago with Biggest Bluest Hi-Fi. "When I found your girlfriend crying/I could have slapped you in the face," singer Tracyanne Campbell sings over a restrained boogie. This is Cameria Obscura, of course, so the aggression is more subtle than bombastic, but over the course of the record's 12 songs, Campbell and co. make it obvious this is no band of wide-eyed kids; Desire Lines is the work of a confident, grown ass band. The underachievers, it's clear, are trying harder.
"I'm sure we had some 'twee' moments back in the early days –of course we did," Carey Lander (keyboards, organ, vocals) states, her voice flat but warm, from Glasgow, where she's packing her bags for a morning flight to the States to spend time opening for Zooey Deschanel and M. Ward's She & Him.
"But I think we've had ambitions to move beyond being a gangly indie band," she concludes.
For Desire Lines, the band's first record since taking an extended break while Lander was treated for cancer (she's doing fine these days), the band trekked to Oregon to record with Portlander Tucker Martine, joined at the sessions by Neko Case and Jim James of My Morning Jacket. There's a stark West Coast vibe to the record, a Pacific saltiness. "We were really happy to come to America for this album," Lander says. "It seemed like the right thing to do."

The ingredients established on 2006's Let's Get Out of the Country and 2009's My Maudlin Career— Campbell's sumptuous voice, Lander's melodic additions, the Marr-esque guitars of Kenny McKeeve, and the mod-soul rhythm section of bassist Gavin Dunbar and drummer Lee Thomson — are still there, but the album finds every element refined. The constant reverb, which gave the band a far-off air, is gone, leaving everything more stark and apparent.
"I missed it at first," Lander says of the reverb. "I was worried that it would be too dry." But she quickly got used to it, and with the cloak tossed back, the band, guided by Tucker Martine in Portland, captures some stunning moments.
There's the sultry, synth-led "Troublemaker,"  which Lander says excites her the most, and there's the soft rock ballad "New Years Resolution,"  which could have been a hit for Roseanne Cash had Skunk Baxter been loaned by Steely Dan for a session ("Our 'Fleetwood Mac moment' or something," Lander demurs). The band does a rock 'n' roll twist on "Do It Again," gets tropical on "Each Weekday," goes New Wave on "Break It To You Gently," and adopts a countrypolitan touch for the title track. It's a charmingly mixed bag.
"We'd hope to introduce some new elements every time we make an album, but we're not trying to reinvent ourselves," Lander says. "We're not trying to be super 'hip' or something. That's never going to work. But it was nice to reflect some of the influences of the '80s, something more than just making '60s pop or whatever people think [we've made] on previous albums."
While no one will mistake Desire Lines for the new record by the latest "it band," there is a freshness to its sound, the mark of an approach that can't be taken by a fresh-faced act. It takes a seasoned band to shake things up without rattling apart.
"I think we've been thinking quite a lot about how long we've been together, and what it means in our lives to still be doing this," Landers says. "On one hand we're hoping that there's still a feeling of newness, on the other we're aware that we've been doing this for ages now." She laughs. "And we're getting older."
The album's best song, "I Missed Your Party"  reflects that tension. Campbell glibly sings to a friend that she's  "genuinely sorry that she missed your party,"  opting instead to stay in and read Walt Whitman, watch Flashdance, listen to Billy Joel, and be in bed by ten. "Old people priorities," Lander chuckles. But Campbell's voice has never sounded better, and as the Midnight Runners-style horns roll in, the strings manipulate the key, and the steady bass thumps, it's clear that the extra rest has done the band some good.
"There's a lot of people that whatever we do, they see us as youths or something," Lander says. But Camera Obscura is an adult band, with an adult concerns: The band will be taking a little more time off following this tour, as Campbell is expecting her first child. "They see Tracyanne as a 'teenager in love' forever, no matter how old she gets. Or what she's singing about," Lander says. "But she's a girl no more." words/ j woodbury