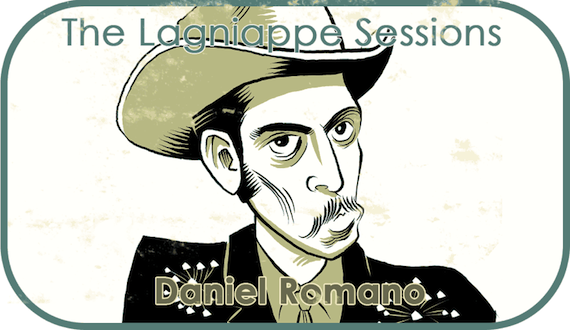 Lagniappe (la ·gniappe) noun 'lan-ˌyap,' — 1. An extra or unexpected gift or benefit. 2. Something given or obtained as a gratuity or bonus.
The music world lost a giant in April: George Jones, White Lightening himself — the Possum. For this installment of The Lagniappe Sessions our favorite Canadian country crooner, Daniel Romano, pays tribute to the legend covering "I Can Still See Him In Your Eyes" and "There's The Door". Jones' body may have been laid to rest at Woodlawn Cemetery in Nashville, but his firebolt spirit is less easily contained. Romano, in his own words, below.
Daniel Romano :: I Can Still See Him In Your Eyes (George Jones)
This song has an almost identical melody to everyone's favourite Twitty song "Hello Darlin". It is the title track on the possums 1973 record. The song is immediately followed by "Hello Darlin'" which was an interesting move to say the least.. Unlike "Hello Darlin'", this song is much more stark and to the point, evoking the dark feelings and desperation that go hand in hand with jealousy. The man from the past remaining in the mind of your lover…what could be worse.
Daniel Romano :: There's The Door (George Jones)
Half devastating, half optimistic, this song is mostly good for its amazing vocal delivery by Jones. When the chorus hits you could swear he's crying. The front half is a man caught in the headlights of truth and being turned away. The second, a self-discovery and a thought of a chance at another chance. I don't know what it says about me, but I prefer the front half.
Lagniappe Sessions Archives / original illustration for aquarium drunkard by Ben Towle.