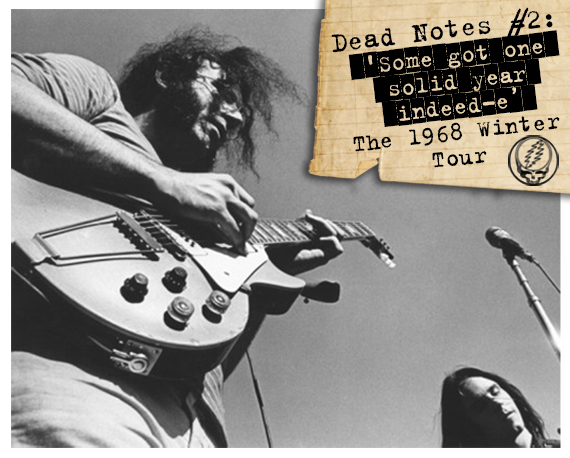 Welcome to round two of Dead Notes. We kicked things off with a "Good Lovin"' from 1971; today we touch down in February, 1968 where we find the Dead eleven months after the release of their self-titled debut, tackling the recording of their sophomore album, Anthem of the Sun. In the late months of 1967 the Dead spent some time recording in Los Angeles but quickly decamped to NYC with producer David Hassinger — who promptly retreated after rhythm guitarist Bob Weir notoriously asked him to create the illusion of 'thick air' in the studio. Nice. Anthem of the Sun found the band simultaneously recording in the studio and on the road – in turn mixing both results in an effort to try and capture the live sound of the Grateful Dead. At the same time they were also mixing in the adventurous, non-traditional, experiments of fellow San Franciscan Tom Constanten, who dabbled in prepared piano and John Cage influenced electronic tape trickery. Psychedelic madness, indeed. To further complicate things, the band was unhappy with the initial live recordings to be used on the album and scheduled a run through the Pacific Northwest in late January through early February, 1968. Which finds us at the doorstep of Portland, Oregon's Crystal Ballroom on February 2nd.
Written by Noah Lewis of Gus Cannon & his Jug Stompers in 1928, "Viola Lee Blues," the sad tale of incarceration, quickly found itself within the early Dead arsenal closing out the B-side of the band's 1967 debut LP. By early '68 the song was no stranger to the Dead's audience, and was the first extended jam in their setlist allowing the band to expand their electric blues horizons with one of their earliest jug band influences. This night's take finds Garcia firing off rapid-fire fuzzed out leads that just ooze acid soaked mayhem from the opening note,. By the five-minute mark, the band has established a thick electric din for Jerry to jam over, which he does with reckless abandon. In particular, organist Pigpen and bassist Phil Lesh hold the rhythm in place while Garcia weaves in and out as the tempo increases, before slowly falling apart into a feedback jam which then explodes with into we have affectionately called over the years 'the drop'. The band playfully meets up again to establish the theme and revisit the heartbreak of endless written letters with no reply. This is the Dead at the pinnacle of their psychedelic blues trip. Enjoy.   words/ d norsen
Grateful Dead :: Viola Lee Blues (2/2/68 Portland, Oregon)
For heads, by heads. Aquarium Drunkard is powered by its patrons. Keep the servers humming and help us continue doing it by pledging your support via our Patreon page.