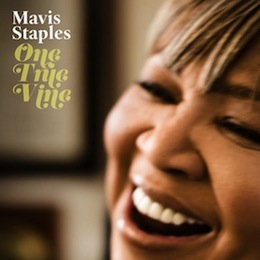 In her sixty-plus years as a gospel and soul singer, Mavis Staples has rarely been lacking in buoyant confidence. She has the physical muster to stretch her voice from exasperated whisper to jubilant shout in the span of a single bar, but her songs rise on the effervescence of the little counter-sung grunts that she tosses in on the way ("ah-HUH!"); her body of work is, almost without exception, in a constant state of exaltation, completely focused on God, on others, and on positive social change with a singularity of vision and loosely worn sincerity that would seem cloying coming from just about anyone else. And when she breaks her songs down to their most tender and vulnerable, she does so as a minister: She wants to get it through to you that you are not alone.
And yet it's still no surprise to see Staples working so comfortably with Jeff Tweedy, who produced One True Vine, as well as 2010's You Are Not Alone. Tweedy, for all of his grumbling, has finally shrugged off his art-damaged mantle and started to become comfortable in his role as Americana folk hero. Tweedy's God – or, at least, the God of his lyrics – is never as clear as Staples', though, and religious faith seems to be the kind of thing one has to fight oneself in order to achieve.
So it comes as no real shock that they open One True Vine with a cover of Low's "Holy Ghost," which was itself produced by Tweedy earlier this year. What is surprising is how sincerely Staples sells the song's drag, the sense of disappointment that's attendant with mystery: "I feel the hands / But I don't see anyone, anyone," she sings. It's a mode that fits Low – hell, it a mode that Low might as well have invented – but the same woman who three years ago told us she was going to demand her starry crown when she gets to Heaven? The way is narrow, all the way to the summit.
Tweedy recently told Stereogum that the album's somber mood was by Staples' design. She originally wanted the record to be just the two of them, voice and acoustic guitar. Tweedy eventually enlisted his son Spencer and a few other players to round out the sessions, but the group keep things gentle – gone are the Pops-aping reverbed guitars and bombastic choruses of You Are Not Alone. Instead, we're given warm lines and a small choir that, in the Nick-Lowe-penned "Far Celestial Shores," tellingly grow from a whisper to a roar only after having crossed over.
As for Staples, she's confessing. With the room she's given by her band, she sings in a hushed voice, almost microscopic in detail, only rarely rising to her full volume. Hers has always seemed to be a charming reverence, the kind of thing you can freely marvel at knowing you could never afford it yourself, but One True Vine is calm and persistent. Its intermingling of suffering and salvation is challenging not for its exuberance but for how very quotidian – and therefore possible – it feels. "I get tired, lonely, lose my way," she sings over red-lined bass in "Every Step." "My Lord, he knows me, every step of the way." The album's second half opens into brighter territory, but even the classic hymn "What Are They Doing in Heaven Today?", whose stamping beat makes it impossible not to hear it as a tribute to Staples' late friend Levon Helm, is just as beguiled by the confusion of this life as it rapt in its celebration of eternal life.
It doesn't all work quite so perfectly. At least, not on first listen. When Tweedy sang the title track as a Sky Blue Sky b-side, its tender resignation and pained self-consciousness suited him. But there's something odd and off-putting about Staples trying to sell herself as "last in line for the one true vine"; for all of the album's difficulty, Staples never comes close to abandoning her love, and the words themselves hardly ring true coming from the woman who's been telling us for years to walk on in to Heaven without knocking. Even so, the song proves to be much more flexible than its original recording would suggest. The lines come through bolder here than they do in Wilco's version, and where Tweedy sings of the "mighty, mighty fire" of life as something from which he's been saved but may never recover, Staples' powerful voice respectfully blows it aside – the song is written in the past tense, after all, and the fire wasn't really what she was singing about anyway. words/ m garner
Aquarium Drunkard is powered by our patrons. Keep the servers humming and help us continue doing it by pledging your support via our Patreon page.