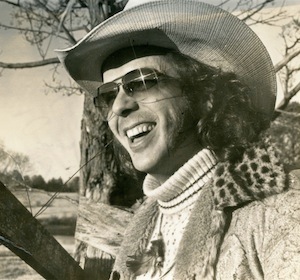 It's tempting to cast Memphis-born guitarist Bobby Whitlock as some sort of Zelig like character hiding in the back of various studios in the early 1970s, while classic albums like George Harrison's All Things Must Pass, Derek and the Dominos' Layla and Other Assorted Love Songs, Joe Cocker's Mad Dogs and English Gentlemen, Delaney and Bonnie's Home and more were being cut. But Whitlock wasn't the guy hiding out among strong personalities, acting as a chameleon. He was playing a distinct role in what was going on.
Whitlock was a keen player, and his instinctive ear enabled him to make his presence felt at each session. Walking into stuffed sessions for George Harrison's "Wah Wah," featuring Ringo Starr, Billy Preston, Eric Clapton, Pete Ham, Gary Wright and more, Whitlock sat at a Wurlitzer and figured out where he needed to be. "Everyone was playing on the downbeat," Whitlock drawls over the phone from his home in Austin, Texas. "So I played on the upbeat. It was open. I listened. It was there for me."
Whitlock speaks in the same sort of metaphysical manner regarding his own solo albums, his debut self-titled effort released in March of 1972 and his second, the one-half rocking/one-half ballad-driven Raw Velvet, released in November of '72. The two albums have been recently reissued by Light in the Attic's Future Days Recordings imprint, individually on vinyl and compiled on the comprehensive collection, Where There's a Will There's a Way: The ABC-Dunhill Recordings. Both records feature all-star casts. George Harrison, Eric Clapton, Delaney and Bonnie play extensive roles, and some tracks feature the L.A. Symphony performing sweeping arrangements coupled with Whitlock's husky, soulful voice. There's a heady blend of sounds on the records, drawing from the American blues-worshiping strength of Clapton and Harrison, the country rock of Delaney and Bonnie, and lessons learned during Whitlock's young manhood, when Don Nix paired him alongside Donald "Duck" Dunn and Steve Cropper, and he was signed as the flagship artists of Stax's fledgling Hip Records subsidiary.
And there's gospel there, too, reflecting an appreciation for sacred sounds that was literally beaten into Whitlock growing up. "It's like the pebble in the pond," he says of the records' legacy, which is only now coming into its own. "The ripples go way out into an ocean of rock 'n' roll music. It's pretty amazing."
We discussed more.
Aquarium Drunkard: You recorded your self-titled record in the midst of Derek and the Dominos' dissolution. How did that come about?
Bobby Whitlock: [The Dominos] had our last session together, and there was still time there [left over from the recording sessions]. I went, "Well, why don't I do my own record, you know?" I thought that to myself. I thought, "Let's see if I can get everyone to play." I wanted to get everyone to play on my thing. Carl [Radle] was going to be the bass player, but he had to do something with Leon [Russell]. Had I waited…for him to finish his project with Leon, the whole album would have been Derek and the Dominos with me singing. Klaus [Voorman] is on some of it; Delaney's [Bramlett] playing bass on some of it. It's a document. Pat Thomas, who put [the reissued collection for Light in the Attic] together told me once, it was "the thread," the continuity, that linked all these records: Delaney and Bonnie, Derek & the Dominos, All Things Must Pass, Mad Dogs and English Gentlemen, The Rolling Stones; it linked all these things together. I hadn't really given it much thought, but he's absolutely right. It goes on and on, to Dr. John to Fleetwood Mac through Rick Vito [who also plays on Whitlock's second LP, Raw Velvet.
AD: There seemed to be a real kinship between the players: you, George Harrison, Eric Clapton, the Dominos, Delaney and Bonnie…
BW: I think they're great records. The playing is superb…I mean, Jim Gordon. What a drummer! Everyone played what they wanted to play. The best thing that could have ever happened to [the records] though, is for them to go into pretty much abject obscurity. They were only released in America for like a month or something, and then in Great Britain for about a week [laughs]. It was like boom boom, and then it was "Bobby who?" Because if you weren't a big star then, you were looked past, you know?
AD: You had been acting as a sideman during the years leading up to recording these records. Were these songs that you had been kicking around for awhile before recording them?
BW: "Where There's a Will There's a Way" I had written; "Country Life" was written. "The Dreams of a Hobo" was like the second song I'd ever written. But the rest of them were written as time went along. "Back Home in England," I'm just thinking off the top of my head. "Back in My Life Again" was written on the spot, with George Harrison sitting three feet in front of me, and Eric Clapton sitting two feet behind him to his left. We'd finished "A Day Without Jesus" — which I had written with Don Nix before I left [home] with Delaney and Bonnie — and we had done "Where There's a Will There's a Way." George looked at me and said, "What's next?" I hadn't expected that. I expected two songs at best. I wasn't expecting a third one and I didn't have anything prepared. So I just said, "Make something up." He said, "Well, B minor," and I couldn't believe it. Here I was playing in B minor. I didn't play anything in B minor; I should have played it in A minor. It certainly would have been easier to play. But everything just flowed. Everyone was in that flow.
AD: You were just flying loose?
BW: That's why all that music was so great, you know? We were one central band, we really were [playing with] Leon Russell, George Harrison, John Lennon, Derek and the Dominos, Eric Clapton — I mean his first record was [backed by] Delaney and Bonnie and Friends. That band, that rhythm section especially, Jim Gordon, Carl, we put out some pretty stout records, some pretty important records. And mine being two of them! They were more important than I gave credit to all those years ago.
AD: There's a mélange of style on these records. There's rock, soul, and country, but there's especially a lot of gospel feeling. How did gospel influence your music?
BW: My granddaughter took a picture of herself, and I'm going to use it on the cover of my new record. I was looking at it and I said, "How old is Ava there?" My wife said about 11. That's about the age I was when my dad gave me a serious lesson in obedience. I was out there chipping bricks and singing in the yard, a song called "Swing Lo Sweet Chariot." He came out and said, "You're going to sing in church tomorrow." That was Saturday. I said, "I'm not singing in church," and he proceeded to take his belt off and he wore my ass out right there in front of everybody. I was up in front of the choir the next morning, singing my butt off. Loving every bit of it. It was my first public performance, and we did it up-tempo. [Sings] "Swing lo, swing chariot." Really rocked it. The choir behind me doing that thing, and I knew that's where I was supposed to be. I've always known.
Someone said something to me — where did you learn to sing? This came to me earlier today. This thought passed through: I didn't learn. I was born singing. I was always singing. I don't remember when I wasn't singing, and I've got a really good memory. It goes back to when I was a baby, when I was still in diapers. I remember. I remember singing, when I was a little little-bitty fella. That's something that you're born to do. That's not something that you take up and go get you some lessons. Now there's some people who can sing a song, but that's a different matter of being an instrument through which God is working. [That's not] singing some notes on a piece a paper, because you can reach a certain pitch or make a certain melodic content palatable. But when you're in this place where the creative principle of the universe, the "Big G" is working — if you're in that spot, if you're Bob Dylan, Keith Richards, you know Bobby Whitlock, if you're one of those people, you're aware and understand that.
AD: With Raw Velvet you spend some time rocking, but that sacred influence is still there.
BW: I got flack from the record companies about that. They wanted to know which direction I was going to go, and I said, "I don't go in a direction." This is just who I am and what I do. Every direction I go seems to be the right one, musically, coming from my roots of pure gospel. I got my education down the road, at the black church, listening to real gospel and R&B. When I was growing up you could go out in Memphis in all hours, go to all those juke joints and nobody would bother you. The influence was there. I grew up on real soul music. I was fortunate to be around Stax, to be a part of that, when it was coming up. But I liked playing rock 'n' roll, too. I always had complete creative freedom. I was just spreading my wings on that record, singing entirely too high. I could have just changed the key of the songs, but I was just going for it, and somehow I managed to hit those notes. It was good to have that freedom. In some cases, I made a fool out of myself, but not really. I knew even back then that I was growing.
AD: You made it a point to purchase the rights to these albums back from ABC/Dunhill. That's not usual, but it sure seems like the right move in retrospect.
BW: I had a level of integrity that couldn't be compromised…even when I didn't know what integrity meant. On those records I was doing what I wanted to do. That's what you do. You do what you want to do. That's the key…I know it to be true. Here I am.   words/ j woodbury