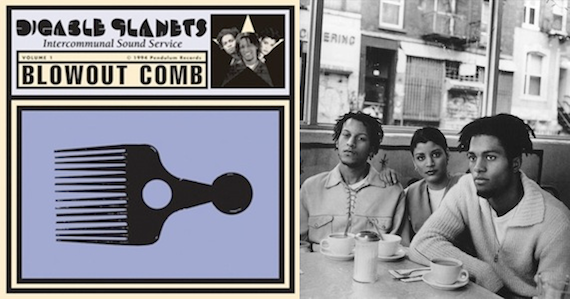 I owe a lot to this record. Released in the Fall of 1994, Blowout Comb effectively soundtracked the next six months of my life, turning me on to a whole new cast of heroes — namely Roy Ayers, but not limited to: Grant Green, Shuggie Otis, etc. If the group's debut, Reachin, led to my raiding and recontextualizing my father's jazz/soul collection at age 17, then Blowout only upped the ante two years later. Synthesizing and re-purposing the past few decades of soul, jazz and funk, the rabbit hole was blown wide open. Pun very much intended. In typical grand fashion, Light In The Attic Records reissued the LP on vinyl last month.
For those interested in the album's source material, here's something I picked up in a cardboard sleeve a few years back — DJ Jedi's mid '00s 70 minute compilation of samples, Blowout Breaks.
Download: Digable Planets: Blowout Comb (The Blowout Breaks)
01. Hamilton Bohannon — Thoughts & Wishes
02. Lonnie Liston Smith — Devika (Goddess)
03. Kool & The Gang — Summer Madness
04. The Ohio Players — Funky Worm
05. Eddie Harris — Superfluous
06. The Crusaders — Mystique Blues
07. Herbie Hancock — Watermelon Man
08. The Last Poets — Black Is — Chant
09. The Crusaders — Lilies of the Nile
10. Bobbi Humphrey — Blacks and Blues
11. Herbie Mann — Push Push
12. Edwin Starr — Easin' In
13. Curtis Mayfield — Give Me Your Love (Love Song)
14. Tavares — Bad Times
15. Eddie Harris — Get On Up And Dance
16. KC & The Sunshine Band — Ain't Nothin' Wrong
17. The Crusaders — Listen And You'll See
18. Roy Ayers — We Live In Brooklyn, Baby
19. Digable Planets — May 4th Movement Intro
20. Motherlode — Soft Shell
21. The Meters — Here Comes the Meter Man
22. The Headhunters — God Made Me Funky
23. Fred Wesley & The J.B.'s — Blow Your Head
24. James Brown — Soul Pride (pt. 2)
25. Roy Ayers — Ebony Blaze
26. Shuggie Otis — Island Letter
27. Skull Snaps — It's A New Day
28. Bob James — Blue Lick
29. Bobbi Humphrey — Jasper Country Man
30. Herbie Hancock — Rain Dance
31. Sonny Rollins — Mambo Bounce
32. Art Blakey and the Jazz Messengers — Stretchin'
For heads, by heads. Aquarium Drunkard is powered by its patrons. Keep the servers humming and help us continue doing it by pledging your support via our Patreon page.