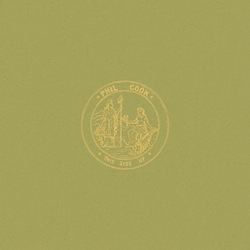 We ask songs to serve all kinds of functions. We ask them to remind us, to make us forget. Sometimes we ask them to take us someplace else.
Phillip G. Cook has written songs that do all of these things. As a principle member of the psychedelic roots outfit Megafaun, the bar-rocking Shouting Matches, a contributor to Hiss Golden Messenger's country soul boogie, and the music director of the forthcoming album by gospel stalwarts Blind Boys of Alabama (he worked on the album with his buddy and Shouting Matches bandmate Justin Vernon of Bon Iver/Kanye West fame), Cook has demonstrated his ability to synthesize American folk mediums, to gently bend them in unexpected directions.
"The Jensens," from Cook's forthcoming EP, This Side Up (due August 13 via Trekky Records) speaks to Cook's steady music hand, and an approach rooted someplace deep. The song originally appeared on Cook's 2011 record, Hungry Mother Blues in a sparse acoustic setting. Its striking melody was in place then, but in its new incarnation the song blooms. Cook tugs on the strings of an electric guitar, while a meditative bass nudges the drumbeat forward under the stride of a piano. At the 4.29 mark, let's loose a melodic figure that can only — at risk of sounding buffoonish here — be described as a "lick." The song is in line with the works of Ry Cooder, the hazy looseness of Steve Gunn's post-Dead ramble, and the gossamer spirituality of Bill Frisell's electric jazz. It is a resolutely beautiful song.
"The Jensens" serves as the sound of moving, of heading toward some place quieter. It is the gorgeous centerpiece of This Side Up, a collection of songs that serve whatever purpose you need them to. words/ j woodbury