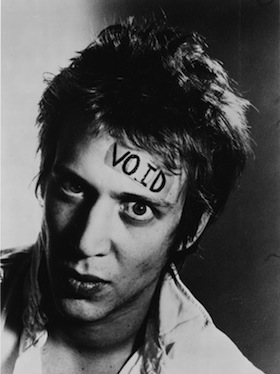 By the end of 1976, Richard Hell had co-founded two of the most important bands of New York's fertile underground music scene — Television and The Heartbreakers. He'd also been kicked out of both of them (or he left of his own accord, depending on who you're talking too). In other words, his place as a punk pioneer was pretty much firmly set in stone. But his best work was still ahead of him, miraculously enough. Hell formed the Voidoids in 1976 and quickly set about playing CBGB, the club he had helped make the hottest musical spot in all of New York City.
This short and sweet tape is one of the earliest documents of the band — an audio verite experience, to be sure, but thrilling all the same. The Voidoids' twin guitar attack, conjured up by Ivan Julian and Robert Quine, was (and mostly remains) an utterly unique thing; intricate without being fussy, lightning fast without feeling rushed, and containing that real sense of threat that all great rock 'n' roll requires.
"I think Quine was the best rock and roll guitar soloist ever," Hell writes in his recent memoir, I Dreamed I Was A Very Clean Tramp. "He found a way to mix art with emotion that put him ahead of everyone … He assumed as fundamental the qualities that were the highest aspirations of most soloists, and would then depart from that platform into previously unknown areas of emotion and musical inspiration." Well said. There's plenty of killer Quine to be enjoyed here, from the manic energy of "You Gotta Lose" to his skronked out excursions on "Love Comes In Spurts." New Pleasures, indeed! words/ t wilcox
Download: Richard Hell & The Voidoids :: CBGB, NYC, November 19, 1976 (zipped folder)
1. Liars Beware 2. You Gotta Lose 3. New Pleasure 4. The Plan 5. All The Way 6. Blank Generation 7. Love Comes In Spurts
Only the good shit. Aquarium Drunkard is powered by its patrons. Keep the servers humming and help us continue doing it by pledging your support via our Patreon page.