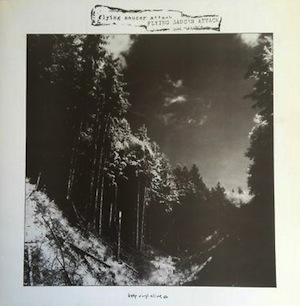 I probably wouldn't have given two shits about Suede had it not been for Flying Saucer Attack's over-saturated and explosive cover of the group's "The Drowners". Dave Pearce and Rachel Brooks started FSA in 1992, crafting an album dipped in feedback that sounded like a busted drum machine crossed with discarded Fisher Price instruments. They then burned it all onto a 4-track cassette recorder. The results? Incredible. The duo also turned the beloved Britpop single into a chaotic mess of spiraling feedback and the most laid back vocal delivery ever.
Low-fidelity and the overall "less is more" recording aesthetic are the obvious talking points of FSA's sound. There's no way you'd catch bands like Lush, Ride, or even Suede, stepping out of the comfort of a studio budget or ditching an opportunity to record with Alan Moulder just to go knock out a pop album on someone's Tascam Portastudio. Bedroom recording meant something completely different to these musicians. They reveled in it. FSA's debut full-length, aka "Rural Psychedelia", meant you didn't need a studio budget to record an album that displayed real depth and a wide palette of sounds. You just went ahead and did it.
As an album, Rural Psychedelia breaks down into two sections: the noise pop tracks and the droning repetitive numbers. Opener "My Dreaming Hill", the angelic blast of "A Silent Tide"  and the building rush of "Wish"  are the medal winners, the repeat tracks you'll put on mixes for friends, and obviously, that super crush you keep spotting at shows because nothing says "I'm really want to be on you" than a song with stormy indecipherable vocals completely awash in distortion. The repetitive and mechanical drones of "Moonset"  and "Popol Vuh 2" are worth noting as that they sound like expansive one-take jams with actual percussion and flutes. Think My Bloody Valentine's "Moon Song" without the "Song", or the music of a snake charmer, doubling as the soundtrack for a bankrupt city of dilapidated buildings. The sound of a future Republic where all of the vinyl has melted and all of the cassette tape has long unraveled, eroding into the city's foundation. It could happen.
So what makes this album remarkable after twenty years? First, it's deeply loved, not just by critics, but by the shoegaze kids, the indie rockers, the twee poppers, and even the post-punk lifers. They all identified with the raw distorted sheen, DIY mantra, and everything that they represented. Second, several of these tracks have absolutely stunning guitar melodies buried amongst the fuzz that nod to The Byrds and Love — albums we grew up listening to with our parents. To relive that experience, transfigured within a new medium (one that was clearly the underground of the underground), was an incredible feeling. And lastly, Flying Saucer Attack were the cult band that you only heard on college radio but one that everyone wanted to talk about. They weren't a Factory, Creation, or 4AD band, they were a duo who made highly crafted songs within a mess of noise, proving once again that talent transcends any recording device. words/ s mcdonald