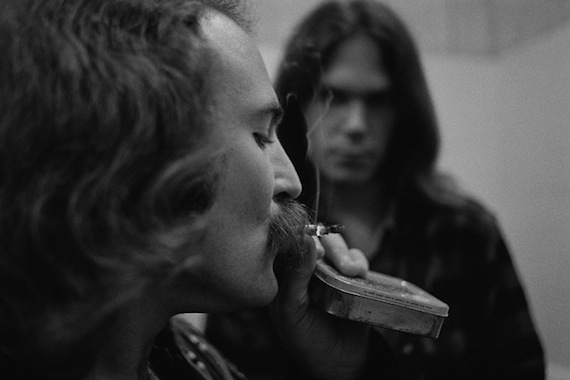 Over the past decade, by my (rough) count, I have encountered at least three varying collections grouped under the catchall titles: the PERRO Tapes, the PERRO Sessions and the '70 David Crosby Sessions. Each with a slightly different track count and running order. In short, PERRO (Planet Earth Rock & Roll Orchestra) was the name given to a loose camaraderie of Bay area players and their simpatico southern California brethren, including, but not limited to, members of CSNY, the Dead, Jefferson Airplane and beyond. And for our purposes here (regarding the sessions leading up to Crosby's 1971 LP If I Could Only Remember My Name), Joni Mitchell, Neil Young, Greg Rolie and Mike Shrieve. While never commercially released, a number of the PERRO tracks would later appear (re-recorded) on various studio efforts by the principals involved, namely said David Crosby LP.
A fully realized embodiment of the sound of California's folk/rock/psychedelia movement of the time, the record is arguably Crosby's finest moment. As such the PERRO sessions further harness that fleeting zeitgeist. A rough-hewn, faded, snapshot. Writing about this set here in 2006, a commenter criticized the sessions noting that while the musicianship was "as strong as you would expect from the cream of the Marin County scene, the whole thing has the feel of a stoned weekend jam in someone's living room." I suppose one man's trash truly is another man's treasure, as for me therein lies the session's charm. Yes, it does feel like "a stoned weekend jam in someone's living room" – albeit one with some exceptional players. Pejorative context removed, a rather perfect summation.
I tend to dig these out once a year, typically as the summer begins to burn off in August and play them throughout the length of September. If you have yet to check these out, you can dig into an informal PERRO history, here, and explore the tunes themselves via this working download link.
Aquarium Drunkard is powered by its patrons. Keep the servers humming and help us continue doing it by pledging your support via our Patreon page. For heads, by heads.