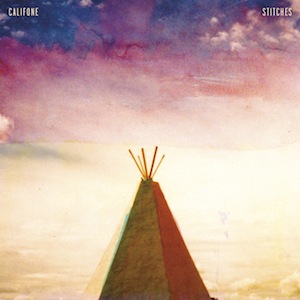 The sound of Califone has always been tattered: Delta blues grafted to clattering, deconstructed rock 'n' roll, synths hovering over buzzing, droning strings. It's a patchwork of ideas held together by the worn voice of songwriter/sole constant Tim Rutili. But in the case of Stitches, the group's first proper LP since 2009's All My Friends are Funeral Singers, there's a tangible connection to the process of assembling from existing parts. It's the first album that finds Rutili completely removed from Chicago, stringing together — albeit expertly — chunks of sessions recorded in studios in Los Angeles, Austin, Tempe, and Phoenix.
"It's just the way things kind of fell together," Rutili says over the phone from Atlanta, Georgia. He played a house show there as part of a tour that also included a stop at last week's Hopscotch Festival, Grimey's, and an upcoming date at the Museum of Fine Arts, Boston. This is where Califone's music lives: in museums, in bars, in record stores, and in living rooms.
"It seemed like everyone I wanted to work with was on the west side of the country," Rutili says of Stitches' origins in the American Southwest. "We've started recording in LA or in Phoenix [in the past], but always, always have gone back to Chicago to finish. And this time…Chicago still feels like home, but [during recording] nothing really felt like home. I think that got into the record a little bit."
Califone has always featured a revolving lineup, and on Stitches Rutili is joined by a wide cast, including Wil Hendricks, Robin Vining, Michael Krassner, Joe Westerlund of Megafaun, Craig Ross, and for the first time since Califone's 1998 self-titled EP, Tim Hurley, his bandmate in influential '90s indie blues revisionists Red Red Meat. The songs make use of the sprawling lineup: "Frosted Tips" is a surging power-pop song (no fear, the lyrics are appropriately apocalyptic); "We Are a Payphone" features a breezy AM pop horn section; the title-track is wistful and wouldn't sound out of place on the Ugly Casanova album, his one-off collaboration with Isaac Brock of Modest Mouse.
Just as distinct as the sound of the songs are the characters that inhabit Rutili's landscapes, like Five Easy Pieces/Nashville actress Karen Black (who "forgets the words, like Memphis when the rapture breaks") and an assortment of Biblical characters: the warring brothers Esau and Jacob, the "old wizard freak" Moses, who led the Israelites to the Promised Land — but couldn't enter himself.
"[Moses] takes a whole tribe of people through the desert, gets them where they're going, and then this fucking weird God tells him he can't go in, because he screwed up," Rutili says. "I was just thinking about this guy watching everybody cross the river, when he can't. I think, in a lot of ways, everybody thinks that they're that victim."
And while the God of the Old Testament, "a wild animal," Rutili says, "petty and with very human jealousies," watches over most of Stitches, Rutili steers toward the New Testament with "Magdalene," named for the character the Gnostic Gospels purport to be the wife of Christ — though she's more commonly defined by the "whore archetype."
"In the Gnostic texts, she's the wife of Jesus, and the other apostles are jealous of her," Rutili says. "'Why does he kiss her on the mouth? Why does he pay more attention to her?' There are a lot of those weird arguments in the Gnostic texts that I thought were pretty interesting. I thought about this character that was edited out of this fake history for political reasons, you know? All of those ideas sort of triggered that song, and took it back to this strange woman and what happened. It's about someone that gets written out of history, and where they go."
To accompany the album, Rutili teamed with filmmaker Braden King and programmer Jeff Garneau to create "an ever-changing music video," populated by images and video from a curated set of Tumblr pages. The images, alternating between sexual, occult, bizarre, and pastoral and all varieties in-between, conform to Rutili's words, completely rearranged by them. It's a play on what attracts him to his characters, the kind that tap into a shared history.
"I guess it is Jungian psychology where there's 'archetypes,'" Rutili says. "I just like thinking about why stories last, when a human being becomes a symbol, a symbol that all of us, when we look at our journeys or trips in a certain way, can transpose this character's story onto our own. I think a lot of that went into these songs." words/ j woodbury