(Last weekend the reformed reunited Replacements gigged at Riot Fest in Chicago. AD's Marty Garner was there. The following is his report.)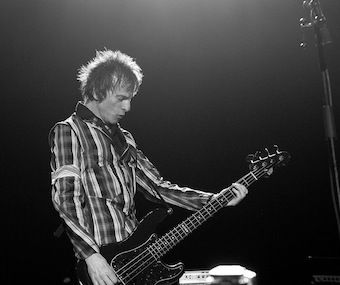 I hope I'm not being presumptive about the kinds of things the average AD reader gets up to when I say that it's probably been a while since you've been in a full-on mosh pit. It's okay. It had been for me, too. But moments into Rancid's exuberant set this Saturday evening, which fell roughly halfway through the three-day battle of Chicago's Riot Fest, I felt the crowd push and pull like a great wave, and the gulf opened and then closed around me. At one point, pinched between two dudes big enough to beat up Lars Frederiksen, I felt my feet leave the ground. I was literally forced to dance.
It's in this way that it only makes sense for The Replacements (The Replacements!) to have played their first U.S. show in 22 years at Riot Fest, the punk festival that graduated from the Chicago clubs and celebrated its second year in Humboldt Park by booking just about every band to grace the pages of Michael Azerrad's seminal Our Band Could Be Your Life: Dinosaur Jr., Mission of Burma (with Shellac's Bob Weston manipulating the sound), Keith Morris' pigment-deprived Flag, Bob Mould sans Hüskers. There was even a serviceable D. Boon in bizarro Sublime frontman Rome. X was there, and so was Peter Hook, who wore a lime-green t-shirt and casually tossed "Ceremony" into his Joy Division set.
You don't need me to tell you what the crowds were like at these shows. Head-bobbing, appreciative, a slight fog hanging over the area in front of the stage. After a downpour on Sunday morning, a huge gap formed around the mudhole that is usually a baseball diamond situated near the front of the Roots Stage, giving one middle-aged Mission of Burma fan the room to wild-out to "That's When I Reached for My Revolver" like it was 1981. That gap filled up with Against Me! fans before Burma even finished tearing down. Meanwhile, across the park, an aging Mike Muir was leading a circle pit the size of an Olympic pool through a battery of Suicidal Tendencies oldies.

This is the true brilliance of Riot Fest's bookings, and why it's better that Paul Westerberg got the band together here, where they shared top billing with the reconstituted Fall Out Boy and Blink 182, instead of among the masses at Coachella or even this city's Lollapalooza, and why it was so perfect – or at least thematically appropriate – that after the drop-dead gorgeous Friday and Saturday, everyone spent Sunday night shivering and wet.
By the time The Mats hit the stage on Sunday night, they probably didn't need to be all that good to get everybody going. Even after twenty-two years on the shelf, those songs have so much life in them that they really only needed to be aired out for a primed crowd. There was nobody there, at least around me, who wouldn't have forgiven Westerberg if he'd seemed disengaged, or who wouldn't have been at least a little delighted if they'd all been too drunk to make it through "Tommy Gets His Tonsils Out." Being there, arms around one another and shouting at the improbable end of all of that waiting, would have been enough for the Mats fans I was near.
So it didn't matter if they played the hell out of those songs, but they went and did it anyway. They were everything the books and the older kids promised us: brash, beautiful, cocky, heartbreaking. They blitzed early, barreling through "Takin' a Ride," "I'm in Trouble," and "My Favorite Thing" with gleeful ferocity before Westerberg noted the clock keeping time at the foot of the stage. He held it up to his forehead, pulling its cord taut as he asked whether they had enough time. "Fuck that clock! Fuck that clock!" the crowd chanted, so he swung it around like Roger Daltrey with a microphone and tossed it off the back of the stage, past a stack of lights shaped like a middle finger. At one stretch, they went from a tender "Androgynous" (during which Westerberg shouted out Joan Jett and lost his place in the song) to a bounding "I Will Dare" to a frenetic hybrid of "Love You Til Friday" and Chuck Berry's "Maybelline," then doubled back into "Merry Go Round," all of it cohesive and brilliant. "I can get Bob Mould up here in a minute," Westerberg jokingly threatened David Minehan when the latter snuck a few new wavey washes through his pedal board. Set closers "Can't Hardly Wait" and "Bastards of Young" both got the festival-sized shoutalongs they've always deserved.
Please forgive those of us who grew up in an indie culture that shunned the hijinks of Riot Fest's less-prestigious acts. We never took the claims of The Replacements' live brilliance literally; we don't take anything literally. But how likely could it be that the experience of seeing these particular songs – which, even at their best, are nothing more ambitious than excellently wrought rock 'n' roll – was really so vital? How could four broken punks from Minnesota have blown so many minds with nothing more than a few poorly tuned guitars? It turns out that we misread our history.   It's not just our minds that they're after. It's everything else, too. words/ m garner / more photos, via erica bruce, can be found here