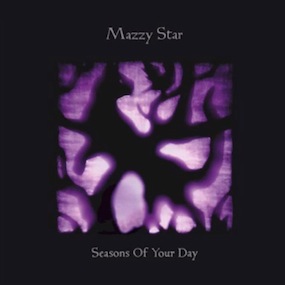 Most people anticipating the return of Mazzy Star this month got their first taste nearly 20 years ago, playing "Fade Into You" on repeat (or rewinding the deck, as it were) over and over and over and (seriously) over again. After a few hours of this, they'd give So Tonight That I Might See an honest go in full, start to finish, before turning back to the practice of stop, rewind, play, over and over and over and (yes) over again. After about a week of that, by measures of necessity and near-boredom, they'd let it finally turn over to track two (for just the second time ever), and then track three and so on, until the saturation point. And then they'd go back and buy Mazzy Star's first record, She Hangs Brightly. And they'd love all of it just as much as "Fade Into You" because it was just like that song — almost the very same in fact — but without the monotony of stop, rewind, play, stop, rewind, play. It could give them a break without ever having to change.
People are gonna try to make Mazzy Star something they're not. I think we've all already been doing it. It's something like: Iconic '90s alt group that briefly sniffed at pop stardom before deciding they didn't like the smell. Returned to the quiet of overwrought artistry. Reemerged after 17 years with Seasons of Your Day, one of the most anticipated releases of 2013. Actually, that all sounds mostly true. But behind it, we're maybe inflating what Mazzy Star were a bit. We're forgetting that, despite some critical claim, Among My Swan was a mostly forgotten print that marked the band's walk off into the sunset. It didn't help at all, either, that they mostly shunned fame and were never entirely comfortable with the people part of the process — shows, fans, etc.

But it's also not like they retreated into nothingness, giving up pedal-steel and ethereal dreamsong entirely. They still did things. Hope Sandoval was certainly more active — collaborating with MBV's Colm O Ciosoig and the (now late) great folk uncle Bert Jansch, both of whom appear on this release, which includes songs recorded basically over the entirety of their "break." Turns out, from a music-making perspective, there wasn't really a break at all.
From our view, it's been eons since 2011's double A-side single ("Common Burn"/"Lay Myself Down"), and eternity longer since their last full release. For them, it might as well have been yesterday.
When "In the Kingdom" opens, it feels like yesterday. All organs and guitar and harmonica and pedal steel and, yes, most beautifully, ethereal dreamsong. The kind of thing that crawls up inside you so delicately that you don't even feel it until you want to burst from it. Some elements — the thunderous, looming percussion on "Does Someone Have Your Baby Now," the gravid flicker of "Common Burn," the guitar that makes "Flying Low" fly louder than the rest of them — stand out, but not in the way of differentiating themselves entirely. Just the same face making a slightly different expression that you barely notice until it's gone.
And here we are today. Seasons of Your Day represents almost nothing new. How could it, given the context. Seasons, time almost immemorial, collapsed into the infinity of a moment. Nothing changes in a moment. And thank god for that.
We've amplified who Mazzy Star is because of nostalgia, because of how beautiful they sounded when we first heard them, even if you weren't one of us who played a single on repeat before we found the rest. And all we've really wanted since we heard this was coming was to experience the newness of that beauty all over again. Seasons of Your Day is the memory of something we've never experienced. The break they gave us without ever having to change. words/ j crosby
Related: Mazzy Star :: Black Session (La Maison de la Radio: Paris, France)