"The sound is good…  the sound is modern and old fashioned. The melodies are very nice melodies, so because of this, everybody had some kind of…. nostalgia."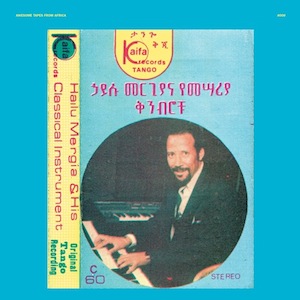 That's how Hailu Mergia describes the sound of his album Hailu Mergia & His Classical Instrument, the most recent release on the Awesome Tapes From Africa label. In short, Mergia is a keyboardist, arranger, composer, and veteran of the Addis scene. "Nostalgia" is an apt word–it's the rough translation of the Amharic word "tezeta," which is also used to describe a distinct style of Ethiopian song (articulated in the Ethiopiques series as "blues and ballads"). Like nostalgia, there's something magical about Mergia's music on this record that is hard to put a finger on, difficult to grasp… it's beautiful, familiar, but bearing the disconnect of something past being remembered.
Perhaps that magic has something to do with how Mergia is the sole performer on this entire record. The original cassette of Hailu Mergia & His Classical Instrument came out in 1985 as Shemonmuanaye, during the early days of drum machines, synthesizers, and affordable home recording gear. The gossamer beauty of traditional Amhara, Tigrinya and Oromo melodies are thickened in a swirling arrangement of accordion, Rhodes piano, and Moog Synthesizer by a lone performer. Now that this album has been reintroduced in the digital age, it's initial conceit of sounding "modern and old fashioned" has grown even more complicated–Shemonmuanaye documents the past, future, past-future, and, as well as the present day. As piece of "past-future," the album jives neatly with Awesome Tapes' aesthetic, the old (bygone cassette music) given a new life (easily downloadable via their blog).
However as a solo, "proto-bedroom" rendition of Ethiopian popular tunes, Hailu Mergia & His Classical Instrument isn't quite representative of Mergia's legacy as a musician. He performed and recorded throughout the Halie Selassie era and into the more authoritarian reign of the Communist Derg government before eventually emigrating to the United States in the 1980s. Walias Band, Mergia's best-known, funky ensemble held down a badass, nightly gig at the prestigious Hilton Hotel in Addis Ababa for nearly eight years, providing full evening programs of "international" music for the cosmopolitan jet set in Ethiopia. AD caught up with Mergia in his taxi in DC, where he operates his own airport car service and continues to makes music. Over the phone, the legendary keyboardist reflected on his lengthy career, innovation and competition in Addis' nightlife, and how his music has played throughout so many episodes in his home country's narrative.
Wallias band :: Musicawi Silt
Hailu Mergia :: Hari Meru Meru
…interview after the jump

Aquarium Drunkard: How many records have you made on your own or with one of your bands? Total?
Hailu Mergia: Well, I made about almost like, um…  12 cassettes, and then 1 album, which was in the 1970s…
AD: And how did this particular record, Hailu Mergia & His Classical Instrument, come to get a proper release in the digital age? How did you connect with Brian (Shimkovitz) and Awesome Tapes From Africa?
Hailu Mergia: He told me he went to Ethiopia for visiting, and then he went to some store and found the music–the cassette, the old cassette in that store. And from then he just found out where I lived.
AD: And this record, it was recorded in America?
Hailu Mergia: Yes, in Washington DC.
AD: And coincidentally, this solo record is now the only one that's easily available in the US?
Hailu Mergia: Yeah, well you know, there are some Ethiopian stores…   they sell some of my old music. But right now this is the only one available internationally.
AD: Did this solo record ever get popular back in Addis?
Hailu Mergia: Oh yeah! When it came out on cassette in 1985.
AD: Are you hoping to put any more of your older records out again, re-release them?
Hailu Mergia: Oh sure, definitely. You see what happened, all of my recordings were on cassette. Because in Ethiopia, the album came late, so I have only one album. The rest of them are all cassettes, so I'm going to try to release them again… like how we did it now with Brian. So I plan to do that because a lot of people, they like the old music what I played, because mostly I played with a band, not just by myself. So a lot of people they like this kind of, my kind of music, because I played typical Ethiopian music.
AD: But Hailu Mergia & His Classical Instrument is a different sort of album. You did everything yourself, a home-studio type project?
Hailu Mergia:  Yeah, that's right. So what I did was I chose the old songs with accordion, and I put accordion as a lead. Then I put a Rhodes piano, an electric Rhodes piano. Fender. And then I put a Moog synthesizer and a drum machine. The drum machine was like, at that time in 1980's like a kind of new fashion. And then the rest, old fashioned. So what I did, for remainder of my life, accordion was like a really important instrument in my life before I changed to organ. So people, usually they love accordion sound, and when the organ came to Ethiopia, all of a sudden, the accordion sound was missed by everybody. So when I brought in this new mix of these different instruments, the sound is good, the sound is modern and old fashioned. The melodies are very nice melodies, so because of this, everybody had some kind of…. nostalgia.
AD: The accordions came first, then people started playing the electric pianos and the organ–the more modern sound…
Hailu Mergia:  Well initially in a club you'd never find a piano because the owner cannot afford to buy a piano, so the only they had to come up with is accordion, and because the sound is so beautiful, it was like a fashion…  everybody was playing. The organ is almost like a new instrument for Ethiopia. That's why everybody was, adapting. In the night clubs, it was sort of like a competition. Every club, they'd bring different types of organ. You have to bring your business up to date, or otherwise, people don't come to your club, right?
AD: I feel like most Americans have learned about Ethiopian music through the Ethiopiques series.
Hailu Mergia:  Yeah, Francis (Falceto's) label.
AD: And while Ethiopian music is quite diverse sonically, stylistically, it's the   "golden age"  jazz and funk material that seems to have stolen the show–Ahmed, Eshete, Astatke…
Hailu Mergia: Well believe it or not, we are the ones who changed the structure of the music in Ethiopia–the Walias   are night club musicians in general. We changed the structure of modern music in Ethiopia. Mulatu also, he has a good credit for that… there are so many interesting songs and melodies in Ethiopia. But still, there are other Ethiopian musics, so I think everybody has to work on that, to let the rest of the world know.
AD: What was it like gigging in the Addis Ababa scene in the '60s and '70s?
Hailu Mergia: Well first I was playing as a freelance musician, and I played in different clubs in Addis Ababa and I toured Ethiopia. Back then, everything was not like now… When the Wallias Band started, everything was piano and accordion. And that was in Halie Selassie time. So like, 1960s era. And then the organs started coming, and from then on, we played in different places but most of the time we played a lot of big hotels and big clubs. I was the bandleader of Wallias for a long time and we were the most well-organized group. In the '60s and '70s, there were many great musicians playing at places like the Wabi Shebele (hotel) and the Hilton Hotel, but we were the ones who challenged them and then took over their places. We played 8 years in the Hilton Hotel and even won a lot of congratulations papers from the head official of the Hilton Hotel. So we had a good time, anyway…
AD: What were the shows like at the Hilton Hotel? Who came to them? What was the room like?
Hailu Mergia:  In the Hilton Hotel we used to play, you know, like, a dining room. We were playing international music, standard tunes for dinner and then after dinner is over, we start playing dancing music so, that's what we were doing 7 days a week. And then you know, the music more was a mixed kind of music from different kinds of cultures: international, jazz and blues stuff, some Ethiopian standard tune or so. Really relaxing music we were playing them, right, everybody enjoyed this music, at least everybody who was there you know? So our band, Walias Band, were like–almost I can say that–the great, great band back then. And then when the Derg government came, we played for two presidents in the palace. So you know, we played a lot of different places and for different occasions, a lot of good times in a way.
AD: That's wild that you played in the palace for a government that took power through a coup!
Hailu Mergia: We were the first group who played for the palace, because in Addis before Derg in Halie Selassie time, they used to have a government band. But you know, the government band was playing only for official occasions, most of them were different state dinners or something for special kings or leaders… but what makes our performance different was we were a private band. We were not employed by any government, just we were employed by the Hilton Hotel as contractors. We were the first group who played modern music, and when we played there, we didn't play any revolutionary songs. We were playing like what we played in Hilton Hotel, more Ethiopian and instrumental pieces. But there were no other groups played what we did. In other words, we were almost the top band in the country.
AD: What was the reason for you leaving Ethiopia and staying in the States.
Hailu Mergia: I left Ethiopia in 1981 with the Walias Band. We came up here (the US) for a show, won a contract with an Addis club owner, and then we toured for maybe about one year with the Addis owner and then I think after maybe a year, you know, things were not good for us, some of us want to go back home, some of them wanted to stay here. So from 8 people, 4 people went back home, and some of us remained here, and I am one of them. words/ a spoto
Related: Dur Dur Band :: Volume 5 (1987) – Awesome Tapes From Africa