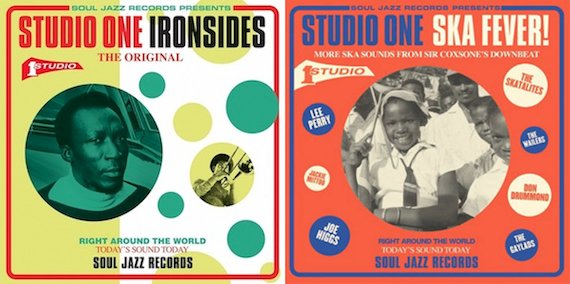 First off, in regards to Jamaican vintage, our summer Bomboclat series is still available – volumes 1-3, here and volume 4, here. Onwards. Soul Jazz Records continues to mine the vaults of Studio One and beyond.. In January the label released Studio One: Ironsides, an 18 track collection compiled by Stuart Baker. Dedicated to the moniker Studio One label head Clement "Coxsone" Dodd invented to service Studio One's overflowing output, Ironsides houses loads of obscure, vintage, roots-heavy rocksteady and reggae.
Out this month on the label is Studio One: Ska Fever – alternately titled: More Ska Sounds from Sir Coxsone's Downbeat 1962-1965. Early-mid 60s genre originators abound: Lee Perry, The Wailers, Gaylads, The Ethiopians, The Skatalites. It's a stacked set, and while genre completest likely have a bunch of the collected tracks via 45 and/or original S1 reissues, a lot of the what's collected here boasts superior sound to what I've encountered elsewhere.
Clarendonians :: You Won't See Me (Beatles)
Don Drummond :: Nanny's Corner

Documentary: This Is Ska – 1964 film documenting the rise of the, then, new Jamaican dance craze featuring The Maytals, Jimmy Cliff, Prince Buster, Byron Lee, etc.
For heads, by heads. Aquarium Drunkard is powered by its patrons. Keep the servers humming and help us continue doing it by pledging your support via our Patreon page.