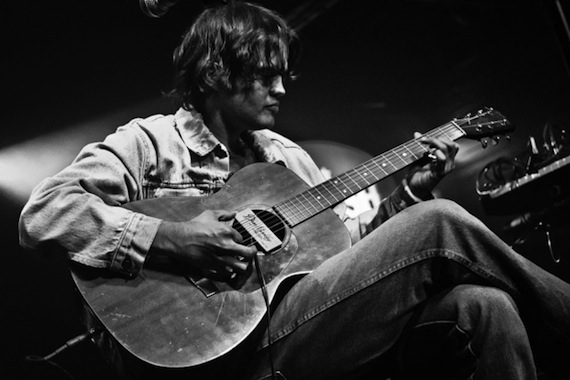 Diversions, a recurring feature on Aquarium Drunkard, catches up with our favorite artists as they wax on subjects other than recording and performing. Below, part 2 of William Tyler's stream of consciousness reflections concerning his late-Summer North American tour out west. Read part one, here. . .
__________________________________________________________________________________
It's been said that this is a country ruled by its coastlines, but it's only a half-truth. To be sure, the realms of big finance and cultural capital are largely controlled by the mega cities that line the east and west coasts. But the vast interior of the country is the realm of big dreaming, of yearning and reimagining. It's often called the 'heartland' as if there is some continuum of wheat fields, big sky, churches, small towns in the middle of nowhere that produce football stars and corn, little else? Yet this is precisely the body integral of what makes the nation such a peculiar animal. The scope of the interior, the distances necessary to traverse, the land all at once full of haunted memory, new possibility, and a sly promise of something greater as one chases the horizon. This is the hypnosis of the land; the thing that keeps the traveler wandering, wondering, and moving westward.
I forgot that driving through Eastern Washington was a lot of high lonely desert, the promise of lush pine and frequent rainfall and access to the coast drawing you onward. I played in Seattle outside on a gorgeous Friday afternoon. Nothing like a place that doesn't take sunny days for granted.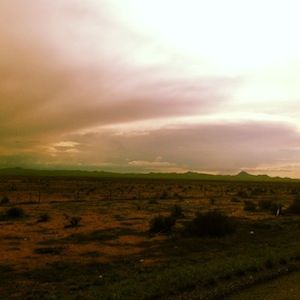 South through Portland, Eugene, down the coastal 101 highway. I was so relieved to be off the interstate for a few days, snaking through scenery humbling, exotic, and breathtakingly beautiful. Pine forests that seemed to rush all the way to the jagged coastline and then, off beyond the sheer cliffs and the sand dunes violently jutting down, nothing but the Pacific. This was the payoff for the folks who didn't give out on the Oregon Trail. Manifest Destiny really began when Columbus accidentally hit a continent he didn't think existed, and it ended when Lewis and Clark reached a point where they realized there wasn't any further west you could go. The rest of the history was grisly detail.
I had stopped for a rare night off in Bandon, Oregon. My place of lodging for the night was an old school type drive up motel and it was walking distance from the waterfront. I wandered around the town at nightfall, grateful for an evening of respite in a quiet, hidden place. I found an Italian restaurant overlooking the dock and ate by myself half looking out the window, half paying attention to the conversation of the table beside me. It was a group of five or six middle aged guys from Texas, probably on a 'let's get the college gang back together' kind of bro vibe, playing golf, drinking a lot of wine and scotch and making lots of bummer jokes about 'the left coast' and 'bein out here with the liberals' when the waiter wasn't around. I was frightfully homesick for hearing southern accents, but not when the conversation was of this bent.

In the fifties the interstate was designed as a network to get people back and forth from the suburbs and as 'escape corridors'  in the event of nuclear war. At least that was the spin Eisenhower put on it. What's missing from the picture is just how fundamentally it has changed the nature of travel in this country though. You never really 'see'  anything when you travel the interstates. The landscape changes but the rhythm of the roadside stops, the corporate outposts remain remarkably uniform throughout the land. The interstate is designed to take you around things, not through things. It's this hypnosis of uniformity that I think makes the long distance drives so tiring.
When you take the old state highways suddenly America begins to reveal itself. You actually drive through towns, you see the countryside, you have a palpable sense of the land's identity. Old town squares, roadside motels, gas stations where you still have to go inside to pay, diners that have been serving the same meals for sixty years.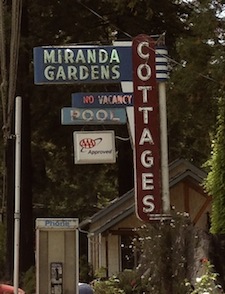 As I navigated 101 from Oregon into California, I noticed something else on the highways that I had not expected. Hitchhikers. People bumming rides south, new hippies, some old hippies, a lot of folks just wanting to keep moving and see what else the road had to offer. And somehow a lack of billboards and big name chain establishments. It really was akin to going back in time.
I had never driven through the redwoods before. First thing I think of is Endor and Return of the Jedi. Obviously George Lucas had thought the same thing. They are other planetary and inspiring trees I have to say. There is something otherworldly, humbling, and exotic about being shrouded in their shadows.
California has that effect on the visitor at all turns. The signs for 'vista point' on the state highways, those beckoning calls to just pull over, get out of the car, and gaze at some view point magnificent, overlooking a valley or a jagged bend along the coast. I tried taking photos but I realized there was something almost futile about it, trying to find that right angle of view or perspective that truly seizes the grandeur of the view, not just some ersatz instant memory that would be like an old general store postcard.
No wonder this place, much like Texas, had once been its own republic. It still could be. From Humboldt County to San Diego, it's staggering that it's one state. No wonder the Spanish took so much care in the colonization of this land, the scenery must have reminded them of home. I had never been to Eureka, to Monterrey; I never had the opportunity to navigate the back roads and the scenic coastal highways.
I didn't even have to touch the interstate until the drive between Los Angeles and San Diego. I had been opening for Daughn Gibson for my week in California and it was a welcome respite to share at least part of the journey with another band.
Los Angeles, crowded but tiny backstage….no one is really sure who is supposed to be there as a 'guest'  or who is just taking up space and looking for the free beer. I had to run directly off the stage to the dressing room with a violent case of indigestion (first of the trip though!), held the bathroom hostage, not a very glamorous way to party backstage after your show in LA. Oh well. A very human moment. Things happen on tour. Especially when your gastronomical intake can be so unpredictable. That said, I had been pretty well behaved this tour in terms of my eating habits. Thank God for all of the roadside health food stores that still lined the back roads of this state. I didn't even succumb to the temptation of In and Out Burger, which I know may be shocking, as it is the kind of fast food that even vegetarians seem to make an exception for, but I am just at that point in my life where I never seem to crave hamburgers or giving fatigue the mental middle finger by continuing to 'party' till two in the morning. At least in this regard, I have made some healthy progress on tour.
I took a diversion on my way east to Phoenix from San Diego and drove through Joshua Tree. I heard a rumor that Gram Parsons' old hotel room had been booked for four years in advance by tourists. I started sensing the dangerous quiet and expanse of the desert. A lot's been said about the desert, and I don't want to sound like I am quoting that song by America that until I was 18 I thought was Crosby, Stills, Nash, and Young. (Interesting side note: my great uncle Sonny loved the song "Horse With No Name". It was weird, because it was the only piece of popular music post 1950 that he enjoyed. Anytime someone had a guitar around, he would request that song to be played. Usually as he sipped Crown and Coke. Anyway…) There is something so magnificent about the desert, about being able to vanish, about the peril of being stuck. It inspires the imagination and conjures a certain kind of terrible poetry and grim contemplation. The composer Varese disappeared into Death Valley when he hit his midlife crisis and couldn't bear to hear 'noise' anymore. He reemerged from his self-imposed exile with his own work "Deserts", one of his more magnificent realizations.
Eastward through the desert to El Paso, Marfa, on to Austin. I drove past the signs for "Truth or Consequences"  in New Mexico and reflected on the odd genesis of the town's name. I had always assumed it was some grim reference to a doomed desert expedition by some settlers but it turns out it was actually renamed that by the townspeople in 1950 after a popular radio quiz show of the same name.
I have yet to meet anyone who has not fallen under the spell of Marfa. Even now it's hard for me to fathom how this tiny border town in the high west Texas desert rebirthed itself as a remote outpost of artists, writers, thinkers, discontents. It reminded me of just how beautiful and fragile that thing small town America can be. The destiny of a small town and the direction it takes can be shaped by just a few people with a certain vision, but that vision has to be maintained. Maybe I'm delusional, but it seems like if more small towns had people like Donald Judd steering the vision as opposed to Sam Walton, we might be in better shape.
The high plains and desert of west Texas gave way to the deep green and heavy humid air of east Texas and I felt I was returning to something very familiar, the Deep South. My last show was in Oxford, Mississippi, the town that gave us Faulkner, Archie Manning, the town that made sure I existed since it was where my parents met in college. Like Eureka, Marfa, Bandon, so many of the other small, removed but not 'hidden' places I had visited on this trip, Oxford has always symbolized to me the great promise of the small town. I finished my trip around the United States at a languid pace north to Nashville on the Natchez Trace, one of the oldest roads in America now preserved as a National Parkway. You get pulled over if you tempt the fairly conservative speed limit of 50 mph, but after almost 8000 miles and three weeks, I wasn't in a rush to get home. I could keep at this for a little bit longer.