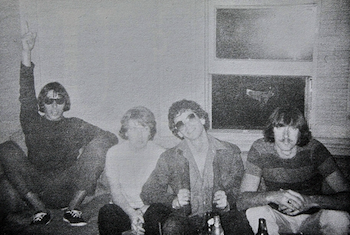 The just-announced "super-deluxe" edition of the VU's White Light/White Heat will include a handful of previously unheard performances — the most interesting of which are a live rendition of "The Gift" and an early studio version of "Beginning To See The Light," with John Cale on fuzz bass.
One thing the compilers didn't unearth, sadly, is footage of the Velvets on the Cleveland pop music show Upbeat. Amazingly, according to TV Guide, the band was scheduled to appear alongside Marvin Gaye & Tammi Terrell, The Music Explosion, The Fifth Estate and Donna Sears on January 8, 1967. Crazy. There's even an eyewitness account from Jamie Klimek, (later of The Mirrors, a heavily VU-influenced Cleveland group), who recalls them playing "Guess I'm Falling In Love." A typically contrarian move by the Velvets — they never completed a studio recording of the track (an instrumental version appeared on the mid 80s odds-n-sods comp Another VU).
So: Is this mysterious mp3 we've got here today actually audio from Upbeat? Probably not! But maybe? It's a twisted tale: John Cale played it over the radio in the late 70s, claiming it was a recording from early 1967 at the Gymnasium in NYC. In 1995, a live version of "Guess" appeared on the box set Peel Slowly and See — but it's a different performance than the one Cale played way back when. For certain, this recording is definitely from right around the same time period. Barring some sort of miracle, we may never know exactly where it came from — your "Guess" is as good as mine. But let's just listen to this (very lo-fi) recording of one of the VU's most chooglin' tunes, and imagine Marvin & Tammi watching from the wings. words/ t wilcox
The Velvet Underground :: Guess I'm Falling In Love, Live 1967
Aquarium Drunkard is powered by our patrons. Help us continue doing it by pledging your support via our Patreon page.