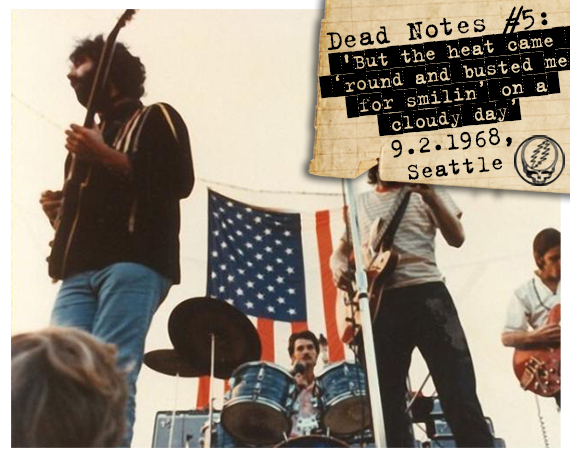 Welcome to the fifth installment of Dead Notes where once again we find ourselves in the great Northwest, at the Sky River Rock Festival, on the outskirts of Seattle in Sultan, WA. Oddly enough the inspiration for this festival goes back to May 1968, at the annual Duvall Piano Drop, where Country Joe & The Fish played to an enthusiastic crowd of 3,000 after a piano dropped from a helicopter into a rural pasture. With a crash of wood, keys and strings, Paul Dorpat, of Seattle's historic underground newspaper Helix, began assembling a who's who of psychedelic West Coast musicians for the three day festival. The short list included the Flamin' Groovies, Santana, John Fahey, Kaleidoscope and our heroes of the "thick air" – the Grateful Dead…who showed up unannounced to perform on the festival's final day.
Grateful Dead :: That's It For The Other One
"That's It For The Other One" made its live debut in late 1967, prior to being reworked during the Anthem of the Sun sessions that yielded the Bob Weir beatnik Alice in Wonderland tale as we know it today. According to band lore the lyrics detail the persecution of the band's benefactor (and notorious acid king) Owsley Stanley, aka the Bear, who at the time was serving a three year sentence for possession of 350,000 doses of LSD.

Fast forward to 1968. Midway through that September afternoon's set, Jerry subtlety fingered the opening notes of "The Other One" while delivering the tune's dour melodic lyrics – "The other day they waited, the sky was dark and faded, solemnly they stated, "He has to die, you know he has to die'" – and from there we are lead hand in hand into a Freudian trip of life and death. As the second verse comes to a close the group explodes into the next movement (Quodlibet/The Faster We Go The Rounder We Get) with Mickey and Billy providing a thick rhythmic din as Jerry and Bobby weave a surging wave of notes that fluidly bounce amongst Pigpen's punchy organ passages. Bobby then begins to wax poetic about an acid trip — "Spanish lady come to me, she lays on me this rose. It rainbow spirals round and round, it trembles and explodes … It left a smoking crater of my mind … But the heat came round and busted me for smilin' on a cloudy day".* The band then screams into the chorus, heightening the realms of the trip: "comin', comin', comin' around", as they escape at a deathly cadential pace — revealing a bus stop trembling and exploding in its place. With a nod to Ken Kesey and his Merry Prankster crew, Keroauc inspiration Cowboy Neal is at the wheel and the band is off, rocketing into the closing jam that leads us out and beyond.
*Years later in an interview with David Gans, Bobby and Phil revealed the details behind this line. One afternoon at the band's home base of 710 Ashbury St, Bobby witnessed a cop illegally searching a friend's car – and from a third floor window, threw a water balloon hitting the cop square on top of the head. He would of gotten away with it if he hadn't felt the need to inspect his gallant effort as he smiled at the cop while crossing the street. Always prankster and forever on the bus. words/ d norsen