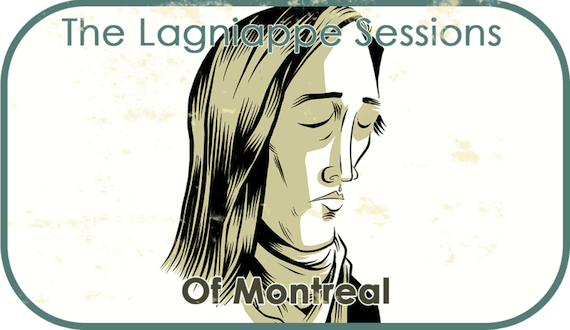 Lagniappe (la ·gniappe) noun 'lan-ˌyap,' — 1. An extra or unexpected gift or benefit. 2. Something given or obtained as a gratuity or bonus.
Tuesday saw the release of Lousy with Sylvianbriar, Of Montreal's twelfth LP. And things have changed, both sonically and personnel-wise, aside from the constant – Kevin Barnes. Conceived in San Francisco and recorded to 24 track tape back in Athens, GA, Sylvianbriar plays out like Barnes rediscovering and reaccessing his record collection. And in doing so, sounds fresh.
Of the recording process, Barnes states "I knew I wanted (it) to be more in line with the way people used to make albums in the late 60s and early 70s…I wanted to work fast and to maintain a high level of spontaneity and immediacy. I wanted the songs to be more lyric-driven, and for the instrumental arrangements to be understated and uncluttered." And he succeeded. The album rides this energy, this spontaneity, and in turn is the most satisfying Of Montreal release since 2007's Hissing Fauna. If the past couple OM records felt claustrophobic, Sylvianbriar is the opposite – it feels like an exhale. There's freedom here.
For this installment of the Lagniappe Sessions, Barnes takes on two from England – Billy Nicholls' "She Came From New York", off the excellent 1968 sleeper lp, Would You Believe, and The Kinks "Did You See His Name". Closing things out is a ripping psych rendering of the Kingston Trio's "All My Sorrows".
Kevin Barnes, in his own words, below…
Of Montreal :: She Came From New York (Billy Nicholls)
The first time I heard the Billy Nicholls record Would You Believe? I knew I'd discovered another great lost 60's classic. All of the songs are very hooky and interesting. They have a cool combination of baroque orchestrations and fuzzy acid rock. The producer, Andrew Loog Oldham, was attempting to make the British answer to Pet Sounds but didn't quite have the financial resources to pull it off and the record was shelved for decades. 'She Came From New York' has a bad ass guitar line that was played by Steve Marriott of the Small Faces. If you do a little research on the album you'll be amazed by the backstory. The personnel alone is kinda staggering.
Of Montreal :: Did You See His Name? (The Kinks)
I've always been a huge Kinks fan. Ray Davies is one of my all time favorite songwriters. One of the first albums I bought of theirs was a compilation album called The Kink Kronikles. It had all the hits and b sides from the golden era of their career. Songs like "Autumn Almanac", "Days", "Waterloo Sunset", "Shangri-La", "Get Back In Line" and Dave Davies' "Death of a Clown" all totally blew my mind. The Davies brothers wrote about British working class life in a way that no other has ever come close to. Their songs are full of intelligence, wit and an incredible amount of pathos.
Of Montreal :: All My Sorrows (The Kingston Trio)
This one has been covered by many people. The first version I heard was performed by the female vocal group the Chordettes, of "Lollipop" and "Mr. Sandman" fame. The close harmonies of their version are amazing. Lindsey Buckingham did an interesting version on one of his solo albums. I decided to take a more bombastic approach to our arrangement of the song.
Lagniappe Sessions Archives / illustration Ben Towle.
For heads, by heads. Aquarium Drunkard is powered by our patrons. Keep the servers humming and help us continue doing it by pledging your support via our Patreon page.