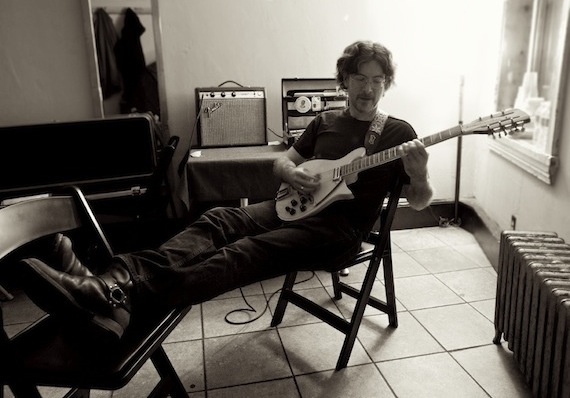 Diversions, a recurring feature on Aquarium Drunkard, catches up with our favorite artists as they wax on subjects other than recording and performing.
2013 isn't quite done, but it's safe to say that the most glorious electric guitar record of the year is Chris Forsyth's stupendous Solar Motel. The album calls to mind a dream team of six-string mavericks — Garcia, Verlaine/Lloyd, Thompson, Quine and plenty more. As one might expect, Forsyth is a connoisseur of guitar anti-heroism, so we asked him to put together a "bootleg mix" of jams that inspired the new record. Forsyth's selections, and words, below…
Tetuzi Akiyama: Short Piece Dedicated to Blind Willie Johnson and Blind Joe Death
I did nine dates in Europe with Tetuzi Akiyama back in the autumn of 2010. We'd met before and played together, even put out a CD (Phantom Limb & Akiyama, Hot Ginger  [Archive, 2006]), always playing electric. On this tour, during which we played solos and sometimes duos, he played acoustic. These gigs left me convinced that he's one of the most incredible and underrated acoustic guitar stylists I've ever heard up close. In London, we did two nights at Cafe Oto and on the second night, we played with other people. I did a first/only time duo with Rick Tomlinson of Voice of the Seven Thunders (which was very pleasing to do and is up on the Free Music Archive) and Tetuzi did a trio in a very reductionist mode with Seymour Wright and Ross Lambert. He then did an encore that nearly made my heart stop. On display was not only his devastating vision of the blues, but his sense of humor – he wore an airline sleeping blindfold and dedicated it to Blind Willie Johnson and Blind Joe Death. Lo and behold, someone taped it and it showed up on YouTube some months later. It has about 1000 hits as I write this and I'm sure I must be responsible for at least half of them.

Rolling Stones: Hillside Blues
Lost Exile on Main Street track in rare Stones jam band mode.
Grateful Dead: Mickey's Barn – Via Archive.org (Find It Here)
Members of the Dead, Airplane, Santana, Crosby, Quicksilver, etc in an all-star Bay Area psych summit at Mickey Hart's barn. This session eliminates the sometimes problematic singing and songwriting that tended to cloud the studio recordings of some of these artists and goes straight for the deep jams.  Perfect for any BBQ or dishwashing session.
John Fahey: Dance of the Inhabitants
One of the comments on this link pretty much says it all about this 18 minute extrapolation: "there is no words to describe how much I'm happy to notice this video right now at 4'oclock in tha morning with some degree of alcohol in my blood."
Royal Trux: Radio Station IDs
Timeless music biz comedy.
Television: Breakin' in My Heart, Cleveland, 7/25/75
Don't tell anyone, but I stole the title for the first song on my Dreams LP from one of Verlaine's lyrical improvisations in this song – Soft History.
MC5: Looking at You
The MC5 are a total YouTube band for me.  I've known the records for years and like them just fine, but it wasn't until clips like these became readily available that I fully understood why the Who supposedly didn't want to go on after them.
John Martyn: Big Muff, live on Hastings Beach, 1991
No one of such talent flirted with illegal vibes more dangerously and consistently than John Martyn. So much of his work, especially the later stuff (but even some of the early stuff) is oh so wrong but oh so right. Case in point.
Related: Chris Forsyth :: "The First Ten Minutes of Cocksucker Blues"