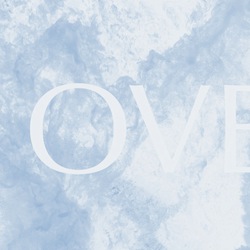 This summer, old friends David Bazan (Pedro the Lion, solo), Will Johnson (solo, San South Gabriel, Centro-matic), Bubba and Matt Kadane (Bedhead, The New Year) released a record together. Called Overseas — the band and the record — the foursome cannily resists the baggage that comes with the "supergroup" tag. There is no extensive credits list detailing who played what, or who wrote which lyric. That isn't to say that the ten songs collected, culled from sessions stretching back to 2009, don't betray their creators' trademarks: the coiled guitars recall Transaction de Novo; the drums occasionally reach Control-level bombast; and Johnson's sandblasted voice and Bazan's throaty croon are distinct and clear. But the parts add to a unique whole.
"This record was built from the ground up," Johnson says. Though both he and Bazan brought rough songs to the table, the band also created spontaneously in the studio. Even at its heaviest and most terse, it sounds like guys stretching out. For a record created by "slo-core" vets, its pulse is powerfully discernible.
"A lot of it evolved from what we refer to as thin air jams," Johnson says. "It's essentially jamming out a song over the course of three or four hours sometimes, until it materializes into something with enough compelling components to keep us engaged, until it turns into something like a complete song."

For Bazan the record was a chance to connect with an old friend and two of his musical heroes. But it wasn't without challenges.
"There were creative forehead-gripping moments," Bazan says. "Doing the creative process in front of a couple of my heroes was dodgy sometimes, just sort of in terms of my own insecurity, but it was mostly really fun."
Bazan and Johnson split vocal duties, with the former belting out rockers like "Down Below," the sexually twisted "Old Love," and the downcast travelogue "Here (Wish You Were)," while the latter handles the stark opener "Ghost to Be," the most wistful moment "Lights Are Gonna Fall," and the expansive "Redback Strike," which wouldn't sound out of place on an episode of Friday Night Lights (a high compliment). Despite the ubiquity of their singers, the songs blend characteristics of their creators' discographies in a way that blurs the distinctions.
"The only lyric that references God I didn't write," Bazan laughs, of a familiar lyrical topic the songwriter has explored. A line thick with black humor ("If there's a God/God makes mistakes"), it almost feels like the other band members messing with Bazan. He readily admits that's the case. "Oh no, for sure. That's Matt screwing with me on that one."
The creative synergy — and occasional good-natured antagonism — is natural. Johnston grew up with the Kadane brothers in Texas, and has shared bills and a friendship with them for more than 23 years. Bazan didn't know them then, but early Pedro the Lion records demonstrate a clear influence. But it was Johnson and Bazan who first hatched the idea to record, following a tour as the Undertow Orchestra, performing as a collective organized by their manager Bob Andrews with Vic Chesnutt and Mark Eitzel. The duo convened with the Kadane brothers directly after Chesnutt's death in December 2009.
"The timing had it that we had the session booked to start with Matt and Bubba just a few days after Vic passed," Johnson says. "In a way, for as sad as that time was, in so many ways this Overseas record was meant to be in that way. Those early sessions were very much a cleansing process and a healing, specifically for Bazan and I, who were really getting over the fact that Vic was gone, just trying to get our heads around it."
Though Bazan and Johnston continued work on their own projects in the intervening years, including Bazan's Strange Negotiations in 2011 and Johnson's work in Monsters of Folk with Conor Oberst, Jim James, Mike Mogis, and M. Ward, and the New Multiples, adapting lyrics of Woody Guthrie with Jay Farrar, Jim James, and Anders Parker, they continued to come back to the record. With the self-titled release finished and out, the quartet has started in on a new record, far exceeding their original modest goals for the band.
"We originally thought this might be an EP's worth of material," Johnson says. "We very quickly realized we had our sights set on completing a full record. It took us three and a half years all told, but I'm really grateful that we did it." words/ j woodbury