(Welcome to Videodrome. A monthly column plumbing the depths of vintage underground cinema – from cult, exploitation, trash and grindhouse to sci-fi, horror, noir and beyond.)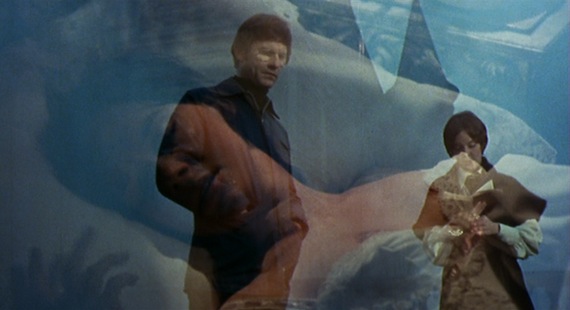 Aside from 14-year-olds and the few dozen AD readers recently thawed from 50-year cryo-sleep, no one wants to read another list of must-see horror films for Halloween. But seeing as splatter films and spectacular exploitation are the lifeblood of this column, it makes no sense to let the last few witching hours of October pass without showing a little love for scary movies.
When the need arises this all-hallow's eve to screen a dark and brooding tale of terror, consult this list for a full rundown of hideous, hair-raising and at times downright deplorable cinematic gems to impress or scare the living shit out of your dearest fiends and neighbors. Ordered by sub-genre for your convenience, you loathsome devils.
Ghost Story —  The Legend of Hell House (1973)
A worthy entry in the surprisingly roomy pantheon of atmospheric '70s British chillers, this one runs on legit talent with iconic genre actor Roddy McDowall in the lead and a screenplay penned by the legendary Richard Mathieson. An original twist on a familiar theme–witnesses offered big bucks to disprove a haunting–comes strong with the creepy theatrics, campy but ominous dialogue and a full spectrum of psychological violation. Relies on suspense over gore, but deals in themes of madness, cannibalism, rape and evil while maintaining the creep factor shared by the best horrors of the early 1970s film era.
Witches — Valerie and Her Week of Wonders (1970)
Valerie and Her Week of Wonders may be best described as Czechoslovakian experimental concept horror, if that means something to you. Regardless of what it is, this beautiful piece of visual imagination falls neatly into "what the hell did I just watch" territory. It's kind of a moral fable about the loss of youth and innocence, ushered on by painted druid priests and fanged forest warlocks. Attractive adolescent Valerie is beset by vampires, perverted sprites and lesbians in a Wonderlandian waking dream, where she must navigate the fantasy landscape to "survive." An excellent choice if you're looking for an ambient film filled with colorful, terrifying and often perverted imagery.
Gothic —  Castle Freak (1995)
Though it is by far the newest film on this list, Castle Freak shares a natural kinship with the low budget grindhouse movement of the 70s and 80s in its exploitative concept and respectful attention to graphic gore. As every fan of horror knows, the genre has deep roots in the medieval castle story. Castle Freak succeeds by taking that time-tested premise and gruesomely marring it with the murderous antics of a hairy, deformed mutant cannibal roaming the stone hallways of an ancient Italian castle. All that being said, Castle Freak is a surprisingly effective B movie horror with a top-notch creature-villain.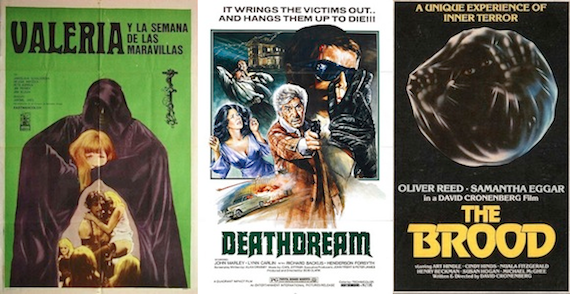 Gore — Pieces (1982)
Speaking of graphic violence, Pieces opens with a close-up scene of an 8-year-old boy taking a hatchet to his mother's head. This infamous Spanish import (originally with the excellent title Mil gritos tiene la noche) strives for plain and simple bodily dismemberment starting from about 90 seconds in and lasting another 80 minutes or so. It is fantastic stuff. The acting and dubbed dialog are atrocious. The story is ridiculous and the movie is full of gaffs. But the filmmakers here harbor no illusions. Their mission, which they attack with breathtaking skill, is to portray vivid scenes of filthy, oozing, despicable gore. Hard to look away, harder not to laugh.
Magic — Deathdream AKA "Dead of Night" (1972)
Deeply unsettling little supernatural yarn from Bob Clark, the underrated schlock master behind Black Christmas and Porky's. A different spin on an old folk tale that most of us have heard at some point, Deathdream follows a family dealing with the homecoming of its son Andy who had been overseas fighting the war in Vietnam. But here's the catch: Andy was killed in action. Pondering who, or what, this new Andy is, and watching the family fall apart piece by piece is not comfortable viewing, except maybe on Halloween night or if you are a sadist.
Kung Fu —  The Battle Wizard (1977)
Given that this column was typed up in a Hong Kong hotel room (a first, I might add, for this here blog), it was necessary to add something with a Far East flavor. Though it's a bit generous to label this Shaw Brothers classic a "horror," it delivers monsters, demons and death in spades. But that is hardly the only appeal. The Battle Wizard revolves around a plot and set of characters so unique and bat-shit bizarre, it must be seen to be believed. Mystical serpents, gorilla ninjas, lasers, weapons made from body parts, amputees, blood drinking, sorcery, and wizard family dysfunction. This is dark, delirious grindhouse Hong Kong Cinema at its best.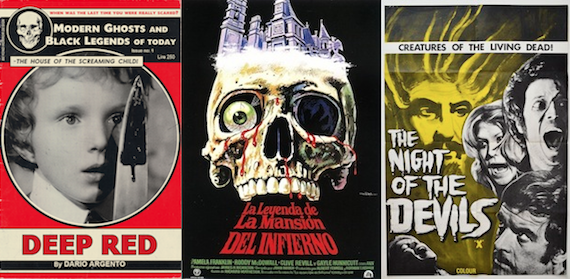 Sci-Fi —  The Brood (1979)
In truth, substitute any pre-Eastern Promises David Cronenberg film for this one if you are looking for wonderful, visceral sci-fi horror at its finest. The Brood's basic premise of a woman giving birth to homicidal beast children is silly enough to make you laugh at first, but creepy enough in its execution to make you respect how formidable a legion of telepathically-manipulated gremlin kids can be. Once labeled the master of venereal horror, Cronenberg knows how to balance outlandish scenarios and graphic (sometimes comical) violence with sufficient thought fodder to keep things refreshing.
Vampires —  Night of the Devils (1972)
It may be doing an injustice to this profoundly demented picture to call it just a "vampire"  film, given its portrayal of witchcraft and zombie-ism. But it's one of the most overlooked and original undead horror stories out there. It starts off with a bonkers scene of gory craziness, but don't let that deter you. Night of the Devils is a meticulously crafted horror story surrounding an Eastern European vampiric mythos. It builds suspense and atmosphere quite nimbly, while mixing in plenty of sex, blood, humor and genuine terror.
Slasher/Killer — Deep Red (1975)
Dario Argento is well known for starting the Italian horror obsession of the latter half of the 1970s, most notably with his masterful occult tale Suspiria. But Deep Red in some respects stands apart from his other work during the era. Eschewing monsters, zombies and the supernatural, Deep Red instead offers a film noir European murder mystery replete with sexy Italian women and loads of groovy '70s fashion design. A visual smorgasbord from start to finish, Deep Red comes equipped with one of the best ambient horror soundtracks of all times, courtesy of Argento's artist of choice, Goblin.
Zombie —  The Beyond (1981)
Even with a multimillion dollar production budget and the benefit of CGI, today's filmmakers would be hard pressed to pack as much genre-melding absurdity into one semi-coherent horror story. Italian splatter king Lucio Fulci's The Beyond manages unthinkable acts of sadism and mayhem ranging from murderous ghosts, zombies, soothsayers, creepy kids, animal attacks, haunted hotels, inbred southern villagers, Louisiana gothic voodoo curses, man eating tarantulas and slow motion scenes of human carnage that include crucifixion, facial acid disintegration and being buried alive. Do yourself a favor and watch it. words / j campbell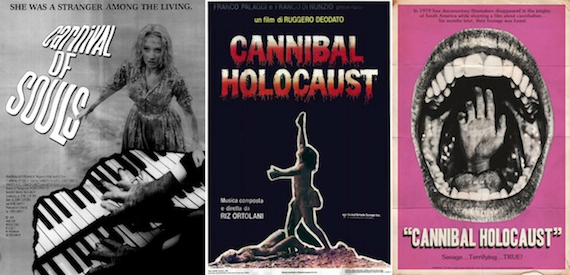 A few others to consider:
Carnival of Souls (1962) — Consistent vibe of weirdness and excellent creepfest soundtrack.
Tombs of the Blind Dead (1972) — Revived zombie knights Templar chasing people on zombie horseback.
The House by the Cemetery (1981) — Probably Lucio Fulci's goriest film, which is REALLY saying something.
Mystics in Bali (1981) — One of the most notorious foreign cult classics (with  Southeast Asian bodiless demon kill missions).
Cannibal Holocaust (1980) — Not to be missed. Revolutionized the cannibal genre.
Previously: Videodrome :: Rolling Thunder (1977) / Werewolves On Wheels (1971)
Does Aquarium Drunkard make your listening life better?  Help us continue our independent culture publication by pledging your support via our Patreon page. Doing so will get you access to our secret stash—including bonus audio, exclusive podcasts, printed ephemera, and vinyl records—and help us keep an independent publication going.