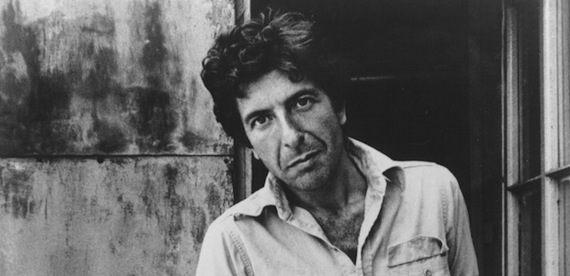 Robert Altman's 1971 film McCabe & Mrs. Miller is a western quite unlike any other. It has in fact been described as an anti-western. Gone are the heroic, alpha-male and defenseless female archetypes, the numerous and gratuitous gunfights and the proud American spirit. In their stead is a quiet, moody and subtle depiction of frontier life on the cusp of a changing America. The film effectively debunks the myth of America's 'old west' and presents characters and situations that are nuanced and resonant; men who are weak, women who are guarded, violence that is random and senseless, and pillars of American society that are corrupt. Altman's style, especially in the 70's, is unmistakably distinct – the overlapping conversations, the gorgeously hazy cinematography, and the meandering nature of the film all lend it an entirely authentic and human quality.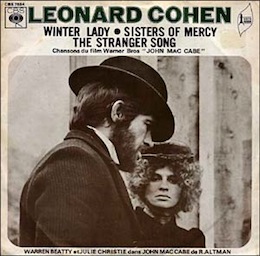 A fan of Leonard Cohen's 1967 debut, Songs of Leonard Cohen, Altman brilliantly chose three songs from the LP to serve as the film's soundtrack. The rest of the film's music is diegetic, either performed by a citizen of the film's fictional town of Presbyterian Church (who offhandedly toys with a ukulele or fiddle, adding a humorously ironic score to the casual conversations in Sheehan's bar), or by a player piano in the brothel.
But the three Cohen songs, "The Stranger Song," "Sisters of Mercy," and Winter Lady," work in perfect harmony with the film and allow Cohen to play the part of an invisible, informal narrator, filling in the blanks left by the naturalistic, show-don't-tell, style of the film. As nothing much is offered by the film's dialogue in the way of back-stories, motivations and desires, it is left to Cohen and his songs. And as McCabe and Mrs. Miller swoon across with the film's patient, meditative narrative, a larger picture emerges, like pieces of a puzzle falling into place.

"The Stranger Song" opens the film as John McCabe (Warren Beatty) rides into Presbyterian Church. We know nothing of his past, beyond his irritated muttering, suggesting he is coming from a bad place. What others say about him is hearsay; he shot Bill Roundtree, he's got a big rep, none of it confirmed or denied. But Cohen tells us he is "watching for the card that is so high and wild, he'll never have to deal another." He tells us he is "just some Joseph looking for a manger." It becomes clear that McCabe is tired of the constant game of trying to prove himself and is ready to settle down somewhere, quite likely this place.
Leonard Cohen :: The Stranger Song
McCabe can handle himself with the small town folk, but when the big players arrive (here, the mining company of Harrison Shaughnessy) he finds himself in over his head and overplays his hand. He makes a fool of himself and is reduced to little more than a bumbling, drunken fool. And it's feasible that McCabe knew that about himself, was afraid of having to face it once again. When Cohen tells us "it's true that all men you know were dealers who said they were through with dealing every time you gave them shelter," there's a knowing sense of doubt in his words, but there is a strong implication that McCabe is the rare man who means it. He is "reaching for the sky just to surrender."
Leonard Cohen :: Sisters Of Mercy
"Sisters of Mercy" plays in correspondence with the town prostitutes. Altman provides a rare, nonjudgmental picture of these women. The words "sisters" and "mercy" alone suggest a sense of caring and fondness for the women, and Cohen sings, "Oh the sisters of mercy, they are not departed or gone. They were waiting for me when I thought that I just can't go on. And they brought me their comfort and later they brought me this song. Oh I hope you run into them, you who've been traveling so long." They truly are sisters of mercy, ready and willing to care for any man that might need them. They are as human and merciful as anyone else in the town, and are treated as such. When Cohen sings "If your life is a leaf that the seasons tear off and condemn, they will bind you with love that is graceful and green as a stem," it is an affirmation of the mercy these women bring into the lives of these men.
Finally, "Winter Lady" is played for Mrs. Miller (Julie Christie). Initially introduced as a calloused, no-nonsense, businesswoman, she is slowly revealed to be a gentle, elusive and suffering creature – one who has not only trained herself to eschew love (the connection between her and McCabe is palpable — but she refutes it), but is also distanced from everyone around her due to her secret opium addiction. When Cohen sings, "Traveling lady, stay awhile, until the night is over. I'm just a station on your way, I know I'm not your lover," it refers to the fact that Presbyterian Church is just a stepping stone for Mrs. Miller, who has aspirations of opening a brothel in San Francisco, while McCabe, forestalled by his insecurities and his fear of "thinking big," will likely never leave this place. McCabe has found his manger but Mrs. Miller wants more for herself.
The description of the winter lady's hair as weaved on a "loom of smoke and gold and breathing," as elusive and abstract as it is, describes Mrs. Miller perfectly. And Cohen asks "why are you so quiet now, standing in the doorway?" and we know it is because her mind is eternally elsewhere, never at peace unless she is high. And the song plays tragically after she has smoked, smiling, engulfed in the warmth of McCabe's presence. He mistakes this for affection, though we know the reason her eyes dart around excitedly, and her grin reaches from ear to ear, is because she is currently in her own manger; the euphoria of opium and the prospect of money.
Whether Altman's fondness for Cohen's music inspired the details of McCabe & Mrs. Miller, or whether it was an incredible moment of serendipitous harmony, I'm hard pressed to think of a more affective use of music in a film. Not only does it evoke style and mood, but helps convey the story while moving the narrative along. It pieces together the puzzle and, somehow, both softens and deepens the mystery of the human experience. | c depasquale