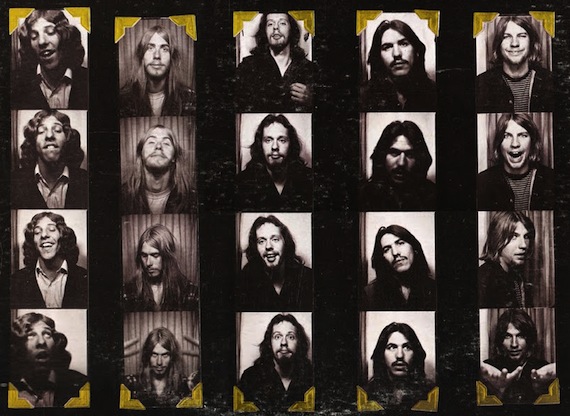 Any lingering delusions concerning the silly charade that is the "Rock And Roll Hall Of Fame" can be quickly dispelled by a single ludicrous oversight: NRBQ, short for the New Rhythm And Blues Quartet, has never made it onto a single ballot. Over the course of four decades, the band's vibrant, unruly take on everything from power pop to barrel house blues to free jazz has inspired generations of younger artists to emulate their infectious spontaneity. Peerless as musicians and songwriters, and unforgettable as performers, the group's classic line up of pianist Terry Adams, bassist Joey Spampinato, guitarist Al Anderson and drummer Tommy Ardolino was a musical Mount Rushmore, regularly drawing thousands of fans throughout the 80s and 90s to see their live spectacle, usually with little or no backing from a music industry too myopic to recognize their extraordinary appeal. When Anderson departed amicably in 1994 in order to pursue a highly successful career as a Nashville songwriter, Joey's brother Johnny Spampinato nimbly replaced him on guitar, and NRBQ rolled on gloriously for nearly another decade.
Then in 2004, Adams was diagnosed with throat cancer. The band went on hiatus. The great ride, it seemed, was over.
It remains nearly impossible to overstate the devotion that the name NRBQ inspires in their ardent fan base. Counted within this coterie of admirers is a startlingly impressive cross-section of fellow artists and musicians, whose diversity and high profile are a tribute to the band's protean agility. Paul Westerberg and Elvis Costello have borne witness to the band's genius, and Keith Richards once handpicked Joey Spampinato to man the bass for his Chuck Berry tribute concert film Hail, Hail Rock And Roll. Everyone from Bonnie Raitt to Steve Earle to She and Him has covered their songs. Mike Scully, producer of "The Simpsons" counts the band as one of his very favorites, and has used NRBQ songs in multiple episodes. This is unsurprising – amongst other attributes – NRBQ songs are often hilarious.
Peter Jesperson, former manager of the Replacements, founder of the legendary independent label Twin Tone, and currently a vice president at New West records reflects the following: Whenever I hear statistics about who the biggest artist in the world is at any given time — whether it's Elton John or U2 or Katy Perry – I always scratch my head. I mean — really? Why not NRBQ?"

M.Ward, who covered NRBQ's "Ridin' In My Car" with Zooey Deschanel for their band, She and Him sums up NRBQ's enigmatic, boundless charm, saying: "Anyone who loves or hates the Beatles should love NRBQ."
It's perhaps appropriate for an operation as idiosyncratic as NRBQ that their origins feel somewhat murky. What is known and agreed upon is that in 1966, a 17-year-old Terry Adams "had a vision to put together a band that plays whatever it wants, whenever it wants." Adams recruited a few players from his neighborhood in Louisville, Kentucky, including his horn-playing brother Donn and his classmate, guitarist Steve Ferguson. "When Steve and I first met," recalls Adams, "we brought out the best in each other. I was the brains and he was the heart of the early NRBQ." Later members of the band echo the pivotal nature of Ferguson's role in formulating NRBQ's unique aesthetic. To this day Al Anderson, who replaced Ferguson in 1971, says that his favorite NRBQ records are the ones Ferguson plays on, before he joined. Adams summarizes Ferguson's contribution this way: "He defined what the guitar in NRBQ is supposed to sound like."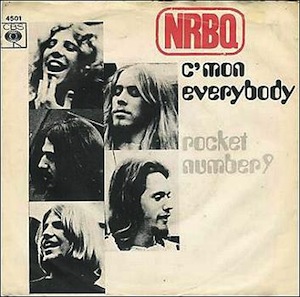 Despite the large footprints left by Ferguson's departure, the band's greatest notoriety came in its next iteration. When Big Al Anderson joined the band, playing his first gig on September 10, 1971, a legend was born: Four distinct (and distinctly unusual-looking) musicians playing unfashionable, brilliant music, in a manner with little precedent. When questioned about the compelling uniqueness of NRBQ's live act, Terry Adams says, "Music should be anything but boring. I can get bored listening to a great band if they don't know how to vary their great sound." NRBQ was famous for never having a set list and for offering their audience a "magic box" where they could handwrite requests for any songs (not necessarily NRBQ songs) and the band would be obliged to play them. The outcome of this approach to playing live was challenging, exciting and above all, spontaneous. It is the sort of high-wire gymnastic act that contemporary indie rock bands have managed to make into a commercial virtue. But for Anderson, the devil-may-care approach that resonates with present-day musicians was, in his words, "the death of us. We played all different kinds of music and at the time, that was against the law."
After more than 20 years playing with NRBQ, Al Anderson left the band to pursue a more stable life off the road and was replaced by Joey Spampinato's younger brother Johnny, already an esteemed guitarist in the power pop band The Incredible Casuals. At the outset, the line-up shift perhaps seemed precarious — Anderson was literally and figuratively a gigantic presence and it was difficult to imagine the band without him, but there could be no better replacement in terms of retaining the NRBQ gestalt. Johnny had been a fan of the band from an early age and coveted the chance to play with his brother. "I didn't want to let the boys down. I was influenced by Steve Ferguson and by Al," Johnny recollects. "You want to fill the hole for what was there, but you want to be yourself."
This, for Joey Spampinato, is the "essence" of NRBQ. "There were different versions of the band," he says, "but it always had the same spirit. After Al left, my brother came into the band and picked up on the spirit. " Terry Adams feels similarly with regard to the changes in the band personnel over time. "It's always so difficult. But as great as Steve Ferguson was, we would have never had Al Anderson. We would have never had Tommy Ardolino. If Al hadn't left, we wouldn't have had Johnny."
And for Joey, "You can interchange people, as long as the spirit's there, it works."
In 2005, Adams received a clean bill of health and was ready to resume life on the road. But preoccupied with other pursuits, his previous band mates were ambivalent about continuing the old grind. Adams soldiered on and formed The Terry Adams Rock & Roll Quartet along with three other accomplished musicians. Joey Spampinato and his brother Johnny put together their own foursome called The Spampinato Brothers and worked together on a series of ambitious recordings. Al Anderson's star continued to rise in Nashville, where he wrote several award-winning songs, and released a handful of well-received solo albums. Each of the principal members has recollections of what was, what might have been, and what the future holds.
Terry Adams considers NRBQ to be his life's work. For him, the vision that he had in 1966 when he started NRBQ is the vision that he maintains to this day, "That desire to make music, any music we want, any style, any time, regardless of the consequences, is a philosophy I am not going to let go of at any time. I love the idea of playing reunions and playing the old songs, but I can't say that really satisfies my purpose. I need to keep NRBQ going and make new songs that apply to now, and move forward." To this end, Adams has in recent years rechristened the Terry Adams Quartet the "New NRBQ," released the positively-received studio album "Keep this love Going" in 2012, as well as a 2013 live record documenting the largely successful touring with the new lineup. Audiences seem enthused, but the question remains, for some, can this be considered the "real deal?"
When Tommy Ardolino, NRBQ's longtime drummer succumbed to a variety of illnesses on January 6, 2012, fans and band members alike experienced an outpouring of grief that reflected his stature as a truly singular performer and the loveable linchpin to the band's greatest achievements.
"I guess nothing can really last forever," says Joey Spampinato, who in 2011 played a series of highly successful shows with his brother and his old band mate Al Anderson. Joey is an equal claimant to NRBQ's extraordinary legacy, having participated in the band's earliest recordings and staying on for nearly four decades. He recalls, "I met Terry Adams in '67. We thought the same. We put that band together. The two of us were what kept it going when other people weren't there anymore. But things have changed today. Terry's gone on now [as NRBQ] and I hear the band is great. When he decided to change the name to NRBQ I was a little bit put off and I was hurt, but I've come to terms with it and I'm ready to move on. If he needs that, he should have it."
Between the members, a complicated cocktail of longstanding enmity, sympathy, bitterness and admiration continues to persist. This is only too understandable: for the outsider, there is no imagining the fallout from all of the exultations and frustrations incubated throughout forty hard years on the road. But for longtime fans, the seemingly implausible hope of a reunion will remain a paramount fascination. We have tragically lost Tommy Ardolino, but with the remaining members hale, hearty and practicing their craft at the highest level, it is nearly impossible to not dream of Anderson, Adams and the Spampinatos working together again. They might not feel that they need or can even stand one another. But for an audience nourished on the uninhibited joy of their inimitable music, only NRBQ puts the good in us all. Our love is never ending. words/ elizabeth nelson bracy