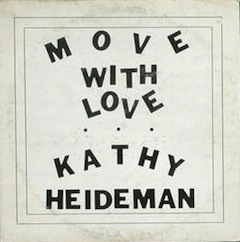 In 2008 Vetiver released  Thing of the Past, a collection of a dozen covers mining lost 60s and 70s folk treasures. Sourcing material from the likes of Bobby Charles, Townes Van Zandt, Michael Hurley, Elyse and beyond, in addition its own charms, the record serves as a fine introduction to a wide swath of lesser known crate-digger heroes. Like Kathy Heideman's "Sleep a Million Years" — for which Vetiver, in an inspired move, recruited Vashti Bunyan to lend her voice. While its inherent message is sweet and simple, the song (penned by Dia Joyce) manages to feel mysterious and elusive. And despite this simplicity, it's in the wording of the song's conclusion that lends the track its dream-like ether: "Don't you know, that much too soon, we're going to sleep a million years?" Vashti's soft, lush vocals are the perfect foil to the cover's aesthetic; her voice practically floats through Vetiver's gauzy blend of countrified charm.
Vetiver w/ Vashti Bunyan :: Sleep A Million Years
Until recently, aside from the occasional eBay listing, there has been little to no information regarding Heideman and her 1976 lp,  Move with Love. This changed last month with the Numero Group's vinyl and digital reissue. Here, the original version of "Sleep a Million Years" is a far more ragged and warbling affair, from the opening trembles of piano to Heideman's voice, which exudes a dusty, quavering quality, not unlike that of another source for Vetiver —  Elyse Weinberg. The sound itself is all together more countrified and electric — its atmosphere far less dreamy and transient than the Vetiver/Bunyan interpretation.
Kathy Heideman :: Sleep A Million Years
Concerning the album as a whole, Heideman's voice is raw, the music a lovely stir of languid, rustic country-folk. There are strokes of psychedelia ("Stormy"), and moments of baroque darkness, such as "Need," with its reedy organ notes and dreamy vibraphone, where Heideman sings, "I don't need you to love me, 'cause mama gave me all the love I could stand." The title track, an era-appropriate simple paean to love and peace, feels like a missed anthem with hints of Melanie.

Kathy Heideman :: The Earth Won't Hold Me
But it's "The Earth Won't Hold Me" that may be the album's finest moment. Riding a serious Dylan-via-Highway 61 vibe, the track finds Heideman trying on self-grandeur, a surprising moment in an album that, although not completely void of confidence (see "Daddy-Do" and "Fine Street Woman"), feels vulnerable. Yet one that fits seamlessly. She reaches for a level of profound lyrical transcendence, and in doing so leaves you completely dumbfounded to whether there is a drop of irony intended. It's something to suggest that Will Oldham has an original copy of this album lying around. Heideman sings, "I leap into the moving sun. I feel the heat but I won't burn, I'll use the light for my return." A promise that, in a sense, she has kept. words / c depasquale