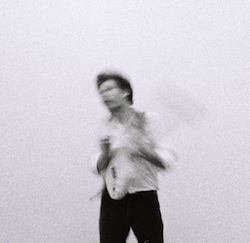 Just a few weeks after the release of Chris Forsyth's mind splitting Solar Motel, the world is blessed with yet another long-form guitar masterpiece — Cian Nugent & The Cosmos' Born With The Caul. Praise the Lord.
Dublin-based Nugent has performed and recorded mainly as a Takoma School solo guitarist for the past few years (though his last album
Doubles
featured some more orchestrated moments), but his latest effort sees him embracing the pleasures of a full band; The Cosmos' violin, drums, keyboards and bass provide a launching pad for Nugent's joyful six-string excursions. Throwing around the adjective "perfect" is a dangerous thing, but I'll be goddamned if I can find a single thing wrong with
Born With The Caul
.
The album kicks off with "Grass Over My Head," a track that suggests John Fahey and The Band playing a New Orleans funeral, with mournful horns and fingerpicked acoustic guitar suddenly shifting into a beautiful double time rag. As good as that is, it's only a preview of the glories to come. First up is "Double Horse," a dreamy drone that conjures up the magnificent, oceanic swells of Fairport Convention's classic "A Sailor's Life." A powerful, transfixing ride. Then, for the length of side 2, we're treated to the massive "The Houses of Parliament," a 23-minute song suite that travels from majestic folk rock to candy-colored psychedelia to Thin Lizzy-style boogie to pulse pounding raga rave-up as though it's no big thing. It's a lengthy journey, but not one second is wasted.

In medieval times, when a baby born with the caul (a portion of the birth membrane still attached to his or her head) it was considered an omen the child was destined for greatness. With this album, Nugent and the Cosmos have certainly fulfilled their destiny.   words / t wilcox