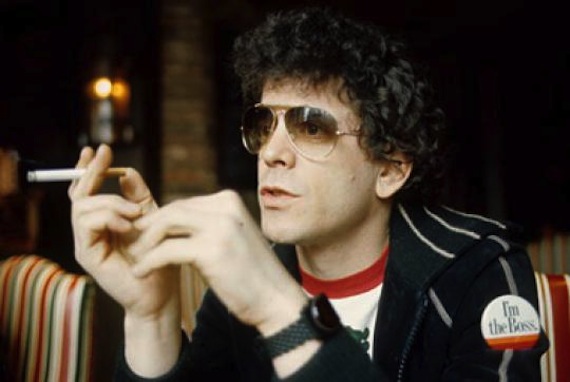 When Lou Reed penned the classic "Rock and Roll" he paid tribute not only to rock and roll music, but also to the transformative powers of rock and roll radio. Radio was a lifelong preoccupation for Reed, from his days as a Long Island teen with an ear pressed against the speaker during Alan Freed's legendary broadcasts to the New York Hustle, an eclectic satellite radio show he co-hosted with producer Hal Willner towards the end of his life. Had he not been a genius songwriter and musician, it's easy to imagine Lou finding his calling as a disc jockey. And indeed, as an English major at Syracuse University in the early 60s, he hosted a radio show, Excursions On A Wobbly Rail, playing what was surely an adventurous blend of jazz, rock and doo wop for his fellow Oranges.
Alas, there are no known tapes of Lou's college radio days. The closest we'll probably get to it is this guest DJ stint on New York City's WPIX in early 1979. Lou is in fine, fighting form here, peppering his commentary with scathing diatribes against Robert Christgau, Rolling Stone magazine, Jimmy Carter and NYC taxi drivers. He even takes some calls – witness the hilarious, surreal moment when Lou "Take No Prisoners" Reed admonishes a caller for using foul language. The music he plays is fantastic, too, with some classic doo wop, tracks from his then-unreleased The Bells LP, and a truly bizarro segue from Al Green to Nico. Lou even comes out in favor of disco.
And if that's not enough, none other than John Cale pops up towards the end of the tape. Even though these dudes spent plenty of time at odds with one another over the years, they just sound like old buddies here.  The whole thing closes out with a trio of killer live recordings (otherwise unreleased?) from Cale, featuring the Blue Oyster Cult's Allen Lanier! What an embarrassment of riches. If you've ever needed your life saved by rock and roll radio, look no further. words/
t wilcox
For heads, by heads. Aquarium Drunkard is powered by its patrons. Keep the servers humming and help us continue doing it by pledging your support via our Patreon page.