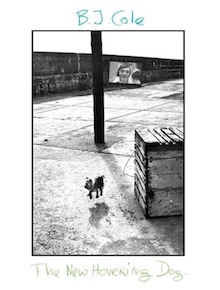 As a sideman, pedal steel master B.J. Cole has played on a litany of great recordings, including albums by Elton John, T. Rex, the Walker Brothers, Loudon Wainwright, John Cale, Bjî¶rk, Elvis Costello, Bert Jansch, and Spiritualized. Ladies and Gentlemen, We Are Floating in Space? That's Cole. His playing is unique, with countrypolitan touches and spacey elements that endear him as much to downtempo DJs as seasoned songwriters.
His approach is beautifully displayed on 1973's The New Hovering Dog. Recorded following the dissolution of his psychedelic country band Cochise, the LP finds Cole alongside a cast of prog and English folk rock legends, including drummer Michael Giles of King Crimson (and one soft psych masterpiece credited to McDonald and Giles), bassist Danny Thompson (Pentangle, John Martyn, Sandy Denny), Robert Kirby (string arrangements on Nick Drake's Five Leaves Left and Bryter Layter), et al.
The New Hovering Dog blends art rock, prog, and folk, and Cole's indelible country and western influences. In the liner notes of a newly remastered and reissued edition, Cole states the music has been compared to early Eno, and it's an apt comparison. "The Regal Procession" shares a theatrical vibe with the wild melodicism of Here Comes the Warm Jets, and "Five Pieces for Steel Guitar and Percussion" and "The East Winchley Tango" suggest parallels to Eno's nascent ambient compositions. But it's impossible to imagine Eno undertaking the inexplicable hillbilly romp "Up on the Hill Where They Do Do The Boogie," which wonderfully disrupts the proceedings with a detour into madcap Americana.
The album shines the most when its distinct elements are boiled down into an disorienting stew. "You're Probably Lost" marries a Fairport Convention-plays-funk backbone to see-sawing violins, a Mick Ronson-style guitar solo, and Cole's swelling pedal steel. "Pie in the Sky" further explores funk elements, but Cole's phased steel and percolating electric piano equally employ Hawaiian and jazz themes. "I Know Now" approximates what Gram Parson's "cosmic American music" might have sounded like to a bunch of heady Englishmen.
At its finest, the album sounds as removed from 1973 as it does 2013, a bizarre and timeless artifact that unites disparate elements into a new and singular form. Cole remains an in demand session player, and The New Hovering Dog does a lot to explain why. words/ j woodbury