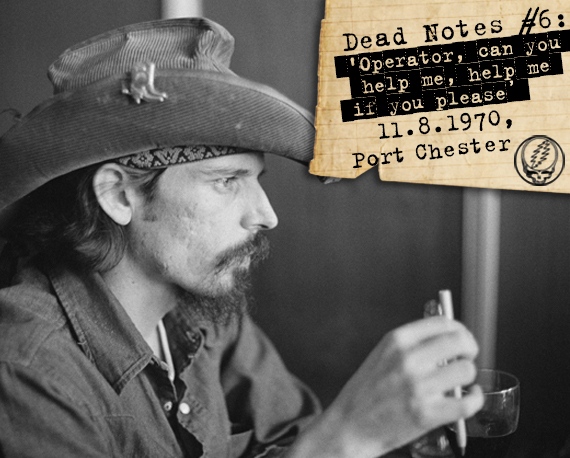 Welcome to the sixth installment of Dead Notes, where we find the Grateful Dead in the Fall of 1970, gigging at the famed Capitol Theater in Port Chester, NY. Between 1970 and 1971 the band played the theater 18 times, placing it thick in the pantheon of Dead venue lore alongside historic nights at Bill Graham's Fillmore East and West.
As the sixties came to a close, the psychedelic setlist center pieces of yore ("Dark Star" and "The Other One" in particular) began to slowly disappear, replaced with a series of individual songs anchored by heavy Pigpen fueled R&B (see Dead Notes #1 & #4). Shows also began to include an opening acoustic set, drawing heavily from the American Beauty album and its predecessor, Workingman's Dead — two albums that once again found the Dead shedding their skin. Donning a rural Americana vibe, a unique fusion of bluegrass, rock & roll and folk, with a heavy dose of country music, the Dead soon found themselves at the forefront of the country-rock movement with 5 of American Beauty's 10 tracks receiving radio play on both AM and (at the time underground) FM radio.

Pigpen's "Operator",  a tale of telegraphic woes and an ex on the run, was performed just a scant 4 times between its August 1970 debut and this version, its final live appearance. Opening with an odd blast of feedback that strangely mimics the jug band intro of the studio version, Jerry settles in with rhythmic ease breaking all standard twelve-bar blues rules, by adding an extra bar, giving the song a swing that allows Pig to rap his woman woes to a not-buying-it switchboard operator. Problem is, Pig is not quite sure where his lady may be — she left upon midnight train and may be hanging around down in Baton Rouge. But it's cool, as she could be hanging around a steel mill or working the house of blue lights — maybe catching that getaway bus out of the Northwest — as Phil, Billy and Mickey's subtle percussive notes resonate her slow escape. But Pig's alright, as frankly he doesn't care where she is going, or where she has been, as long as she's doing it right. words/ d norsen
Grateful Dead :: Operator (11/8/70 Port Chester, NY)
Archives: Aquarium Drunkard — Dead Notes (Volumes 1 — 5)
For heads, by heads. Aquarium Drunkard is powered by its patrons. Keep the servers humming and help us continue doing it by pledging your support via our Patreon page.