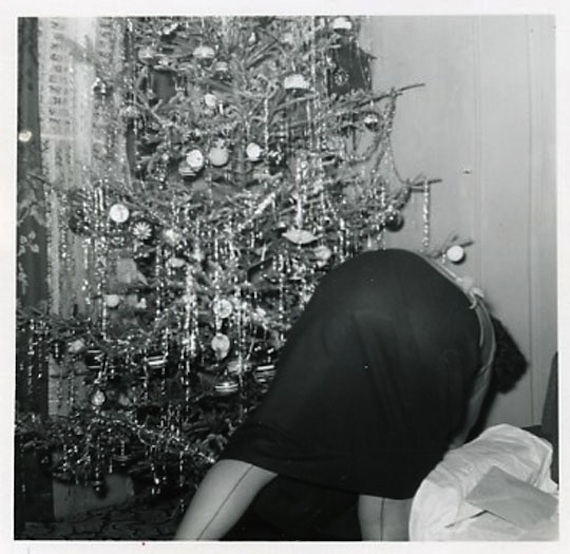 Each December, Brian Reese at Big Rock Candy Mountain deals out a month's worth of holiday esoterica from the far corners of vintage twang, fuzz, scuzz, r&b, blues, country, garage, lounge and beyond. Keeping it loose, he trims his tree with Red Simpson and Mae West, then tops it off with The Sonics, Hank Snow and Champion Jack Dupree. It's a heady brew. Go ahead, deck them halls.
Download: Lit Up Like A Christmas Tree: A Vintage Holiday Mixtape (116 mb)
Jack Scott — There's Trouble Brewing [A-Side Version]
The Sonics — I Don't Believe In Christmas
Mae West — Put The Loot In The Boot, Santa
Roosevelt Sykes — Let Me Hang Your Stockings In Your Christmas Tree
Patsy Raye — Beatnik's Wish
Big John Greer — Santa Do The Mambo
Kay Martin And Her Body Guards — Santa's Doing The Horizontal Twist
The Marquees — Christmas in the Congo
Tony Rodelle Larson and The Saints — Cool Yule
Babs Gonzales — Be-Bop Santa Claus
Champion Jack Dupree — Santa Claus Blues
Clyde Lasley & The Cadillac Baby Specials — Santa Came Home Drunk
Andre Williams — Poor Mr. Santa
Hasil Adkins — Santa Claus Boogie
Thee Headcoatees — Santa Clause
The Wailers — Christmas Spirit
Nathaniel Mayer — Mr. Santa Claus
Tom Waits — Christmas Card From A Hooker In Minneapolis
Brenda Lee — I'm Going To Lasso Santa Claus
Hank Thompson — I'd Like To Have An Elephant For Christmas
Eddie and De Havelon — Christmas Party
Jimmy Butler — Trim Your Tree
Hank Snow — Reindeer Boogie
Red Simpson — Truckin' Trees For Christmas
Loretta Lynn — To Heck With Ole Santa Claus
Roger Miller — Old Toy Trains
Ernest Tubb & His Texas Troubadours — I'll Be Walkin' the Floor This Christmas
Pee Wee King — Rootin' Tootin' Santa Claus
Rev. J.M. Gates — Did You Spend Christmas Day In Jail?
The Youngsters — Christmas In Jail
Buck Owens — Santa Looked A lot Like Daddy (Daddy Looked A Lot Like Him)
The Everly Brothers — Christmas Eve Can Kill You
Red Sovine — Here It Is Christmas
Related: Spotify people, you don't want to miss this, Aquarium Drunkard — The Eggnog Is Spiked
Aquarium Drunkard is powered by its patrons. Keep the servers humming and help us continue doing it by pledging your support via our Patreon page.