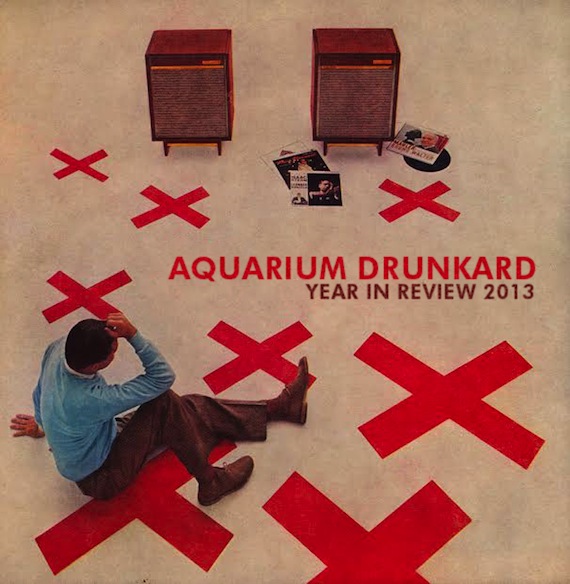 Here it is. Our obligatory year-end review. The following is an unranked list of albums that caught, and kept, our attention in 2013. Have at it. — AD

Bill Callahan – Dream River: Dream River is a low key magnum opus by a songwriter who has quietly matured into a master musician and lyricist. Callahan's been quoted, saying that he wanted to create an album for late night listening, sans a full drum kit. He did it. Per usual, he eschews five dollar words in favor of much simpler ones said in unforgettable ways ("beer… thank you… beer")–Callahan's trick with language is to communicate a whole world in a word. His unhurried strum is complimented by Matt Kinsey's standout psychedelic guitar, set among elegant, flute-heavy arrangements which make the dreaminess quite palpable. Callahan has always been a careful, intentional craftsman, but Dream River and its predecessor, Apocalypse, find the artist on some next level, high on his own impeccable delivery. (buy)
Steve Gunn – Time Off: Aquarium Drunkard's Man of the Year? Time Off is right on time, as the guitarist leads his rhythm section (John Truscinski on drums and Justin Tripp on bass) through a set of tunes that nod in the direction of the Grateful Dead, JJ Cale, and Neil Young without feeling remotely retro. An instant classic. (buy)
Bob Dylan – Another Self Portrait: Focusing roughly on the 1969-71 period, the double CD comp makes a convincing argument that — contrary to popular belief — Dylan was operating on a consistently high level, composing underappreciated gems and playing passionate versions of songs drawn from the deep well of the American and British folk tradition. Dylan isn't the mad genius of the mid 60s here, he's a guy in love with his wife and kids, singing songs about dogs and rivers and moonshine and love. That may have seemed woefully out of touch in 1970, but it sure sounds excellent 40-plus years later. (buy)

Nick Cave & the Bad Seeds – Push the Sky Away: Following a couple albums devoted to exploring grime and sleaze with the Bad Seeds and Grinderman, Push the Sky Away features Nick Cave and his conspirators restrained and taut. Cave follows Wikipedia rabbit holes wherever they may take him, testifying about Miley Cyrus and other forces of nature, as the Seeds click behind him, holding back but for a few bursts of eschatological force. (buy)
David Bowie – The Next Day: When an elder statesman goes quiet for a decade, you're not expecting anything like The Next Day. Reuniting with producer Tony Visconti, Bowie fashioned the type of record that didn't need the soft bigotry of lowered expectations to succeed. It's a reflective and dark lyrical album, yet an exultant and gorgeous musical one. And in spots, it down right rocks. All hail Major Tom's return from the stars. (buy)
Brigitte Fontaine – Comme a la radio: An unbridled and adventurous singer and poet, Brigitte Fontaine made a career of avant-garde sonic explorations. Her early albums on the Saravah label established her penchant for experimentation and broad understanding of music, sound, and speech. Comme î€ La Radio is a brilliant tangle of French chanson exploded by free-jazz, a beautifully matched collaboration with the Art Ensemble of Chicago and her frequent songwriting partner Areski Belkacem. Fontaine plays the opposite of the yé-yé chanteuse, singing in and out of rhythm as the percussion-forward arrangements loosely cradle her haunting poetry. The Bay Area archival label Superior Viaduct delivers this 1969 LP's first US release. (buy)

Deerhunter – Monomania: An avalanche of ambient noise-neuroses that moves around you rather than toppling you over, Monomania is more aggressively inside itself than Deerhunter's – and Bradford Cox's – previous work. Mostly gone is the dream-soul plush of Halcyon Digest. In its place a twitching readiness, but ready for what? That's what Monomania is trying figure out, clashing frenetically back and forth across the headspace from the cacophonous "Leather Jacket II" to the druggy rhythm of "T.H.M.".
Endless Boogie – Long Island: The boogie is indeed endless on Long Island. Unapologetically accepting Canned Heat, ZZ Top and the Velvet Underground as equals, Endless Boogie crafted the best rock 'n' roll album of the year, hands down. Let it roll. (buy)
Chris Forsyth – Solar Motel: Some kind of masterpiece. Forsyth's Solar Motel is a four-part suite of ecstatic, spiritual psychedelia that splits the difference between unabashed classic rock thrills and a spikey avant garde sense of adventure. Try to imagine Television circa 1977 recording a cover of Pharoah Sanders' "The Creator Has A Master Plan" and you're halfway there. (buy)

Hiss Golden Messenger – Haw: Haw is a record about a river, specifically one that runs through the Piedmont in North Carolina. Its waters, it would seem, are rich. Songwriter MC Taylor sings of God — a mysterious, often obscured one — and he sings of children. He sings of prophets and bluesmen, sings of questions that nag and tug. The music matches the beauty of his queries, an earthy mix of country soul and burnished folk, allowing the sounds of Appalachia, the Middle East, and Jamaica equal footing. (buy)
Ty Segall – Sleeper: Per his m.o., psych/garage journeyman Ty Segall stayed busy in 2013. In addition to relocating from San Francisco Los Angeles, Segall recorded and performed with two disparate projects this year. The loud: Fuzz, and the soft: Sleeper – a record that makes good on the promise of a sound first hinted at in 2011 via "Goodbye Bread". (buy)
Marisa Anderson – Mercury: Electric guitar is Marisa Anderson's primary weapon of choice and she wields it well. Mercury, her latest collection of solo recordings, is thick with raw, gospel/blues vibes, without coming anywhere near a cliched move. Like the Greek god it shares its name with, the LP speeds by quickly – you'll be going back to dig into this one repeatedly. (buy)

Matthew E. White – Outer Face: If you hedged your excitement upon hearing that Matthew E. White planned to follow up last year's gospel-funk masterpiece Big Inner with an EP devoid of the rolling piano that was that album's signature, then I hope you'll let the maestro of Richmond send a little sweet forgiveness your way. White limited himself to strings, bass, percussion, and vocals while composing Outer Face, and while the resulting EP retains Big Inner's swagger, it also complements that record's high spirituality with a deep-groove earthiness. White can make up whatever rules he wants so long as he keeps playing. (buy)
William Tyler – Impossible Truth: William Tyler spent the year touring as solo guitar slinger, but don't expect minimalism from this gorgeous LP. Tyler's vision is positively technicolor, layering gorgeous sounds – moaning pedal steel, triumphant brass sections, reverb-laden electric twelve-strings and more – over his majestic compositions. (buy)
Phosphorescent – Muchacho: There's a weird kind of playfulness in the dusty grooves of Muchacho. It's a portrait painting of the moods of life – joyful exultation, love and its effects, day-to-day demons. It spans influences classical, spiritual and cultural and all seem to hinge on the morning reflections of just another man. There's not another record that sounds like this – just like no one person's day looks like another. (buy)

Purple Snow: Forecasting the Minneapolis Sound: This is the Numero Group's take on the scene that incubated the great Purple One, Prince. Purple Snow: Forecasting the Minneapolis Sound tells the story of an isolated, insular music scene that matured in tandem with its breakout star, then wrestles with its funky new identity. These 32 tracks demonstrate a gifted cabal of musicians who developed a fledgling, imitative R&B scene into a flamboyant, funky sound which would rise up and dominate the '80s. Numero's bookish accompaniment to the music is a show in and of itself, a richly detailed guided listening that evokes a strong sense of time and place. (buy)
Who Is William Onyeabor?: William Onyeabor made eight albums of synth-heavy, hard-grooving funk between 1977 and 1985, then he converted to Evangelical Christianity and has since clammed up about his music. Luaka Bop collects 9 lengthy cuts on Who Is William Onyeabor? to represent the Nigerian electronic pioneer. An included photo from a scarce original pressing shows Onyeabor with gear on all sides and 10 mics pointed at his face–he's the funky nucleus, a macho, mad scientist of homegrown proto-disco who liked to sing about love, finding peace, and fighting injustice. The album title comes as a question because tales of Onyeabor's extra-musical biography are as tall as his hats are big: he became Russian filmmaker… a Swedish business man, they say. Onyeabor may have given permission for this excellent comp but no further comment to break the mystique. (buy)
Apple and the Three Oranges – Free and Easy: "I'm never going to water down my funk," explains drummer/showman/bandleader Edward "Apple" Nelson in the liner notes of Free and Easy, Now-Again's compilation collecting his early '70s sides with Apple and Three Oranges. No kidding. Tracks like "What Goes Around Comes Around" are frighteningly funky, and the ballads, like "Moon Light," refuse to surrender to any commercial impulse. This is some raw shit. (buy)

Chuck Johnson – Crows In The Basilica: It was a great year for acoustic guitar soli records, but this one might best them all. These compositions have an almost architectural feel to them, transfixing the listener with their intricate structures. Johnson draws on everything from ancient Appalachian melodies to Chinese folk songs, in the process creating a hauntingly powerful dreamscape. (buy)
Robbie Basho – Visions of the Country: Gnome Life Records/Grass-Top Recording's reissue of this long out of print opus is an absolute joy. Basho's gorgeous playing (on both guitar and piano) is presented here in the crystalline sound quality it deserves at last. Visions is a majestic, magical thing, a record that conjures up a shimmering, pastoral landscape of the imagination. It doesn't get much better than this. (buy)
Danny Paul Grody – Between Two Worlds: This one is almost as if Brian Eno had cut an LP for John Fahey's Takoma Records sometime back in the mid-70s. Grody has a knack for building totally enveloping soundscapes out of simple materials; he's not a flashy player by any means, but the results are positively hypnotic. (buy)

Henry Flynt – Graduation: Recorded between 1975 and 1980, this is an eccentric, singular piece of work, to be sure, but it's also infectious as hell. Over the course of eight loose-limbed tracks, Flynt re-imagines wide swathes of American music, blending Appalachian folk, Nashville countrypolitan, Lower East Side folk rock, experimental classical music and deep disco grooves. Weird and wonderful. (buy)
Nathan Salsburg – Hard For To Win & Can't Be Won: An elegant, understated record. Salsburg's guitar instrumentals call to mind the precision and power of Nic Jones, as well as the restless lyricism of Pentangle's Bert Jansch and John Renbourn. Hard For To Win is a beauty, through and through. (buy)
Cian Nugent & The Cosmos – Born With The Caul: Dublin-based guitarist Cian Nugent has performed and recorded mainly as a Takoma School solo guitarist for the past few years but his latest effort sees him embracing the pleasures of a full band. The results are positively glorious, a collection of swelling, masterful guitar epics for the ages. (buy)

Daughn Gibson – Me Moan: On Me Moan, Daughn Gibson builds on the loopy, electro-country sound he discovered on last year's All Hell. The monikered singer has crafted a noirish milieu involving Pennsylvania coal country, primitivist religious experiences, and pop country, and he makes magic with all of the disparate parts–deep voice, deep bass, hard beats, dark lyrics. The result is swaggering music that sounds equally confident and exposed, pushing at the limits and conventions of genre, swathed in a moody whoosh of chest hair and diesel smoke. (buy)
Mikal Cronin – MCII: MCII finds Cronin as a twenty-something in existential crisis, confronting the transition — and associated questions and adjustments — from youth to adulthood. It's that uncertainty set against the confidence of his multi-instrumental power pop-garage ethos that makes MCII hum. (buy)
Darkside – Psychic: Darkside is the union of Nicolas Jaar's music concrete turned techno and David Harrington's free jazz chops. Their debut full length, Psychic, is a dark epic; a sonic trip which sometimes resembles a pop song and others the soundtrack to an eerie film flashback. There's a visual, cinematic energy to Darkside, and the band's sound is immersive, best experienced at high volume and full attention. The songs are both vessels for improvisation and finely tuned compositions–Harrington's commanding guitar work anchor one's ear amidst the broad, electronic soundscape. There is a bold, curious spirit which fires this duo's electrifying chemistry on record and live, plus Psychic serves as the keystone/gateway drug to Other People, Jaar's ambitious and innovative subscription label which releases new music every week. (buy)

Psychic Ills – One Track Mind: One track mind is right. Psychic Ills pick a sound and stick to it on their 2013 offering, but fortunately it's a completely awesome sound, melding Ditch Trilogy Neil Young with Royal Trux scuzz to maximum effect. (buy)
John Grant – Pale Green Ghosts: It's hard to say if Pale Green Ghosts is mostly ego or catharsis, but it achieves both. This is theater rock in sound and theme — Grant's life on stage, fully exposed, a hindsight with no retakes or edits. "I am the greatest motherfucker that you're ever gonna meet," he insists to an ex-lover (and himself) in "Gmf," which is much like the record itself: Painfully (literally) funny, self-deprecating, grandiose as it is insecure, moving on while wishing things didn't have to change. (buy)
Arnold Dreyblatt & Megafaun – Appalachian Excitation: Appalachian Excitation, composer Arnold Dreyblatt's collaboration with avant-folk band Megafaun, is kinetic and striking. Recorded live, Dreyplatt's prepared bass bounces off Megafaun's web of Moog lap steel, guitar, banjo and clattering drums. A deeply southern affair, Megafaun's bent Americana is refracted through Dreyblatt's cock-eyed gaze, boiled down to its compositional core. (buy)

Howe Gelb – The Coincidentalist: Giant Sand main man Howe Gelb's songs have always ached of the Sonoran, but you practically have to wipe the dirt from the grooves before playing The Coincidentalist. Joined by M. Ward, Steve Shelley of Sonic Youth, Bonnie "Prince" Billy, steel guitarist Jon Rauhouse, and KT Tunstall, the album's moves from swinging fare like "Vortexas" to strutting soul ("Unforgivable") and moonlit séances ("Pichacho Peak"). Whereas 2012's Giant Sand outing Tucson detailed the Old Pueblo in cinematic widescreen, The Coincidentalist revels in the minute, an intimate collection that sprawls inward. (buy)
Wooden Wand & the World War IV: James Jackson Toth is a restless, perpetually creative type. He wasn't content releasing one great Wooden Wand record this year: Following up the "Sunday morning wake and bake" Blood Oaths of the New Blues, he let loose Wooden Wand & the World War IV a stomping thunderstorm of an album, with Crazy Horse vibes dripping from "I Hate the Nightlife" and bleakly hilarious "McDonalds on the Moon." (buy)
Wooden Wand – Blood Oaths of the New Blues: Blood Oaths.. bathes in a sound that reflects the twin connected visions of Giant Sand and Calexico. James Jackson Toth's creation is a universe in and of itself, though grounded in lyrical locales that channel Americana, Beat wanderlust and just plain humanity. By the time the album strolls to its close with "No Debts," it feels like a long day's journey recalled over the haze of hindsight. And like those stories, it's worth revisiting again and again for the new revelations it provides. (buy)

Kurt Vile – Wakin On A Pretty Daze: There's some of Kurt Vile's trademark self-loathing here — some of it simply the result of his sidewalk shuffle vocal vibe — but Wakin on a Pretty Daze is more secure with it than his previous work. Here, we see louder, longer and more assured song-making. "Sometimes when I get in my zone, you'd think I was stoned," says "Goldentone." Even though he'd "never, as they say, touch the stuff," you'd think he was stoned since 2011, because whatever stride he hit then shows no signs of letting up. (buy)
Foxygen – We Are the 21st Century Ambassadors of Peace & Magic: Only a handful of bands can buck this recent trend: sourcing mid-'60s music with boring results. Foxygen have spent a few records figuring out how. Their answer: Source almost all of it, and do it all at once — on the same record, within the same song, sometimes on the same verse. A mishmash of psych-rock, pop, garage, ye ye, with shades of too many bands to list, Foxygen create a masterfully reverent and honest document to that period without sounding like anything but themselves. The result is a lot of cool and a lot of fun. (buy)
Yo La Tengo – Fade: The venerable Hoboken band's thirteenth album is the most magnificent of their later releases. Produced by Tortoise's John McEntire – their first full length since 1992 to be produced by any one other than Roger Moutenot – it's a warm and hypnotic set of songs opened by the tone-setting "Ohm," a piece that encourages us to "lose no more time / resisting the flow." Like the sound of the river in which Siddhartha finally finds enlightenment, Fade is an album that pulls Yo La Tengo's existence together into a singular, harmonic package. (buy)

Cate Le Bon – Mug Museum: Cate Le Bon departs her native Wales, relocates to Los Angeles, and puts together a backing band filled out in part by members of White Fence. And it shows. Following last year's CYRK, Mug Museum exhibits a blue cool throughout with just enough angular Tom Verlaine moves to keep the Nico vocal references at bay. (buy)
Veronica Falls – Waiting for Something to Happen: Residing on a label whose roster has reimagined a myriad of influences ranging from UK Punk, Baggy, Brit-Pop, C86, Paisley Underground, and Shoegaze, Veronica Falls made one of the best pop albums in 2013. Waiting For Something to Happen succeeds because it reminds you of all of those genres at once, yet thoroughly possesses its own unique personality. (buy)
Torres – Torres: Mackenzie Scott's first album as Torres is a remarkably assured debut for a 22 year-old songwriter. The Georgia native spent her college years in Nashville, but neither geographical locale would prepare you for the stark sound of the record – think PJ Harvey, not D.R. Parton. But Torres also makes room for hushed introspection, as evidenced on the transcendent "Come to Terms." It's an album of varied tones that finds success on all fronts. (buy)

Townes Van Zandt – Sunshine Boy: Townes wasn't a fan of recording studios — there's a reason why his most beloved album is a live, solo guitar and voice affair. But this double CD set of previously unreleased demos and alternates rewrites history to some extent, showing that the legendary songwriter could deliver the goods in a studio setting, given the right circumstances. An essential listen. (buy)
Imaginational Anthem, Vol 6: Origins of American Primitive Guitar: 2013 was a banner year for "American Primitive" guitar, with stalwarts like Nathan Salsburg, Daniel Bachman, Steve Gunn, and Cian Nugent exploring and expanding on various strands of the "Takoma aesthetic." But the ideas existed before Fahey, Basho, Bull, and "Origins of American Primitive Guitar" explore the sounds beautifully, devoting time to essential recordings by folk blues pioneers like Sylvester Weaver, Lemuel Turner, Davy Miller, Bayless Rose, and more. (buy)
Sorrow Come Pass Me Around: A Survey of Rural Black Religious Music: One of the truly great gospel collections, 1975's Sorrow Come Pass Me Around saw new light this year via Dust-to-Digital. Featuring recordings collected primarily in the American South, Sorrow obscures the lines between the blues and the Good News, Furry Lewis, Robert "Nighthawk" Johnson, featuring Babe Strovall, Reverend Rubin Lacy, Annie Lee Crawford, Annie Mae Jones, Oscar Crawford, and Katie Mae Young celebrating and testifying to a faith that encompasses all corners of life — both the sacred and the secular. (buy)

Chris Darrow – Artist Proof: A California country-rock classic freshly reissued and expanded by Drag City, Artist Proof is yet another where-have-you-been-all-my-life records. Darrow draws from classic country, cajun fiddle grooves, traditional string band music and much more, all given a freewheeling, cosmic Americana spin. (buy)
Enjoy the Experience: Homemade Records 1958-1992: In the world of private-press albums, sincerity is king. The music presented on Sinecure's Enjoy the Experience: Homemade Records 1958-1992 doesn't fit neatly into a single genre; there's Joe Meek-style exotica, funk, boogie, and apocalyptic Christian folk-pop. What unites these disparate acts is a collective belief that their music was worth sharing. (buy)
Peter Walker – Has Anybody Seen Our Freedoms: Originally recorded in 1969 or '70 but not released until 2013, Has Anybody Seen Our Freedoms is part meditation, part sermon, and part protest rally. The album finds guitarist Peter Walker abandoning the full band interplay that shaded his Vanguard Records days in favor of acoustic intimacy, his long-form ragas cresting and falling, his fevered poetry interspersed at will. (buy)

Bombino – Nomad: The Nigerién, Tuareg guitarist and singer Omara "Bombino" Moctar is a visceral shredder of the guitar, equally infatuated with the bombast of Jimi Hendrix as with the blissed out zen of Bob Marley. Bombino sings in Tamashek about the Sahara desert and the peace he hopes will come to the politically turbulent home of the Tuareg. His 2nd proper LP, Nomad communicates the grit and groove of Bombino's electric band, fattened up with full on arrangements and beefy production work by Black Key Dan Auerbach. The team-up is trés bien, resulting in a rich record that compliments Bombino's mesmerizing, unbridled live performances. (buy)
Dawn McCarthy & Bonnie 'Prince' Billy – What The Brothers Sang: Here in America we tend to think we know our sacred cows — JFK, Elvis, Babe Ruth. But we don't. Not until we peel a layer or two back, anyway. Will Oldham and Dawn McCarthy know this, and over the course of thirteen covers take on the Everly Brothers canon for the dynamic, inventive, stable of work it truly is. (buy)
Courtney Barnett – The Double EP: A Sea of Split Peas: A combo joint containing Courtney Barnett's two EPs from this year, the loose collection provides a solid introduction to the young Melbourne singer and guitar slinger. Keep your eye on her in 2014. You'll thank us later. (buy)

Gene Clark – White Light Demos: These previously unheard demos don't necessarily improve upon the finished product — White Light is, after all, a pretty much perfect album. But they do provide an intimate glimpse of a great songwriter at his most inspired, a solo Byrd taking flight. And one track here, the never-released "For No One" is a bona fide masterwork, one of the most beautifully lonesome things you'll hear this year. (buy)
Matana Roberts – Coin Coin Chapter Two: Mississippi Moonchile: The second installment in what will be a 12-album series from saxophonist Matana Roberts, Mississippi Moonchile is boiling pot of gumbo with soul, Delta blues, bop, gospel and free jazz stirred to perfection by a patient Roberts. A probing investigation of familial identity, Roberts' work is sometimes bracing, sometimes violent, and always beautiful. (buy)
Let Me Play This For You: Rare Cajun Recordings: The bedrock of modern Cajun music, the recordings presented on Let Me Play This For You do not play like a history lesson. No, expertly remastered from 78s by Christopher King, the late '20s and early '30s recordings of Angelas LeJeune, Percy Babineaux and Bixy Guidry, and Blind Uncle Gaspard crackle with energy and verve, melodically complex and inspiring. (buy)

Polvo – Siberia: Striking against the trend of bands reforming after a breakup to generally diminished returns, Polvo released the second album of their reunion career. And as awesome as 2009's In Prism was, Siberia tops it – showing the continuing evolution of the band in its gnarled time signatures and melodies, alternating between lengthy movements of intricate noise and shorter guitar bursts. No one sounds like Polvo and Polvo sounds like no one else. (buy)
Califone – Stitches: Assembled in California, Arizona, and Texas, Stiches is songwriter Tim Rutuli's ode to being away from home, of finding connecting threads in disparate places. Califone's blend of delta blues and the avant-garde is on full display, but Rutili grafts in unexpected touches: the AM pop of "We Are a Payphone," a full-bodied rock & roller with "Frosted Tips." (buy)
King Khan & The Shrines – Idle No More: King Khan has sometimes been fabulously repulsive: horny, apathetic, rude, arrogant, dismissive, not always all at once (and, sure, sometimes not all). Enjoyable though it's been, it was a schtick. On Idle No More, they reckon with the same psych-garage era they always have, but it's less scuzz, more rhythm and blues. They've dropped the schtick, lost some of the braggadocio, and what remains sounds like the purest version of the Shrines to date. (buy)
Oneohtrix Point Never – R Plus Seven: Part of the charm of 0PN's Replica was the way it whittled a barrage of advertising noise down into bedroom-ready paper dolls. R Plus Seven goes in the opposite direction, retaining the interiority of its predecessor while blowing the soundstage out as wide as possible; consider it like the contents of a child's toy chest spread evenly across a drill hall, with the massively church-organned bookends of "Boring Angel" and "Chrome County" serving as an unbearably heartbreaking countervision of a world that can't be contained in any room. (buy)
Tim Hecker – Virgins: The baggage of drone: Arbitrary repetition, a vaguely threatening sense of something hovering over you, the directionless thrum of a life unconsidered. With its competing cathedrals of mourning and triumph, Virgins takes on and redeems all of the term's dark shadows, be they musical or otherwise. (buy)
My Bloody Valentine – mbv: Coming up on a year since its release and mbv is still mesmerizing. A trifecta of familiar guitar tsunamis and stacked vocals engulf the listener — "She Found Now", "Only Tomorrow" and "Who Sees You" scream and submerge. Are these Loveless leftovers? It doesn't matter at this point. Months of repeated listens and we can't stop thinking about how perfect their sound is. (buy)


Magik Markers – Surrender to the Fantasy: Elisa Ambroglio and company return ever so righteously after several years of inactivity. Surrender To The Fantasy is a gloriously noisy and invigorating ride that plays by its own rules: squalling and abrasive at one point, sly and poppy at the next. It all works, somehow, with style to spare. (buy)
Twin Peaks – Sunken: No Dale Cooper, Laura Palmer, Black Lodge or Donna Hayward. No midnight trysts over the border at One Eyed Jacks. Instead, itinerant fuzzy rock & roll from a bunch of young Turks who call Chicago home. (buy)
Thee Oh Sees – Floating Coffin: John Dwyer and co. do not stop. Loose and heavy, Floating Coffin finds the Bay Area vets burning through the darkness. Riffs abound, and while you might show up for the shred, it's the intermittent levity that holds it all together. This is, after all, part of Thee Oh Sees charm. (buy)

I Am the Center: Private Issue New Age Music in America, 1950-1990: Oft dismissed as aural wallpaper, Douglas Mcgowan's New Age collection quietly asserts that one's engagement with New Age is simply a choice of the listener. The tracklist here smoothly moves from the minimal trappings of Gurdjieff/de Hartmann to the interdimensional sound collages of Iasos, to the lush warmth of Laraaji, making a strong case for actively paying attention, but always allowing for the possibility of slipping utterly inward for a few minutes. (buy)
Songs: Ohia – Magnolia Electric Company (Tenth Anniversary Deluxe Edition): The loss of Songs: Ohia/Magnolia songwriter Jason Molina still stings, but 2013 saw the 10-year anniversary of his defining work. Magnolia Electric Company finds Songs: Ohia blooming into a rock & roll band while maintaining all the tender qualities of Molina's bruised poetry. The album features many of Molina's classics, like "Farewell Transmission" and "Hold On Magnolia," and the expanded edition features "The Big Game Is Every Night," a 10-minute burner previously only available on Japanese pressings, a song that encapsulates the brutal strength of Molina's words and music. (buy)
I Heard the Angels Singing: Electrifying Black Gospel from the Nashboro Label, 1951-1983: Coming via the venerable Tompkin Square Label, this 4 CD set traces the output of Nashboro Records, the Nashville gospel label operated out of Ernie's Record Mart by owner Ernie Young. Gospel music was extremely popular when Young founded Nashboro, and he had a knack for picking up on which sounds sold the most records. I Heard the Angels Singing maps out the galaxy of sanctified singing stars which constellated around Nashboro, studded with incendiary lead vocal performances. The '50s and '60s material is the most electrifying stuff here–recordings from that period captures gospel in the throes of transformation, incorporating the raw, unholy spirit of R&B. (buy)

Mavis Staples – One True Vine: Mavis Staples may be a step slower than she was on 2010's You Are Not Alone, but she uses fatigue to her artistic advantage here, adding stately, hard-won gravitas to a slow-burning cover of Low's "Holy Ghost." Elsewhere, she coaxes Spencer Tweedy's raggedy drums through a Levon-worthy rendition of "What Are They Doing in Heaven Today?" The intermixing of sadness and joy in her voice as she sings that age-old chorus – and all the confusion, mourning, buoyancy, and hope that it carries along with it – make it just as stirring and compelling as any of her highest moments. (buy)
Good God: Apocryphal Hymns: The hymns collected by Numero Group fall wonderfully outside the musical gospel tradition: Spaghetti western ambience, bleak synth dirges, jazz funk outings, lowrider oldies to God. It's gospel by nature, not by style. In the world, but not of it. (buy)
Lee Hazlewood Industries: There's a Dream I've Been Saving: "Why do they call the steak Sinatra, the hamburger Hazlewood?" A worthy question, Lee, but the answer depends on how much you enjoy a great hamburger. Light in the Attic pulls out all the stops with There's a Dream I've Been Saving, collecting Lee Hazlewood's daring LHI catalog, the Cowboy in Sweden film, detailed liners, photos, and selections from LHI's stable, including Suzi Jane Hokom, The International Submarine Band, Arthur, The Aggregation, Sanford Clark, Lynn Castle, Larry Marks, and more. One juicy burger, indeed. (buy)

Neko Case – The Worse Things Get, the Harder I Fight, the Harder I Fight, the More I Love You: There are days we feel we could listen to Neko Case sing the goddamn phone book. Thankfully, she chooses to apply her voice — a swelling, knock-down-drag-out thing — to much better material. Namely, her own stories of bad mothers, revenge, and fat-fingered bullies (you can taste them in her teeth, she warns). Aided by a cast of stellar musicians including Kelly Hogan, M. Ward, and members of Los Lobos and My Morning Jacket, Case's seventh LP may be her most forceful yet. (buy)
Daniel Bachman – Jesus I'm A Sinner: This is "psychedelic Appalachian" guitarist Bachman's third full-length album in less than two years. The good news is that the law of diminishing returns does not seem to apply in this dude's case; Jesus I'm A Sinner is his strongest, most assured LP to date. It's also his most diverse, mixing purely solo recordings with some great collaborations. (buy)
Jason Isbell – Southeastern: Sobriety is a double-edged sword in art. It's a life saver, no doubt, but sometimes the wrong artistic lessons seem to come out of the experience. Not so Jason Isbell. Southeastern is the most clear-eyed and focused Isbell songwriting since the Drive-by Truckers, and "Elephant" is, almost without question, the best song he has ever written. It's a largely quiet and reflective record, but it's one that stands over the past as it is, not in judgment of it. The songs are far better for it. (buy)
For Heads, by heads. Aquarium Drunkard is powered by its patrons. Keep the servers humming and help us continue doing it by pledging your support via our Patreon page.