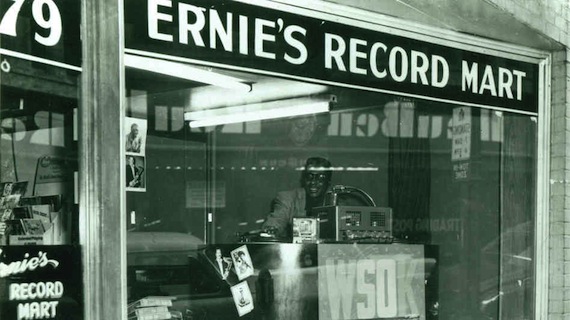 Back in December of 2011, Mike McGonigal, publisher of the excellent cultural journal YETI and producer of two collections of blazing gospel music, Fire in My Bones and This May Be My Last Time Singing, told Aquarium Drunkard that his next project for the Tompkins Square label would be a collection of music from the Nashboro label.
"It will blow a lot of people away, just how truly solidly mind-blowing this music was," McGonigal said.
True to his word, the resulting collection, I Heard the Angels Singing: Electrifying Black Gospel from the Nashboro Label 1951-1983, released in December 2013, indeed blew minds. Featuring recordings from former jukebox operator, record store owner, and producer Ernest L. Young's Nashboro label, its four discs chart gospel's incorporation of rock & roll and soul sounds, bathed in reverb and sanctified intent, featuring cuts from Swanee Quintet, Brother Joe May, the Consolers, the Fairfield Four, and many, many more. We again caught up with McGonigal, who took some time to explain how the project came about.
The Radio Four :: How Much I Owe You
Aquarium Drunkard: It seems like Ernie Young knew exactly what he was doing with Nashboro: He had a store to sell the records in, a radio station to broadcast the platters via, and a studio to record his acts.
Mike McGonigal: By all accounts, Ernie Young was an incredible mensch. He'd always pay his artists, never stole anyone's publishing, would frequently advance money if people needed it. He got started as a jukebox operator who then began to sell record players and then records to a primarily black clientele.
I have a real affinity for the lightly-reverbed, clear sound of his recordings. He did have other producers work with him but apparently the majority of Nashboro recordings were manned by Young himself in a small, basic studio located in the same building as his record shop.
AD: How much was Young interested in fostering the "Nashboro/Excello" sound? Some things I've read suggest he recorded the acts with little fanfare — just sort of point the mics and hit "record."
Mike McGonigal: Dude was no Sam Phillips. But like I said, the sound he got? I like it a lot. It's more than just a straight field type recording — there's a lot of reverb on those Radio Four and Hightower and Consoler sides! A lot, but not too much — not for me, anyway.
AD: You've assembled two other gospel collections for Tompkins Square, which have drawn from various labels. What about Nashboro specifically spoke to you?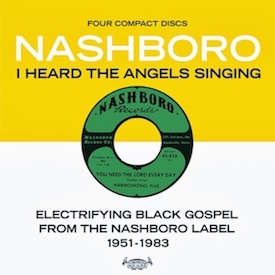 Mike McGonigal: I've produced three compilations for Tompkins Square, each in different and increasingly narrowing circumstances. The first was a scattershot attempt to contain all these different strains in gospel that I was in love with and which I felt people would like but seemed to me to be not so well known. The second was all commercial recordings, small label 45s from my own collection.
This compilation, which I first proposed to Josh [Rosenthal] at Tompkins Square maybe five years ago, of the great gospel music on Nashboro, was assembled for Tompkins Square because that was the only way I knew how to do it. Tompkins Square is distributed by Fontana, which is owned by Universal. Josh has previously worked at major labels, so I trusted him to work with Universal to allow us to do this collection from their vaults — all this amazing music had just been sitting there untouched and unissued since there were a handful of CD reissues in the mid '90s.
It is not always easy to officially license music on a sub-sub label that a giant company doesn't have any idea they own. The track listing went through several revisions in part because we had to provide not just the track listing and music for each song, but a scan of each label. It's the most work I myself have ever had to go through in order to see music reissued, and Josh worked at least as hard on his end, I'm sure. That's part of why I decided to have someone else write the liner notes. The main reason is that Opal Louis Nations knows this catalog and this era of gospel like the back of his hand, and he delivered such great liners in a ridiculously short period of time.
Kevin Nutt, of CaseQuarter Records and the unmissable Sinner's Crossroads radio program, worked to get the best transfers for the set. We didn't want to make too big a deal of this, but the entire set had to work from original vinyl sources — 78s, 45s, and a few LPs. The majority of the record is from 45s. I have maybe 150 Nashboro 45s, because when you see a Nashboro 45 for cheap you buy it, but a lot of mine are trashed so we had to find friends to loan their copies and transfer them. Apparently, one of the reasons that so few tapes remain of this music is that Ernie Young would often record easy listening music over reels of Nashboro master recordings to listen to at home. He clearly had a very keen ear for gospel and blues, but at home he rocked to Mantovani. words/ j woodbury
Related: This May Be My Last Time Singing :: An Conversation With Mike McGonigal