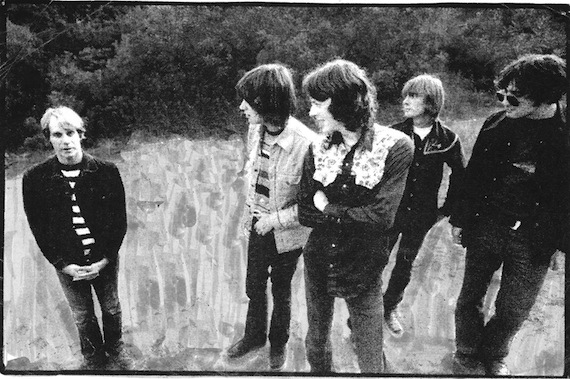 As El Nino rolled into Southern California in the summer of 1997 it pushed two friends, Brent Rademaker and Chris Gunst, to escape Los Angeles. Frequent trips to Joshua Tree were coupled with crashes at Gunst's parents home to float in their pool and stare at the desert's night skies. In the midst of this extreme climate change, a mixtape of 'West Coast country rock' was being passed around amongst friends inspiring Rademaker to transform his indie rock group, Further, into a new psychedelic country and western outfit – Beachwood Sparks. Loose jam sessions took place, and as the summer slid into autumn the group adopted a vibe that was reminiscent of Crazy Horse – part soulful country, part reckless rock 'n' roll, all with a tinge of mid-90's Glasgow indie rock.
As the jam sessions gave away to recording in a cramped shed, they laid to tape Desert Skies – their recently released 'lost' first album. What sets this album apart from their 2000 Sub Pop debut, is that it presents a perfect portrait of the group in its infancy, finding their feet in light of the dissolution and influence of their previous incarnation. Recorded prior to the full spit and shine of the lush Laurel Canyon aesthetic they would   soon become known for, cuts like "Canyon Ride" and "Desert Skies" pack an extra, unexpected, punch.
Beachwood Sparks :: Canyon Ride
We caught up with Rademaker to discuss the beginnings of the group, their influences and if Beachwood Sparks could have been a band anywhere else but California.

Aquarium Drunkard: What led to these sessions being shelved for so long?
Brent Rademaker: Mainly it was due to the fact that Josh (and Tom) and I were out of contact for a few years and without their consent and input this release would've just felt kinda cheap. We all were busy making new music. There were some that thought these recordings weren't sophisticated enough to release, or something to that effect. I was always a firm believer that they were very good and a very good reflection of just how good the band was at the time. After everything, though, I think the timing couldn't have been better. Folks really seem to dig it.
AD: How did the project come to fruition? What was your reaction upon revisiting the sessions for the first time in 16 years?
Brent Rademaker: While visiting the Bomp! mail-order headquarters, I was introduced to Patrick Boissel who runs Alive Records and we got to talking about if there were any live recordings out there that we would want to release. I told him "I have something better" and we both thought that, given the fact that Bomp! had released the first BWS 7″ and LP (on vinyl), it might be a good idea. After he heard the tapes his enthusiasm really brought the project to life. For me, revisiting the tapes after all these years really was inspiring, I don't think we remembered them being so good especially the recording and production. I know Chris and I were pretty stoked on the sound and it's something that we will take with us into the recording of the next Beachwood Sparks record…if there is one.
AD: Upon first listen, Desert Skies recalls Neil Young and Crazy Horse — but the deeper you go into the album you can really start to hear those Belle & Sebastian / Brit-Pop influences, mentioned in the liner notes, along with hints of the '60s San Francisco psychedelic ballroom scene. Was it a conscious decision to really push those influences into the band or did it just naturally kind of meld together?
Brent Rademaker: Josh and Tom basically had a Crazy Horse cover band around the time of these recordings, called the Hubcaps, and that seeped into our thing. All the other stuff just seems to naturally happen. I don't think there was a conscious effort to sound like anything else. I think you'd hear things like "make the reverb on the acoustic guitar sound like FELT" or something like that…but never rip-off songs or some bands whole trip…that's cheating…but we did dig as many bands from Glasgow (and the UK) as we did from California, they were our contemporaries.
You have to understand how we all hung out and shared the same records, tapes, fashion, drugs and vibe, so whatever ended up in the mix ended up in the band. Pete (Sleigher) was the tambourine player but he influenced us just as much as any group out there. I didn't want to sound like some third-rate psychedelic knock-off when he was around…he would   have mercilessly teased us or saw right through it…he had the vibe!
AD: In the liner notes it's mentioned that, around this time, you guys considered yourselves a 'psychedelic country' band and the long late night rehearsals really made you proficient improvisers with jams pushing the half hour mark. Will fans have any luck in hearing some of these jams or are they best left as lore of the era?
Brent Rademaker: The only tape document I know of is the live on 4th of July 1998 at KXLU…you get to hear a taste of it there, other than that…lost lore. Maybe it wasn't as good as I remembered it…or maybe it was better.
AD: Can you tell us more about the recording sessions at the Space Shed? Did the cramped quarters result in more sound exploration between bandmates?
Brent Rademaker: We had already worked so much in the Space Shed in our years as Further that the years really expanded the room…it really didn't feel that small. The thing is I really don't remember too much of the actual recording of the album. All the good stuff happened so fast. Of course there WAS magic in that room…it was just an extension of Josh, really. He's really mellow and no-nonsense and so was the studio.
AD: Very few bands have the ability to be heard and immediately associated with a region and/or state within a few notes. You guys are clearly a California group, specifically a Los Angeles group, whose history is a list of who's who of the California sound   — The Byrds, The Mamas & The Papas, CSN&Y, Burrito Brothers…amongst many others. Was LA's history contagious? Could Beachwood Sparks have existed outside California?
Brent Rademaker: We picked up on something…I don't think that the delicate nature of the core of our music mixed with the heavy dissonant vibe could have existed outside of California…one of the elements would have taken over.
AD: You guys signed with Sub Pop resulting in the 'Self-titled' album being released in 2000 and also becoming one of the first of several different bands on a label previously known for grunge. Did the new era of Sub Pop allow more freedom for you guys to explore and grow?
Brent Rademaker:  For sure! Something was happening up there. At first I thought Sub Pop would be the perfect place for 1998 Beachwood Sparks but I remember having some doubts when we were recording the 'Self-titled' Lp for them. I was thinking of something more traditional and we were lucky because they stuck with us and became a pretty traditional label along the way, in the sense that they have some mellow American music…shoot, they have everything really…they have such an identity that it helps and hurts you in other the public eye but the cool thing is that they supported us 100% through all the years. We wouldn't still be around if it wasn't for Sub Pop.
AD: Following 2002's Make the Cowboy Robots Cry the band disbanded but returned in 2012 with The Tarnished Gold. What does the future hold for Beachwood Sparks?
Brent Rademaker: Right now I just hope that people will discover and enjoy Desert Skies and perhaps that will trigger something new to happen. I wish I could tell you that there were some definitive plans to record or tour but there really aren't. I know this; we have five records out there for kids to discover and it's my hope that we inspire them to start a band and get out there and enjoy life the way we did. The universe needs it now more than ever! words/ d norsen
Only the good shit. Aquarium Drunkard is powered by our patrons. Keep the servers humming and help us continue doing it by pledging your support via our Patreon page.