(Welcome to Videodrome. A monthly column plumbing the depths of vintage underground cinema – from cult, exploitation, trash and grindhouse to sci-fi, horror, noir and beyond.)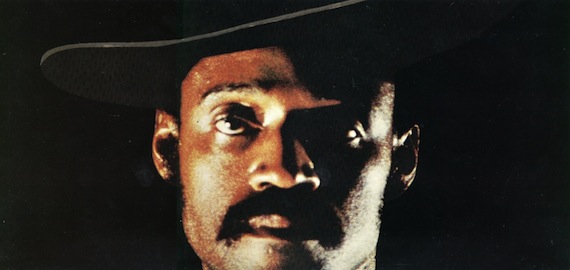 It's safe to say that when Sweet Sweetback's Baadasssss Song was released in 1971, a lot of viewers were offended, a great many were thrilled and another healthy portion asked themselves "what the fuck just happened?"
Indeed, from the opening credits sequence, with its controversial "Starring: The Black Community," you know you're witnessing a special piece of anti-establishment American cinema. With Sweet Sweetback, Melvin Van Peebles–who wrote, produced, edited, directed and starred in the film–achieved a remarkable piece audiovisual art, and in the process drafted a roadmap to success for a generation of young black filmmakers.
While impossible to overlook how dated the movie feels in 2014–face it, a $150,000 1970 budget doesn't hold up well in the digital age–the liberal use of jump cuts, montages, freeze frames and other creative shooting techniques were unconventional at the time, and positively unheard of coming from a black director.
However, the provocative social commentary is what sets the movie apart from anything that came before.
The opening two minutes of the film portray (spoiler alert!) a sex scene between a prostitute and a 13-year-old boy named Sweetback (played by Peebles' son Mario). With that our hero comes of age, raised in a whorehouse and forging his life skills–while plying his considerable physical endowment–in the sex trade. Things really get moving when the grown up Sweetback (played by grown up Peebles), attacks two white cops and thwarts the savage beating of a young black suspect. He must then go on the lamb in an urban Los Angeles that could have been lifted from an Iceberg Slim hallucination.
During the ensuing manhunt, we are introduced to a slew of disenfranchised city creatures, who collectively give voice to the speckled underbelly of American society. Though their stories are lightly explored here, we meet Black Panthers, Afro-American preachers, Hells Angels, Puerto Rican nationalists, Mexican illegals along with the requisite list of pimps, gamblers, bums, hustlers, drug dealers, hippies and gays without whom an early 70s streetscape wouldn't look right.
Layer in musical orchestrations by Earth, Wind and Fire and you have a funkalicious black soul safari that sets the bar high for other films of its ilk.
In fact, what's so unique about Sweet Sweetback's cartoonish black aesthetic is that it was arguably the first of its kind; the one from which all "blaxploitation" films derived and must ultimately be compared. And while it's fair to claim that Sweet Sweetback had a strong influence on blaxploitation, how it deals with the actual theme of exploitation is sometimes mischaracterized.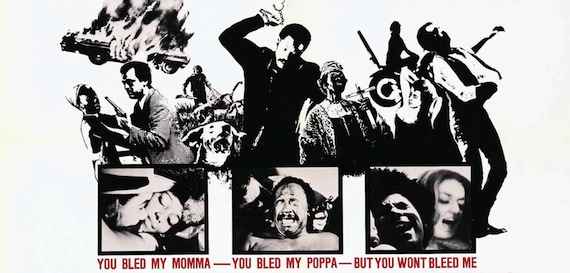 Mainstream blaxploitation in the 1970s was the product of big Hollywood studios using sensational black cultural themes to gain popular appeal and therefore turn a profit. Examples include studio productions like Shaft and Foxy Brown, which place strong black characters as action heroes battling campy villains in urban ghettos, while managing to avoid discussing race in any meaningful way. Conversely, Sweet Sweetback's Baadasssss Song offers a more deliberate, albeit cynical, meditation on society's racial double standards. The principal theme is how "the man" takes advantage of black people, best demonstrated by Sweetback's status as the victim of police prejudice and his use of sexual favors for salvation.

"When did you folks start getting so interested in black folks, dead or alive?" Beetle, a pimp, asks the cops before they arrest Sweetback for a crime he didn't commit. "Progress," they reply.
But in Peebles' vision, whites are not always comic book portraits of racist evil. There are both 'good' and 'bad' white characters, and it's not just white folks exploiting black folks, as evidenced by the pimps and hustlers so quick to sell Sweetback (and a number of woman, both white and black) for sex.
Sweet Sweetback is exceptional for the grittiness of its characters and their interactions. With sex scenes (some reportedly unsimulated) and nudity for days, it's a mélange of coffee-colored boobs and bodies matched in authenticity only by an assortment of other visceral acts, all graphically portrayed. That said, Sweet Sweetback never manages to deliver much suspense, meaningful drama or rich characters. The decision to have Sweetback utter only a handful of dialog throughout the entire film was compelling in concept–no doubt intending to serve the character as a silent bystander guilty more for his skin color than for his actions. But as a result, Peebles' quiet portrayal comes off a bit wooden and one-dimensional.
On the other hand, the film is a masterpiece of low-budget, guerrilla style moviemaking. Part of Peebles' genius lay in his use of incendiary marketing tactics to hype the film, including doing an early screening in a brothel and using the tagline "rated X by an all-white jury" after he was unable to attain an MPAA rating. The movie went on to gross over $15 million in box office receipts–more than 100 times its production budget.
Despite the fact that Peebles already had a three-picture deal in place with Columbia, no studio in Hollywood wanted to be attached to a film dealing with such radical racial elements. He chose instead to self-fund the production with the help of a $50,000 loan from Bill Cosby.
The underlying "fight the establishment" subject matter of Sweet Sweetback's Baadasssss Song was thus further imbued with the director's own seething frustration and sense of defiance. The result is a near perfect cinematic encapsulation of the bleakness and disillusionment of African-American urban life at the time. words / j campbell
Previously: Rolling Thunder (1977) / Werewolves On Wheels (1971)
For heads, by heads. Aquarium Drunkard is powered by its patrons. Keep the servers humming and help us continue doing it by pledging your support via our Patreon page.