When soul music aficionados get together and start talking music, the inevitable question of preference between 'Detroit vs Memphis' almost always seems to arise, to which my response is 'YES, both please! But don't forget about Chicago'. The well of Chicago soul 45's is practically bottomless, and the majority of the hundreds of records recorded in the windy city during the golden age of soul are at least very good, with many veering into the exceptional category, and very few falling into the 'unsatisfying listening' bin.
The axis of Chicago soul centers around several key players and record labels, as well as those who followed their influence and cut their own records under their shadow. Chicago was also a key record distribution hub, with S. Michigan Avenue housing what is known as 'Record Row'. I'll tell a version of their story based on what's in the grooves of   a few of my favorite (lesser known) gems from this mighty, hard working city.
Major Lance :: Sometimes I Wonder (1964)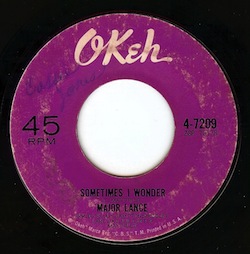 Just one look at the label of this record displays a who's who of several important Chicago soul raconteurs; lead singer Major Lance (his real name) may not have had the strongest voice, but his charisma and delivery made up for any weaknesses he may have had in the vocal department. His mentor, Curtis Mayfield, also provided top notch material for Lance. Mayfield, himself, is probably the most important figure in Chicago soul in terms of sheer talent,  spirit and inspiration; not only did he lead his own group (the mighty Impressions), he was a non-stop well of songwriting, owned a record label, dabbled in A&R, and was a sought after producer. He performed each role with pure class, and his gentle style was the musical equivalent of Dr. King's non-violent message of the era. Mayfield's music was positive, motivating, and SWINGING. We also see arranger Riley Hampton's name on the label; among Riley's credits was the arrangement for Etta James' groundbreaking crossover record At Last. Producer Carl Davis became the staff A&R man and producer for Okeh Records in 1962. Okeh was a label that had its roots in pre-war blues (so called 'race records') and was revitalized by parent label Columbia Records to become one of the greatest, most consistent soul labels of the '60s, and much of the credit goes to Carl Davis and his work with Major Lance, Barbara Acklin, Walter Jackson, as well as Jackie Wilson's smash hit "(Your Love Keeps Lifting Me) Higher And Higher".
But back to this record; while The Impressions cut a great version, Major Lance somehow manages to trump Curtis Mayfield's performance, as his voice takes on an innocent edge that is perfectly appropriate for the lyric. The song puts the 'player' in a position of confession and vulnerability, and the arrangement is the epitome of Chicago soul – the tempo may not be blazing, but the upfront drumming propels the song while swirling strings pull us into an alternate universe.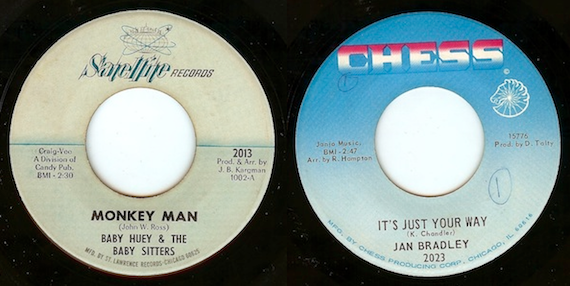 Jan Bradley :: It's Just Your Way (1967)
As a guitarist, I'm completely obsessed with the playing on this record. Definitely rooted in the Curtis Mayfield school (although I don't think it's him, due to a legal dispute between Curtis and Chess Records) it propels and drives the song into sublime territory on it's own. Jan's gorgeous vocals paired with lonesome harmonica and bongos culminate in a brilliantly subdued arrangement. Riley Hampton is, again, calling the shots, but in a more minimalistic arrangement; just listen to how the harmonica wails on this track, while, once again, a slower tempo is driven hard by conga drums.
Jan Bradley was discovered singing while still in high school, and shortly after graduating recorded the incredible "Mama Didn't Lie" with Curtis Mayfield behind the boards (it was a huge r&b hit which also crossed over to the pop charts). She continued releasing records until the early seventies when she left the busines. She became a social worker on Chicago's south side, and still continues to sing in her church choir. Lucky parishioners!
Baby Huey & The Babysitters :: Monkey Man
Baby Huey & The Babysitters :: Messin' With The Kid
Chicago also produced a whole bunch of wild, rocking r&b records, and this is one of the finest (and wildest). From rural Richmond, Indiana (relocating to Chicago at age 19) Baby Huey (James Raney) was a giant of a man who met a tragic end at age 26 after cutting an extremely influential LP for Curtis Mayfield's Curtom records. This single, however, is equally revered by both r&b and garage fanatics for its crazed vibe, and for good reasons. And while "Monkey Man" tends to get most of the attention, in my opinion, the flip side version of blues standard "Messin' With The Kid"is   quite simply is the hottest version of that song ever cut.
(Derek See is a Bay area based musician who plays guitar with The Bang Girl Group Revue, Joel Gion & Primary Colours, and occasionally makes records on his own with The Gentle Cycle.)